How to source candidates: An FAQ guide
Sourcing candidates is a proactive approach to finding, identifying, and engaging individuals who might be potential hires for current or future job openings. This involves collecting valuable candidate information, pre-screening candidates for matching skills, and building long-term relationships.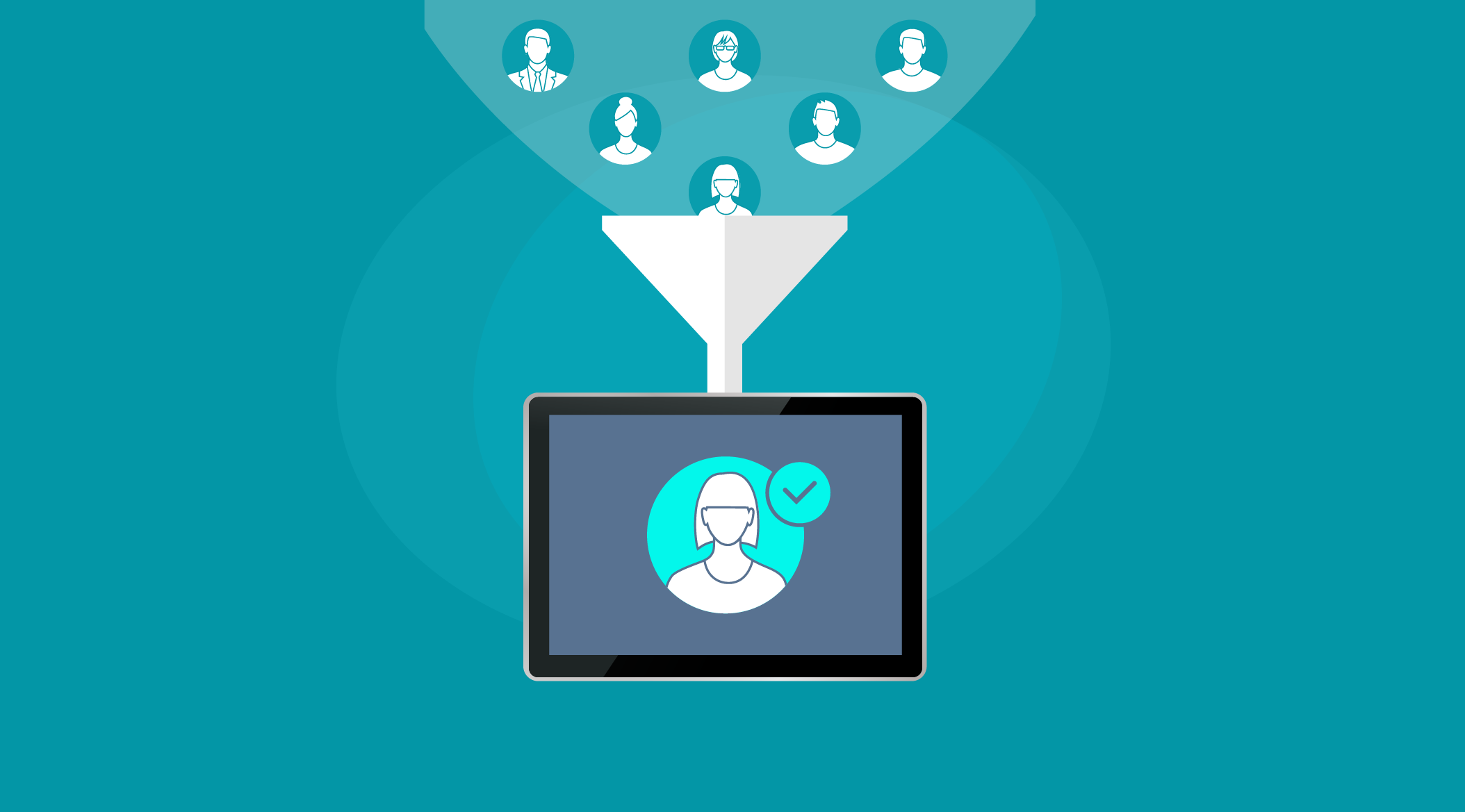 Good candidate sourcing helps companies proactively find and hire qualified people. Here, we answer frequently asked questions about candidate sourcing to help you build strategies to attract active and passive candidates.
What is sourcing?
Candidate sourcing is the proactive search for potential hires to fill current and future job openings. To source candidates, recruiters:
Collect valuable candidate information, like resumes and work samples.
Pre-screen candidates with skills that match the roles they're recruiting for.
Contact candidates to build relationships and inform them about job openings.
Build long-term relationships with potential hires.
What is the difference between sourcing and recruiting?
Sourcing refers to the process of searching for, identifying and contacting potential candidates. Recruiting kicks in after sourcing, and includes the HR processes of screening, interviewing and evaluating applicants.
In some HR departments, recruiters handle sourcing as the first step of the recruiting process. In others, professionals known as sourcers are responsible for finding qualified candidates and are not involved in other phases of the recruitment cycle.
Both recruiting and sourcing fall under the umbrella of HR. For more on the differences between HR disciplines, read our FAQ here.
How does sourcing affect recruiting?
Sourcing is an integral part of a company's recruiting strategy. Recruiters who source candidates:
Reduce time-to-fill, as they have already conducted an initial screening of candidates' skills.
Build talent pipelines (databases of engaged candidates) to cover current and future hiring needs.
Position themselves to meet long-term recruiting goals (e.g. attracting and hiring more candidates to increase diversity.)
What is a Sourcing Specialist?
Sourcing Specialists, also known as Sourcers, are HR professionals who identify and engage potential candidates for current and future hiring needs.
Sourcing Specialists:
What is social sourcing?
Social sourcing is the practice of using social networks (e.g. LinkedIn, Facebook and Twitter) to identify, attract and contact potential candidates.
Sourcers use social media to:
Collect data, like work samples, resumes and contact details of potential candidates.
Reach out to potential candidates to build talent pipelines for future hiring needs.
Contact qualified people and inform them about relevant job openings.
Advertise their company's open roles and build their employer brand.
What are some of the most effective social sourcing tools?
Social sourcing tools help sourcing specialists and recruiters narrow their search and identify qualified candidates quicker. Here are some social media tools and platforms that will streamline your sourcing:
(To source EU candidates, please refer to this guidance on using social media for recruiting under the General Data Protection Regulation, or GDPR.)
While not specifically sourcing tools, these websites can help you find specific kinds of candidates:
What are the most effective platforms for social sourcing?
The most effective platforms for social sourcing are LinkedIn, Facebook, Twitter and Instagram. If you want to expand your sourcing efforts to non-traditional channels, consider the following social platforms:
(To source EU candidates, please refer to this guidance on using social media for recruiting under the General Data Protection Regulation, or GDPR.)
What is Boolean search?
Boolean search is a type of search that combines desired keywords with operators such as AND, NOT and OR to produce relevant results. It's based on George Boole's mathematical theory in which all variables are either true or false. You can run Boolean searches on many search engines, including Google.
Recruiters customize Boolean searches to scour the web for relevant profiles of niche candidates. Here's a basic breakdown of how to use Boolean operators:
Boolean operator
Use
Example
AND
Results include all keywords linked with AND
'developer AND android'
OR
Results include either keyword or all of them
'android OR mobile'
NOT / minus symbol(-)
Excludes a keyword from your search (When using the minus symbol don't leave a space before the unwanted term)

*Google doesn't recognize the operator NOT, so use the minus symbol, instead.

'NOT sample' / -sample
Brackets ()
Group multiple search strings and set priorities
'Project (manager OR coordinator)'
Quotation marks " "
Search for an exact phrase (Consider keywords in quotation marks as a whole word)
"customer service"
Here's an example Boolean search string to look for UI Designers with experience in Illustrator or Sketch:
(intitle:resume OR intitle:cv) "UI designer" (Illustrator OR Sketch) -job -jobs -sample -examples
Skip Boolean searches and jump straight to the results. People Search from Workable is the fastest, most effective way to find email addresses, resumes, social and professional profiles.
What are the best methods for sourcing candidates?
Use a combination of online and offline methods to source candidates effectively. Here are the best ways to source qualified candidates for your open roles:
Use social media. People use social platforms to advertise professional achievements and share samples of their work (e.g. portfolios.) Browse networks like LinkedIn, Facebook and Twitter to identify and interact with potential candidates.
(To source EU candidates on social media, please refer to this guidance to ensure compliance with the General Data Protection Regulation, or GDPR.)
What is a passive candidate?
A passive candidate is a common recruitment term to describe people who are:
Employed and not actively seeking a new job opportunity
Employed and willing to hear about new job opportunities
Employed/unemployed and haven't applied for a role at your company
Most of the employed workforce is interested in learning about a new job opportunity, so it's worthwhile to source passive candidates.
What are the best approaches for sourcing passive candidates?
Passive candidates refer to people who aren't actively looking for a new job opportunity. Since they don't apply through your regular recruiting process, you will have to grab their attention. Here's how:
Personalize your communication
Each sourcing email you send should contain information specific to your recipient. For example, include a professional achievement of theirs that caught your eye:
e.g. "Our engineering team mentioned that your contribution to X Github project was impressive."
Or, briefly explain how their skillset aligns with your business goals:
e.g. "I've noticed how well you interact with customers on social media. We're currently looking for a Brand Ambassador to communicate online with our clients."
Network before you need to
People are more likely to respond to your emails or calls if you have met them in-person. Invest some time to build relationships with potential candidates before you need them. For example:
Attend or host events to network with people within your industry.
Join forums and social platforms (like Twitter and Slack) to converse with potential future candidates.
Stay in touch with past applicants to keep them warm for new job opportunities.
Tap mutual connections
People who aren't actively looking for a new job are more likely to consider one if they hear about it from a friend. Consider asking your employees to refer their friends. Here are some steps to get you started:
How much time should I spend on sourcing?
As a rule of thumb, spend at least 30 minutes per week sourcing passive candidates and building your talent pipelines. During that time, browse social networks, engage with people online and craft sourcing emails to potential candidates.
Adjust your sourcing time based on the positions you're recruiting for and your familiarity with each position. For example, it will take longer to identify and hire qualified candidates for hard-to-fill roles. Likewise, if you're hiring for a new position, give yourself some time to research the skills required for the role and the best places to look for qualified people.
Should I ask a passive candidate for a resume before a phone screen?
No. First, contact passive candidates to introduce yourself and inform them about the job opening. Once they've expressed interest in the position, ask for a resume to share with your client or hiring manager.
Asking for a resume right away sets off red flags because it:
Sounds suspicious. Candidates are hesitant to share personal data and career history when they don't know enough about you or the role you're hiring for.
Shows you haven't done your research. Passive candidates may question why you contacted them if you didn't already know about their work experience.
Can be time-consuming. Candidates may not want to take time to update their resumes if they aren't currently looking for a new job.
Also, for some roles, resumes aren't the most important qualification criterion. For example, if you want to hire a designer, a portfolio of their previous work will tell you more about their skills than a resume will.
A rule of thumb: Always gather as much information about potential candidates as possible before contacting them. You can find resumes and other social profile information with targeted Boolean searches on LinkedIn and on resume databases.
How can I make sourcing/recruiting a priority for hiring managers?
Recruiters and hiring managers are partners in the hiring process. Often, when there's an open role, managers give recruiters their requirements and expect a shortlist of qualified candidates in return.
Here's how to make sourcing and recruiting a priority for hiring managers:
Make your recruiting process transparent. Let hiring managers know about all the phases of your process, including deadlines. Ask them to step in when necessary (e.g. to evaluate assignments.)
Ask for hiring managers' feedback. When you have second thoughts about candidates or requirements, ask your hiring managers for their input. Managers can spot red flags early on and save both of you valuable time.
Communicate early and often. To build healthy relationships with hiring managers, make sure you're available. Update them on hiring statuses (e.g. how many applications you received, how many phone screens you performed) and be ready to answer their questions.
Encourage hiring managers to share job ads. Candidates want to picture themselves at your company before accepting a job offer. Knowing who their future manager is helps them with that. Offer to help managers to write engaging social posts to attract potential candidates.
How do I source entry-level candidates?
Here's how to hone your search to source entry-level employees:
Write job ads that focus on skills. Entry-level candidates typically lack professional experience in your industry. Focus your job ad on the skills you need for the role, instead of years of experience.
Use social media to engage candidates. Candidates who don't have a lot of formal work experience may use social media to share samples of the kind of work they would like to do. Engage with these candidates on platforms like:
Attend and host career events. Job fairs will help you connect with candidates from diverse backgrounds. Consider hosting an open house event to bring potential candidates to your offices.
Implement internship programs. Internships help you collaborate with junior employees and evaluate their skills on the job. You can then offer entry-level positions to your most qualified interns.
How do I source executive-level candidates?
Sourcing executive-level candidates means looking for potential hires who are both experts in their field and have solid leadership skills.
Here's how to refine your sourcing techniques to find candidates for senior and executive-level roles:
How do I budget my sourcing?
Well-budgeted sourcing drives an effective recruitment process. Here's a guide on how to budget your sourcing:
Step 1: Calculate your hiring needs and turnover rates
First, determine how many positions you need to hire for each year (due to either new openings or separations). This will give you an overview of your sourcing needs and costs. For example, if you don't plan to hire new employees next year and you have high retention rates, you might want to reduce your sourcing budget for that year.
To calculate your hiring needs and turnover rates:
Talk to hiring managers to estimate the number of new hires they predict on their teams.
Calculate the number of planned separations (e.g. retirements.)
Forecast separations based on your company's turnover rates.
Step 2: Calculate your basic sourcing costs
Basic sourcing costs include:
Job boards. Look at previous job board expenses to draw useful conclusions about your most effective sources of hire.
Recruiters' salaries. Tally the costs for any in-house recruiters and sourcers. Add the total cost of their salaries to your budget.
Employer branding. Budget what you need to establish your employer brand. That includes attending events (separate from recruiting events) and creating branding material (e.g. company videos and social media campaigns).
Step 3: Estimate your fixed costs
Your fixed costs category can include:
Partnerships with universities and institutions. Consider how many candidates you hired who you sourced from graduate career fairs or campus recruitment events. Use this data to determine how much to spend on graduate events in the future.
External recruiting agencies. If you rely on external recruiters, add agency fees to your budget.
Recruiting events. Estimate fees, tickets and accommodation for events you're interested in attending.
Step 4: Estimate your recruiting technology costs
This includes software fees for recruiting tools (monthly or annually). For example:
Step 5: Include miscellaneous costs
Other costs or one-time expenses in your sourcing budget include:
For an even deeper dive into how to source candidates, download our detailed candidate sourcing ebook.
Frequently asked questions
What does it mean to source candidates?

Sourcing is the proactive searching for qualified job candidates for current or planned open positions; it is not the reactive function of reviewing resumes and applications sent to the company in response to a job posting or pre-screening candidates.
What is sourcing vs. recruiting?

Sourcing is searching for and talking to potential candidates about an open or future role. Recruiting is reviewing candidates and hiring the best talent to fill a specific position.
What is the source of the application?

Application sources are tracked to reflect how an applicant applies for a requisition via referral, job board, Career Center, career site, the Candidate Bank, or manually added. An application source is automatically applied based on how the applicant enters the Applicant Tracking System (ATS).