How to recruit on Facebook
Facebook is one of the most powerful tools you can have in your recruiting toolbox. Here, you'll learn everything you need to know about how to recruit on Facebook.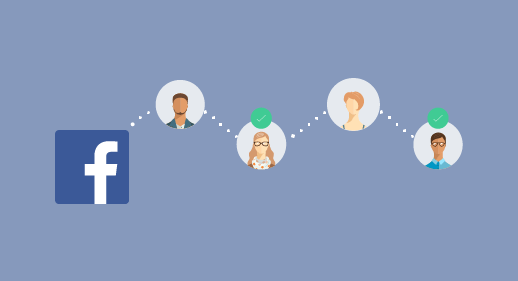 Facebook has come a long way since Mark Zuckerberg's first attempt to create a private network channel for his classmates. With nearly three billion daily users, it's likely that your next hire is sharing a photo or chatting with their Facebook friends right now. You can use Facebook as one of the ways to recruit employees.
Why recruit on Facebook?
Social media isn't just for young people anymore. In fact, Facebook has the most evenly distributed gender and age demographics of any social network. Facebook isn't just a place to attract millennials. Its popularity among older users is growing; 56% of people over 65 are active users.
Facebook users don't only outnumber other social media users, they're also more active. Every 60 seconds, Facebook users update 293,000 statuses and upload 136,000 photos. Facebook also has an increasing number of users, with five new profiles created every second. It's too big to ignore.
Facebook can save you time and effort during your hiring process. The new Jobs tab feature (available in the US and Canada, for now) allows you to create your job post within Facebook by simply using the status updater tool on your company page. Facebook users who are interested in your open roles can click the "Apply now" button and send their personal information directly to you via Messenger.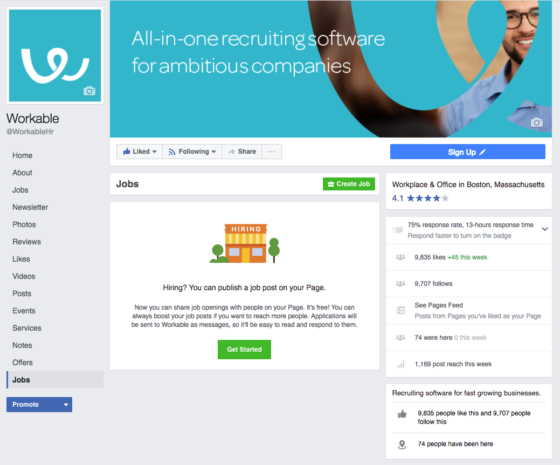 For users of recruiting platforms like Workable, this option has been available (worldwide) for some time. A simple integration between Workable and your Facebook company page powers the jobs tab automatically. This means that every time you create a new job in Workable, the jobs tab is updated. There's no need to log out of one system into another, all your recruiting can be managed from one central source.
Studies have shown that people trust brands more when they're active on Facebook and other social media platforms. Having a strong web presence on the most popular social media site gives you a competitive advantage and improves your employer brand.
Think of Facebook as a recruitment tool for diverse hires. Since it's so popular, you have the opportunity to reach candidates from all over the world, from various professional backgrounds and different educational levels. Anyone could be part of your diverse pipeline, so long as they're talented.
It's okay if you're not familiar with social media or even if you're a bit skeptical about how effective it can be. There are various metrics to help you monitor your Facebook page's performance, which makes recruiting through Facebook more measurable and effective. You can easily access your page's data and see the most important stats: organic traffic, number of likes and unlikes and engagement rate percentage (people who read a post, liked, clicked, shared or commented on it).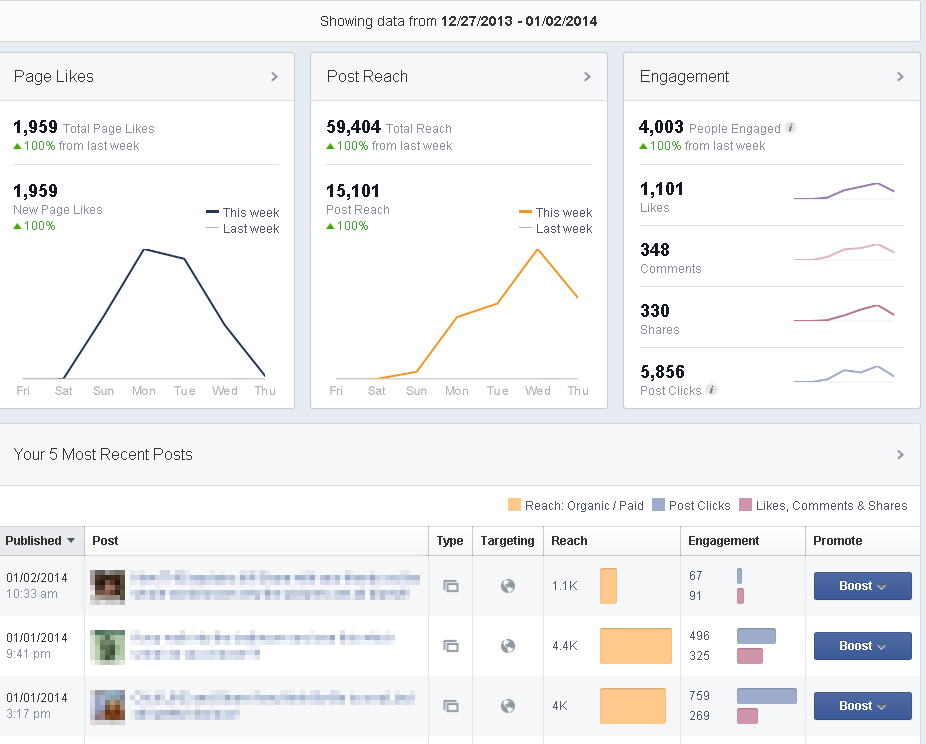 How to recruit employees on Facebook
1. Be direct
Add Facebook job postings directly on your company's Facebook page and then route candidates to your Careers page to provide further information and an application form.
Facebook has a lot of customization options for your company profile. For example, Unilever's Facebook careers page has two separate tabs, for 'Early careers' and 'Professional careers', making it easier for their 1.2 million followers to find the most relevant job openings.

Related: 17 effective candidate sourcing tools
2. Use indirect methods
In addition to posting current openings, you can use Facebook to promote your company's image and improve your employer brand.
I like to promote information that helps potential applicants learn more about our culture and mission as an organization. I use sponsored ads and boosts to help generate this "buzz" in targeted markets where we are lacking or plan to recruit in the future. – Gail Atlas, Social Talent Acquisition Strategist at Novo Nordisk
Your employees are also your best advocates. Let them express themselves through Facebook and share their biggest achievements. You can post videos to give a sneak peek of a day at work in your office, or have an employee share their experience working with you. Next time you organize an after-work Friday meet up, consider posting some pictures to showcase your teamwork spirit. Applicants will be genuinely interested in working for you if they get an idea of what it's going to be like.
Taco Bell is a good example. They are using Facebook to recruit employees with posts to shine a spotlight on their company culture and celebrate their employees' achievements.
3. Socialize
Recruiting using Facebook includes networking with candidates and building relationships with potential future hires. After you create your profile, you should have at least one page manager who responds to people's questions and engages with them on a regular basis.
Marriott has stepped up their candidate engagement game by running 'Career Chats.' Four to five Marriott employees answer candidates' questions in real time and offer helpful advice on applying for jobs.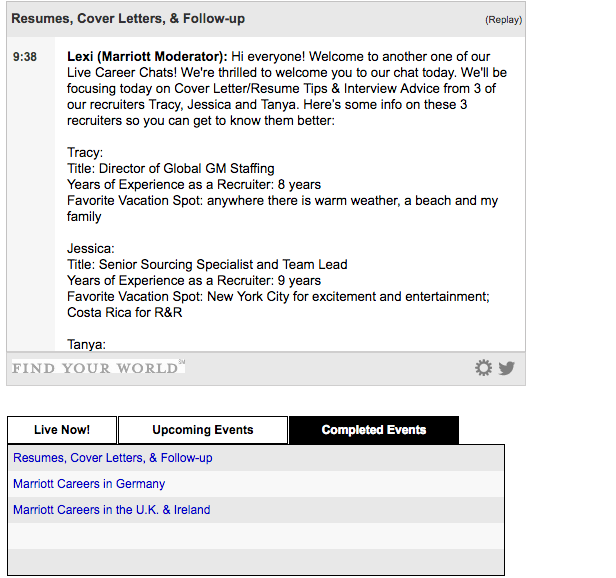 Dell also initiates frequent interactive sessions for Facebook recruitment with its followers and provides job search tips:
It's also a good idea (and free) to join relevant Facebook groups to engage with your ideal applicants. Specific Facebook groups for recruiters, like Recruiters online and The Facebook Corporate Recruiters Network, are places where you can get recruiting tips and share best practices.
Related: Innovative recruiting tools and techniques for modern HR teams
4. Source candidates
Along with posting your current openings, you can use using Facebook for recruiting passive candidates. With Facebook Graph Search you can identify candidates using specific criteria (e.g. by location, profession or the university they attended). Sample queries include:
[Job title] who live near [Location]
[Job title] who speak [Language]
People who work at [Competitor]
Once you find interesting candidates, you can send them a message on Facebook (if you're connected to them) or reach them through their LinkedIn account. The best way, though, is to discover any mutual connections you may have, and ask them to make a warm introduction.
For more advice on social sourcing, download our complete sourcing guide for free.
5. Increase employee referral activity
Referrals work great when recruiting through Facebook. First, it's easy for employees to share job ads and attract candidates. And second, you'll probably hire the best matches for your culture, if your applicants know who their potential coworkers are and have an idea of what working at your company looks like. You've probably heard the 'six-degrees of separation' theory; everyone on the planet is separated by only six other people. Well, as far as Facebook is concerned, each user is connected to any other user in the world by an average of three and a half other people. So, go ahead, make the most of Facebook in your recruiting efforts. After all, your ideal candidate is only 3.5 people away.
More resources for social recruiting:
Frequently asked questions
Does Facebook work for recruiting employees?

With the use of Facebook, recruiters can engage candidates with highly targeted ads based on location. They may also choose to run advertisements in education-related or job title-specific groups for talented individuals.
How do I recruit employees through Facebook?

To get started, be sure to add any job openings from your company's page directly into their timeline so that friends of yours who are also interested in working there will know about it!
How does Facebook help in recruitment?

Recruitment on Facebook has never been easier! You can use this social media platform to search for potential candidates, build relationships with them and encourage the application of your vacant job positions.