How to use Snapchat for recruitment
Did you know you can use Snapchat for recruiting? Yes, yes, you can. This tutorial gives the basics of how to use Snapchat and other creative recruitment strategies, including examples for successful social media recruiting.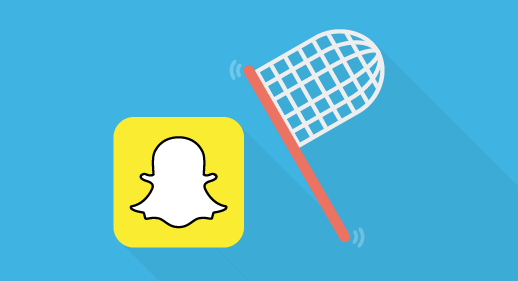 As social media recruiting is becoming more popular, Snapchat has recently drawn recruiters' attention. It's known as the 'social media playground' and for good reason. You can share images and video using fun stickers and effects, but there's a catch: content disappears pretty quickly. Considering the much-reported statistic that is only takes 6 seconds to evaluate a resume, Snapchat's ephemeral interface could be the next big recruitment tool.
Some people argue that Snapchat is for teenagers, but that's old news. More than 50 percent of new Snapchat users are over 25 and the percentage of user over 35 is growing. If your company is recruiting young talent, Snapchat is the place to get millennial attention, considering 63 percent of active US Snapchat users are between 18 and 34. Snapchat has also recently outranked Twitter in the US Android Store's list of most-installed apps.
If you start researching Snapchat you'll discover that many people and companies use the app. For example, Joakim Roald, from Nordic Choice Hotels, was inspired to create a film noir during his parental leave. The New York Times journalists take turns managing their Snapchat account to share stories from their individual perspectives. If you're snapchatting, you may also come across The New Yorker's editor previewing one of the magazine's upcoming editions. Snapchat offers unlimited options for creating short video and image content, so who says you can't use the app to support your recruitment process?
How to get started
1. Get to know Snapchat
First things first. Download the app and create your account. Pay special attention when you choose your username because you get only one chance; Snapchat doesn't allow you to change it afterwards. Take a profile picture and add friends. You might want to start with some supportive colleagues—after all it's your company social media account. Don't forget to set your privacy settings, as well. If you want to use Snapchat for recruiting, you should have a public profile, but you might want to start out private before broadcasting to the wider world, until you get familiar with the app.
If you're a Snapchat newbie, you should probably consider making a personal account first. Take some time to play around in the app and discover features. You'll understand the nuances of how people actually use the platform, which you'll find helpful later when creating your content.
Snaps vs Stories
A snap is a message you can send directly to individuals (or groups) that's automatically deleted after viewing. You can include images, videos or take a screenshot from your phone.
A story is a video or image that's accessible to all your friends for 24 hours. You might find stories more useful due to their longer lifespan. You can also develop a longer story if you create a series of 10-seconds videos.
2. Share ideas with your team
You can and should engage your team in your Snapchat endeavors.
First, you might get interesting ideas from people who are already active Snapchat users.
It's a great way to showcase your team environment, so the more people involved the better.
If you find it hard to engage your people in Snapchatting, explain how it works to their benefit. They could recruit great new colleagues by showing them what a day in their office life looks like.
3. Make creative content
Snapchat provides a lot of room for innovative ideas and creative content. Combine multiple images and videos, use features to highlight your snaps and don't put limits on your imagination.
Related: How to get creative with your recruiting strategy
4. Build your audience
If you're using Facebook for some years now, you've probably already established your network. In Twitter and Instagram you can use hashtags to socialize. Getting 'discovered' on Snapchat, especially when recruiting, requires a different approach:
Liaise with industry professionals or influential people. Ask them to be featured on your account, to engage in discussions and advertise upcoming events. This is how McDonald's collaborated with the NBA fan favorite LeBron James to amp up its social presence.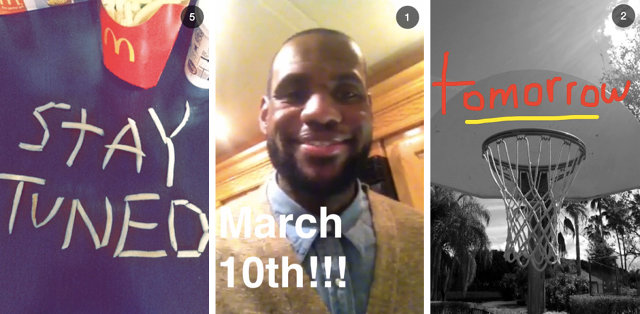 Follow current events and share live reactions. Your account will get mentioned and you'll probably see your follower numbers rise. Hubspot uses Snapchat in multiple creative ways. For example, when BuzzFeed News Editor Rachel Zarrell visited them to discuss viral content, they showed some footage of her talk and shared employees' thoughts on their company Snapchat account.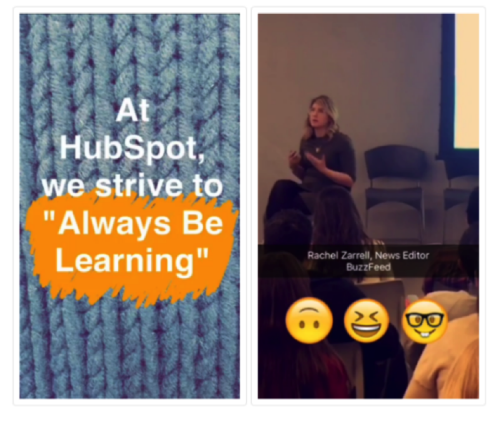 Spread the word that you're active on Snapchat and invite people to follow you using other social media platforms. This way, you can create a strong web presence and increase your marketing efforts.


Up ur @TeenChoiceFOX game n b a VIP – follow us on Snapchat now n see what's REALLY going down: SourPatchSnaps #ad https://t.co/KyeHMBY3eW

— Sour Patch Kids (@SourPatchKids) July 31, 2016

Your first snaps' enthusiasm will soon fade out if you don't have a clear idea of why you're using Snapchat. Although it may seem tricky to measure your Snapchat success, there are a few numbers you should keep track of when deciding your strategy. Your starting point could be your total unique views. Then, you could measure how many people viewed your entire story, by checking the views of your story's last snap. You will also get a notification when someone takes a screenshot of your snaps, which is usually a good indicator that people liked what they saw.
How to use Snapchat for recruitment
There are multiple strategies you can follow to improve your recruitment process. Choose the ones that fit your culture and appeal to the people you want to recruit.
Post job ads
An image that disappears after a while probably isn't the most effective way to advertise your job openings. But using Snapchat stories to accompany your job ads could make you stand out. You could send a simple snap from your employee's future office or a quick video from the team's manager encouraging applicants to send in their resumes. Think of what you'd like to tell your applicants outside the more formal context of an official job description. Taco Bell shows it's easy and quick to inform followers about open positions via Snapchat.

Introduce your team
Instead of trying to describe how your team works, why not show it? Give your applicants a sneak peak of your offices and introduce your employees. Snapchat is an easy way to show your company culture and what's it like to work with your team. Besides, your employees are your best advocates, so involve them in your recruiting efforts, just like MailChimp does. Their employees, along with Freddie—their company mascot, participated in the Inman Park Parade and shared live, unedited footage to highlight their team spirit.

For more advice on social sourcing, download our complete sourcing guide for free.
Evaluate candidates
Once you've understood how the app works, you can move your Snapchat recruitment process one step forward. Initiate a candidate video session, where interested applicants can send their snap stories instead of a resume. For example, if you're hiring salespeople, you can ask applicants to try selling one of your products using a succession of 5 or 6 snaps. It's a great way to assess their skills and test their creativity through a fun challenge.
Attract your target audience
If you're hiring younger talent, you might want to check Snapchat's campus stories. They are snap stories that are accessible to people on certain college campuses. General Electric participated in a live broadcast with California State University students and created compelling stories to engage with future computer science graduates.

Organize events
Use Snapchat to let people know about recruitment events you're organizing or participating in. Offer sneak-peak or 'backstage' footage of your team prepping for the event to draw attention and increase anticipation. You can also strengthen your employer brand by declaring your presence at important industry events.
Interact with candidates
Remember the main purpose of social media: to communicate. You can initiate discussions with potential employees by sharing career advice and creating Q&A sessions with hiring managers. Or, you can prompt candidates to send their snaps answering questions like 'Why would you like to work for us?' to identify a potential fit for your company culture. Another idea is to get in touch with applicants who are going through an interview at your company. You can either spread the good news that they've moved on to the next phase of your hiring process or give them necessary information to help them prepare for their interview. After a successful interview you could compliment your onboarding process by sending your new hire a Snapchat welcome video.
Unlike other social media and advertising tools, Snapchat is about sharing playful, raw content. Forget about editing images or finding the best light or angle to shoot your video: it will only last for a few seconds, after all. Experiment with Snapchat to showcase your company in the most personal and entertaining way. It's all about capturing real moments, so don't overthink it. If you're using Snapchat right, it's not going to look perfect.
More resources for social recruiting: