How to post jobs on Facebook
Facebook isn't just the most wildly successful social network online, it's also a place to post your jobs and find qualified candidates. So many of us spend so much of our time on Facebook (40 minutes a day among US users) that it's a natural place to let people know that you're hiring.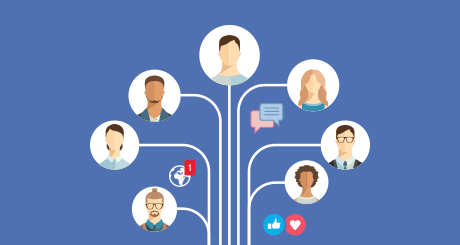 When you make a public post it can be seen by anyone. It also dominates all other channels in terms of sharing activity. Posting jobs on Facebook makes it easy for your employees and supporters to share jobs from your page, and boost your Facebook hiring efforts with a bit of a viral ripple.
There's more to sourcing and attracting candidates on social media than just slapping a link on your page and moving on. Here's how to post a job on Facebook and how to make sure that the right people see it and share it.
What makes an engaging job post on Facebook?
Here's our advice on how to make your job posting on Facebook more attractive.
Use:
A nice length. Although there's no ideal length for a Facebook post, keep in mind that more than half of all Facebook sharing happens on a mobile device, such as a smartphone. Write for the reader who is skimming posts. Make sure that your first four words grab your readers' attention, otherwise they might simply scroll down.
Images. Facebook posts with images have twice the engagement of posts without images. Use images that show candidates why they would want to work for you. Gorgeous offices, fun coworkers, and unique perks are all good bets. The thumbnail image in shared links is okay, but it's better to upload one or more full-sized images.
Other visual aids.

Instead of an image, you can post a GIF by pasting the link into the status update, or upload a video. Videos play automatically on Facebook, which makes them stand out in people's news feeds.
Use paid Facebook advertising to attract more job candidates
If you're looking for qualified candidates in a hurry, try a sponsored post on Facebook. You can turn any Facebook post into a sponsored post clicking the "Boost Post" button. Here's what boosting a post looks like on Workable's Facebook:
Once you've done that, use Facebook's targeting options to zero in on the right candidate for your job. Useful targeting options include: location, current workplace, education level and "liked" pages.
With sponsored Facebook job postings, you can grab the attention of highly-targeted candidates. The cost to boost a post on Facebook varies, depending on how many people you want to reach. If you set a budget, Facebook determines how many people you can reach with your post, depending on the targeting options you've chosen.
Related: How to write the best job description ever
How do you advertise jobs on Facebook?
You can go beyond your Facebook business page and explore more options for posting a job on Facebook:
Your personal account timeline. The job ad will appear on your Facebook feed, so that all your friends (or a subset of your choice) will find out about your open role. Employees could also share on their own personal Facebook accounts.
A group. If you're part of a professional Facebook group, or know people in a social group who might be interested in this position, share your job ad with their members.
Another Facebook company account. If you have a Facebook careers page to manage your social recruiting, it could be useful to share your Facebook job postings on other pages as well, like the main Facebook page of your company. This way, you can appeal to passive candidates (people who aren't actively looking for a job but could be tempted).
Private message. If you think some of your contacts would be a good fit for a certain position, gauge their interest with a private message.
Want to learn more about advertising jobs on Facebook? Read our complete tutorial here.
If you're using recruiting software like Workable, it's easy to share jobs directly on social media, as part of the job advertising process. Workable integrates not just with free and premium job boards, but multiple social networks.
More: The best places to post your job openings
How to post jobs on Facebook
Facebook recently launched a new Jobs tab feature (in the US and Canada, for the time being, and soon expanding to more than 40 countries) to simplify the process to post jobs on Facebook and receive applications. The jobs tab on facebook feature is available on your Facebook business page and looks like this: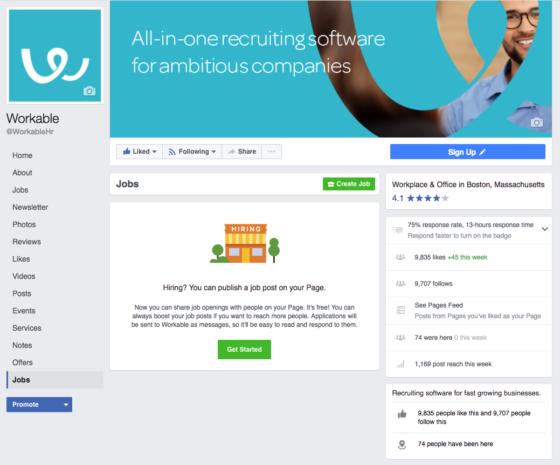 If you have a business page, you can create your Facebook job postings by simply using the status updater tool on your page. The job posting will appear in the new tab for jobs along with your page. Facebook users who are interested in your open roles can click the "Apply now" button and send their personal information directly to you via Messenger.
If you're using a recruiting platform like Workable, you'll also have the option to create a free jobs tab for your company page.
The Jobs Tab free Facebook integration automatically updates a Jobs Tab on your Facebook company page with your open positions. It also automatically tracks candidates who apply through Facebook. Set it, forget it, and now you have another place to recruit candidates looking for a career with your company.
See our ready to use Facebook job post example template: 'We're hiring' Facebook post template
Here's a video with a quick recap and useful tips on how to post your jobs on Facebook:
Related: What's the best day to advertise job openings?
Why stop at Facebook? Boost your social media recruiting efforts in just one click by advertising your job for free on 15+ job and social media sites, including LinkedIn and Glassdoor. Start a free Workable trial now.
More resources for posting jobs:
Before you get started posting jobs read our free Ultimate Job Posting Guide Ebook
Frequently asked questions
Can I post a job on Facebook for free?
You can post a job for free on Facebook, but many users choose to boost their job post so that it appears as an ad for more users. If you decide to boost your job post, you will add a budget for the ad with pricing based on a pay-per-click model.
How do I post a paid job on Facebook?
Posting a job on Facebook is straightforward, and this is a powerful tool for any recruiter. Simply go to your Page, choose "create a new job post," and fill in the details about the position. Add more info that applicants will want to know, such as the salary and whether the job is full- or part-time.
Does Facebook have a job board?
In February 2017, Facebook opened up its new job board feature, where employers can post jobs directly to their company page or a specific jobs page and job seekers can apply to them immediately through Facebook.