How to post jobs on Jobserve
Launched in 1994, Jobserve might be the oldest online recruitment service. Starting out as a 'jobs-by-email' subscription, it was swiftly followed by a more formal web presence. Now covering all the major industry sectors, Jobserve boasts 8 million global pageviews a month, and over 1.2 million emails delivered daily. Wherever you are in the world—as a job seeker or employer—Jobserve has a site for you.
Jobserve guarantee a range of services to help employers find the right talent for an open position, including:
Job distribution through their network of relevant partner sites (a mix of job boards, affiliates and aggregators)
Emailing jobs to subscribers matching your target audience
Providing a CV database containing thousands of active job seekers
Promoting your brand within the Jobserve website via banners, features, and Smart Ads
Using 'smart match technology' to notify candidates ideally suited to your role
Jobserve will also verify every job you post, optimizing it for maximum reach. Find out more about the services Jobserve provide in their product portfolio.
Job posting options on Jobserve
Depending on the number of hires you need to make, and the frequency with with which you need to hire, Jobserve have a range of options to suit:
Post an individual job:
Buy either a 7 or 30 day posting
Purchase job credits:
Buy a batch of credits to get a bulk discount, and use them whenever you're next hiring
Purchase reusable job slots:
Each job slot can be changed up to 8 times a month. Payment is monthly and the slots expire at the end of each month. Get bulk discounts the more job slots you buy.
How to post a job to Jobserve
It's easy to post a job to Jobserve, whether you have an existing account or you're a new user. As you'll need to provide payment details, setting up an account is required, but this only takes a few moments. To post a job:
Select 'Sign In/Register' from the top right of Jobserve's homepage, then 'Advertisers' from the dropdown menu.

Select 'My Jobs' from the top of the following page, and then 'Post a Job' from the dropdown menu.
Next you'll come to the page that forms the content of your job post. It's easy to add your details step-by-step, from the job description to location, industry and salary. If you need help writing the job post, try the Workable Job Description Library. It contains templates for a broad range of industries, ready to copy and paste.
Next you'll see the 'Application Information' section. This is where you can enter your contact details and the email address candidates should use to apply. If you're using an online application form you'll also see the option to enter the web address.
When you're ready, select 'Next' at the bottom of the page.
Now you'll see the job post as it would appear on Jobserve. You can review the details you've entered and click 'edit' to adjust anything that needs it.
You'll then have the opportunity to review the plan you're about to purchase; every option is presented here. You can select 'Previous' from the bottom left of the page to change your posting options, or if everything's ok, select 'Purchase' from the bottom right of the page.
Finally, enter your billing information and select 'Pay now' to post your job to Jobserve.
Managing applications from Jobserve
When you post a job on Jobserve, applications will arrive via your given email address. Even if you provide an address created purely to gather applications, you'll still need to keep on top of that email inbox over the following weeks.
Many companies use an applicant tracking system to help manage the flow of candidates. Instead of individual Jobserve applications arriving by email, an applicant tracking system will automatically gather applications into a searchable candidate database. A profile is created for every candidate which can be shared with your co-workers or hiring team. The system will also keep track of feedback and evaluations, streamlining your communications and ultimately, your recruiting process.
Using Workable with Jobserve
Collecting applications from Jobserve into your Workable account is easy. You can still gather your candidates in your Workable pipeline for review. Once you've used Workable to post the job to your chosen free job sites or bought any additional premium posts, you'll see the job shortlink on the Your Network step: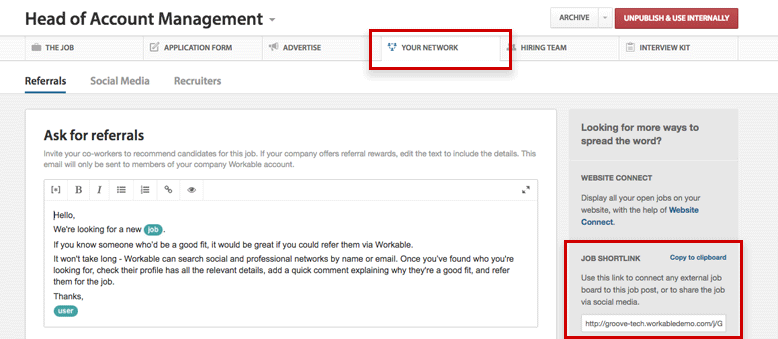 When you're completing the details of your job post on Jobserve, copy this job shortlink into the 'Online Application URL' field in the 'Application Information' section of the page:
Now, candidates who apply through your Jobserve post will be visible in the 'applied' stage of your Workable pipeline, ready for review with your team.
More resources for posting jobs: