StackOverflow job posting: a guide for employers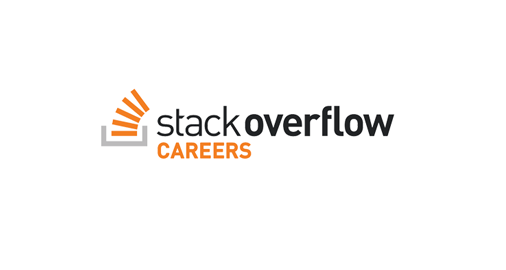 StackOverflow is an online community, used by programmers to learn, share knowledge and further develop their programming careers. Founded in 2008, it's the largest part of the Stack Exchange network; a family of over 150 knowledge sharing communities, covering topics from mathematics to photography, home improvement to information security.
Many companies use StackOverflow to source passive candidates. Community members have their own profiles and it's easy to see the technologies they use and how they interact with other members of the community.
But as home to a global network of engaged developers, posting jobs on StackOverflow is also an excellent way to connect with your target audience. If you're looking for Rails developers for example, your job post will be displayed on the StackOverflow pages discussing Rails. There are very few other job boards that have such a specific reach in the development community, and StackOverflow themselves say that "your jobs will have the potential to reach at least 16 million professional developers".
How to post jobs on StackOverflow:
Developers are in high demand. When you're posting a job on StackOverflow, always create targeted job postings; clearly identify the interesting challenges of the role and the latest technologies the candidate will be using.
Company pages
StackOverflow gives employers the option to create a free company page, which is a great way to kick off your employer branding. Showcase what's exciting about your company, and why a potential candidate would want to work for you. Suggested things to include are employee benefits (everything from your training budget to social activities, snacks and remote working options), the work culture, and any team members new employees might be working with.
It's free to create your company page – all you need to do is set up a StackOverflow Careers account to get started.
StackOverflow pricing
StackOverflow is a premium job board, which means that there is a fee to post a job listing. There are two upgrades to the basic job listing available:
Featured listings are given special placement on the homepage and will be highlighted in the search results.
Top spot listings are always shown in the top position of banner ads on StackOverflow.
Get more information on StackOverflow prices, and find out more about the right time to pay for a premium job listing.
Want to get your job advertisement in front of the best developers? Try Workable for free for 15 days to post to the top job boards and manage the hiring process.
How to post a job on StackOverflow
To post a job to StackOverflow you'll need to sign up for an account with careers.stackoverflow.com. Select 'log in' in the top right corner of the homepage, and then 'create a new account' from the page that follows. Just enter your email address and a password to complete your sign up.
Once you've verified your account, posting a job is easy:
Select 'Post a Job Listing' from the top of your account's homepage.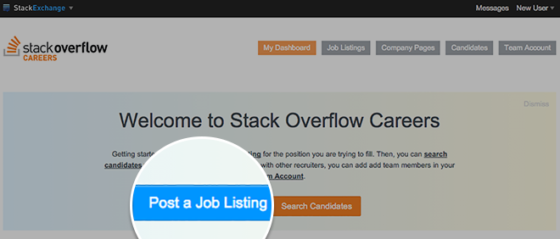 In the following page, enter your job description and company details.
If you need some job description inspiration to get started, browse a selection of job description templates for the technology industry. They're ready to copy and paste and customize to your needs.
Next you'll see the 'Application Method'. If you're using email as your main recruiting tool, then check 'Use StackOverflow Careers'. If you're using an applicant tracking system to manage your recruiting, you'll see a place to enter an email address or job shortlink as the 'Optional application method'.
You'll now see the option to include questions from the Joel Test. While not appropriate for every role, this is a quick list of yes/no answers to give a broad idea as to the quality of applicants.
Select 'Continue' at the bottom of the page to preview your StackOverflow job posting. If everything looks good, proceed to the next page.
On the Checkout page, enter your billing information, choose the length of your job post and select 'Place Order' to post your job to Stack Overflow.
Related: What's the best day to advertise job openings?
Managing applications from StackOverflow
If your company's main recruiting tools are email and spreadsheets, you'll need to keep on top of your inbox over the following weeks. Email is often used to gather applications, share them with the broader team for comments and then to manage feedback. The alternative is an Applicant Tracking System, like Workable.
Workable is software used by teams to help streamline their recruiting. In short, recruiting software is used to:
Using Workable with StackOverflow
Workable partners with a broad range of free and premium job boards, including StackOverflow. This means that you can post jobs to StackOverflow without ever needing to leave Workable. To find more about this read our short StackOverflow support article.
If you're buying a StackOverflow post outside of Workable, you can still gather your candidates in your Workable pipeline for review. Once you've used Workable to post the job to your chosen free job sites or bought any additional premium posts, you'll see the job shortlink on the Your Network step: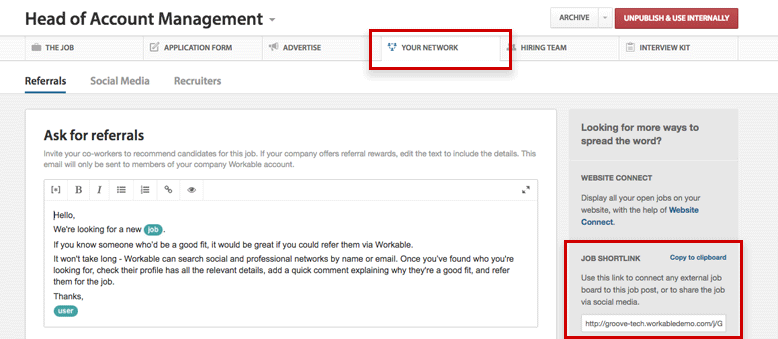 When creating your job on StackOverflow, enter your Workable job shortlink as the 'Optional application method'.
Now, anyone that wishes to apply will be directed to your online careers page and application form. All applications will arrive in the 'applied' stage of your candidate pipeline, ready to review with your team.
Find out more about the ways Workable can streamline your recruiting, or try all the features free for 15 days.
More resources for posting jobs:
Frequently asked questions
How much does it cost to post a job on Stack Overflow?

Job posting prices at Stack Overflow Talent are customized and only available on request, whereas job listing costs start off cheaper, with Authentic Jobs advertising $149 per month for a single post.
How do recruiters use Stack Overflow?

Stack Overflow allows recruiters as long as they abide by the rules: Disclose the company you're recruiting for, Recruit for a specific role (no vague "I have a couple of opportunities"), Make sure the role is relevant to the candidate's interests, and Provide background info.
What do developers look for in future job opportunities?

Developers are naturally curious people who want to learn new skills and contribute in any way they can. By giving them access during work hours, you're providing an environment that supports intrapraneurship—the ability for developers' creativity while simultaneously helping out your company with its needs!