Employee benefits: A guide on common and best benefits
Employee benefits, also known as fringe benefits, are added perks given to employees beyond their normal wages or salaries. These can include insurance (medical, dental, life), stock options, training opportunities, and more. They are crucial for attracting and retaining talent, enhancing job satisfaction, and fostering a positive work environment.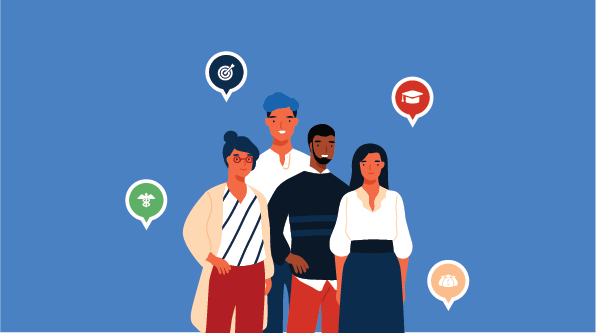 Employee benefits have become an essential part of any competitive compensation package. From law-mandated insurance to free snacks, benefits and perks can play a big role in talent attraction and employee retention.
So if you're thinking of building effective benefit plans or looking to boost your existing policies, we got you covered – we present the basics of employee benefits, including types of employee benefits, common benefits per location and insight on what candidates and employees truly want:
What are employee benefits?
Before we get into the nitty-gritty of employee benefits (or fringe benefits), let's define the term:
Employee benefits are any kind of tangible or intangible compensation given to employees apart from base wages or base salaries.
This employee benefits definition points to examples of job benefits such as insurance (including medical, dental, life), stock options and cell phone plans. But, employee benefits can be much more than these, from training opportunities to startup perks (let's not focus on the notorious ping pong tables, though).
Basically, any kind of non-wage gain attached to an employee's position can be classified as an employee benefit, be it mandatory or voluntarily given by an employer.
Why do employers offer benefits to employees?
Benefit packages take a lot of time out of many HR professionals' time. And with good reason: they're one of the most basic employee engagement and retention strategies, and they support talent attraction as well.
The numbers speak for themselves about the importance of employee benefits. Extensive research by the Society of Human Resource Management (SHRM) indicates that 92% of employees consider employment benefits as important for their overall job satisfaction (in itself, a great element of retention and productivity). Almost one third of employees also cited work benefits as the top reason of looking for a job outside their organization; and for choosing to stay at their job, too.
Benefits are also among the top driving factors candidates look for in job ads – 63% of job seekers surveyed say they pay attention to what benefits a company offers. This means that offering benefits, and mentioning them in your job ads and careers page, is a great part of your employer branding efforts.
Employee benefits also help you take care of high-performing employees without the need to keep investing in exceptionally high pay raises. All employees should get paid enough to pay the bills and live comfortably, but they might accept less pay if they have strong health insurance, flexible hours and other benefits important to them. The practice of employees giving up a part of their salary for benefits is called salary packaging, and may also result in tax deductions or other gains for either party.
What are the four major types of employee benefits?
The major types of benefits are those categories of benefits that are more commonly met in companies across countries. Many cite these benefits as health insurance, life insurance, disability insurance and retirement plans. However, this view is focused on the different types of insurance, and neglects other equally major benefits. In an effort to expand our scope, we've grouped insurance benefits together and listed three other major types of benefits offered by employers:
Insurance
Retirement plans
Additional compensation
Time off
Insurance
This category includes health insurance (dental, medical, vision), life insurance, and disability insurance. Offering health insurance, or some kind of medical plan, is mandatory in many countries, and there's often publicly available medical care sponsored by employers. However, many companies opt for private group or individual insurance in order to provide better options to their employees.
Life insurance shows that the company cares not only about the employee, but also about their family. If the employee dies, their family will get a sum to cover funeral and other related expenses, and their cost of living for a set time period. Life insurance may also be complemented by Accidental Death and Dismemberment (AD&D) policies which pay a sum to employees who either die or sustain injuries which render them unable to work.
Disability insurance may cover long-term and short-term disability or illness. For example, if an employee gets sick, they can receive payments for as long as their sickness lasts. In the U.S., some employers may sometimes use short-term disability policies to fund paid maternity leave for female employees.
Retirement
Retirement benefits help employees feel more secure about their future after retirement. In the U.S., for example, a common benefit is the 401(k) in which both company and employee make defined contributions to the employee's account on a regular basis.
The 401(k) is a type of defined contribution plan which doesn't guarantee employees a specific benefit amount at retirement. This is because the money invested from the account may be lost if investments fail. Employees choose how to invest contributions, or how much to contribute from their paycheck through pre-tax deductions. Employers may also contribute, in some cases by matching a certain percentage of employees' contributions. At retirement, employees receive the balance in their account. Before you decide whether to implement a 401(k) plan, learn about its different forms.
There's also the defined retirement plan which is entirely funded by the employer, so employees can receive a specific monthly benefit at retirement. The amount may be determined based on retirement age and tenure at the company.
Time off
In many countries, paid time off is mandated by law, like in the European Union (Austria, for example, has a legal minimum of 22 paid days for vacation and Finland has five weeks). Employers in countries like the U.S. may not be obliged to offer paid vacation leave, but those that do it voluntarily can get a competitive advantage in talent attraction and retention – 9 out of 10 employees reported that paid leave is important to their overall job satisfaction, according to SHRM.
For similar reasons, employers around the world may choose to extend law-mandated leave, such as giving extra days for sickness. In the U.S., 71% of all workers in the private sector had paid sick leave as a benefit, according to a 2018 report by the Bureau of Labor Statistics.
The same goes for other types of leave such as parental or bereavement leave. For example, the law in the UK doesn't provide for bereavement or compassionate time off, so offering a few days of this type of leave can be an important benefit.
Other time-off benefits may include training days and sabbaticals, which are usually voluntary for employers, but can have just as much impact on employee engagement.
Additional compensation
This category refers to any money offered to employees apart from their regular compensation. This money includes bonuses, commissions, awards and gifts, as well as indirect compensation, like stock option plans and profit-sharing.
Bonuses can be contractual or discretionary and may include:
Sales commissions
Individual or company-wide performance awards
Lump sum gifts (e.g. for exemplary actions on the job)
These compensations are usually part of incentive programs that motivate employees to produce more and better quality results. They may also help keep morale high. Often, bonuses are determined by union contracts.
There are some arguments against monetary benefits though; financial rewards may sometimes spur unethical behavior or create envy among coworkers. For example, a salesperson who knows that the most successful salesperson of the month will get higher commission might resort to stealing prospects from coworkers or otherwise contributing to an unhealthily competitive atmosphere in the office. To prevent these outcomes, make sure you give everyone the same chances to earn bonuses and make the criteria for those bonuses transparent to all, and be suspicious of discrepancies in employee results.
If you want to formulate a clear and transparent bonus policy, here's our policy template to get you started.
Common and best employee benefits
Apart from the major categories, there are several other types of benefits that appear frequently in company benefits plans.
Here are the top 10 employee benefits worldwide:
Private Health Care Plan (Medical, Dental & Vision)
Retirement / Pension plans
Training and Development
Stock option plans
Work From Home and/or flexible hours
Food and snacks
Life insurance
Extended leave (Vacation, Sick)
Bonuses / Awards / Gifts
Company equipment (including vehicles, laptops, phones)
Note that the most popular benefits vary per location and there are also benefits that are exclusive to certain areas. For example, Australians can receive novated leasing as a benefit, enabling them to lease cars with their employer taking on the contract's obligations.
In the U.S., where paid parental leave isn't federally mandated by law like in other countries (although it exists at the state level in some jurisdictions), time off for mothers and fathers is a popular company-offered benefit.
In four English-speaking countries, employee benefits may include: (this list isn't exhaustive for any of these areas and the order of items isn't significant)
| | | | |
| --- | --- | --- | --- |
| US | Canada | UK | Australia |
| Health Care Plan (Medical, Dental & Vision) | Extended Healthcare Plan (Medical, Disability, Dental & Vision) | Private Healthcare Plan | Performance Bonus |
| Life Insurance (Basic, Voluntary & AD&D) | Group Life – AD&D – Critical Illness Insurance | Life Assurance | Novated Leasing |
| Retirement Plan (401k, IRA) | RPP – Group RRSP | Pension Plans | Extra Superannuation – Pension plan |
| Paid Time Off (Vacation, Sick & Public Holidays) | Paid Time Off Benefits | Leave Package | Unpaid extended leave |
| Training & Development/ Tuition reimbursement | Training & Development/ Tuition reimbursement | Training & Development | Training & Development |
| Work From Home | Work From Home | Work From Home | Work From Home |
| Free Food & Snacks | Bonus – Awards – Gifts | Company Vehicle | Free Food & Snacks |
| Wellness Resources | Employee Assistance Program – Counseling | Employee Assistance Program – Counseling | Employee Assistance Program – Counseling |
| Stock option plan | Stock option plan | Stock option plan | Stock option plan |
| Family Leave (Maternity, Paternity) | Employee Discounts | Childcare Voucher Scheme | Employee Discounts |
So what are good benefits for employees?
Or rather, what employee benefits do people value the most? The easy answer is that employees value all benefits. But, budgets are limited and companies need to find the benefits mix that will have the most positive impact, while also not breaking the bank.
To do this, first be sure to learn what benefits you need to offer by law. This could be national or state law. Make a list and decide if you can extend some of those benefits. For example, in France, employees are guaranteed three to five days of bereavement leave. You could decide to extend this leave if you find that your employees need it.
Then, take a look at surveys to help you determine voluntary benefits your company should offer. Glassdoor's Benefits Review survey in the US investigated the correlation between certain benefits and job satisfaction. A correlation of 1 means the benefit is a good predictor of employee satisfaction, while 0 shows no correlation. Here's the list of employee benefits with correlations of more than 0.5: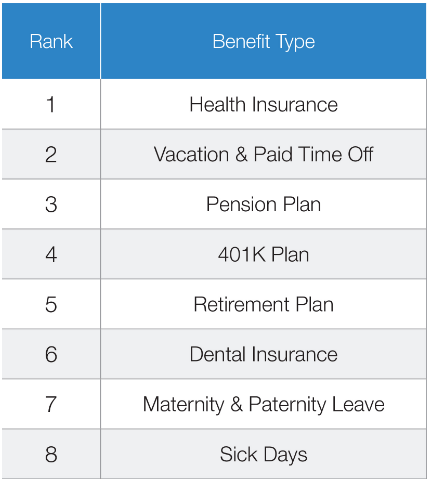 Another recent survey by a benefits provider identifies the three most popular non-insurance benefits:
Paid family leave
Flexible/ remote work
Professional development
You can also look at employee benefits examples from big companies with high employee ratings. You may not be able to afford all these benefits, but they can certainly give you ideas.
Of course, it never hurts to investigate what your own employees want – perhaps, they have different needs than workers in other industries or locations. Ask for feedback via email or create an online survey using a free tool like Google Forms. Also, some employers pay attention to the demographics of their employee base to give everyone the benefits they need most based on their characteristics. For example, in order to retain and engage millennials, businesses may offer them benefits such as student loan repayment support and co-sign support for auto loans.
How much do benefits cost a company?
According to a 2019 report by the Bureau of Labor Statistics, employee benefits in the U.S. make up 30% of total compensation costs. Insurance benefits accounted for 8% of compensation costs and legally required benefits were at 7.7%.
Health benefits especially might average $15,000 per employee in 2019, prompting employers to make changes in order to lower the cost of employee benefits (e.g. adding more virtual care solutions).
Benefits do cost money, and their importance is such that these costs will not (and should not) be reduced too much. But, not every benefit has to create heavy financial burdens for companies. You can try your hand by introducing cost-effective benefits and perks, such as:
Free lunches and/or snacks
Public transit cards or reimbursement for tolls, gas and other travel-related expenses
Company-sponsored discounts (e.g. for coffee places, gyms, restaurants, daycares)
Extra time off for training or volunteering
Free parking spaces
Cellphone plans with free calls/texts/internet
Housing and relocation benefits for new hires (where applicable)
Wellness resources (such as standing desks, first-aid training)
Many of these unique employee benefits are on the rise: for example, in the U.S., out of all the organizations that increased their offered benefits, 44% increased their employee wellness resources. These can help boost morale, but they can also help you avoid indirect costs, like costs associated with missed work and associated productivity (about $1,685 per employee each year, according to SHRM).
And this may be the case for most benefits. What seems expensive at first glance might actually save you money in the long run. So make sure you examine the possible costs and gains for each employee benefit before you decide what to include in your plan.
Employee benefits management: How to do it effectively
Employee benefits have a significant impact on the administrative aspect of HR, especially when regulatory issues are involved. But there are ways to manage benefit plans more effectively to save time and reduce the possibility of mistakes. Here are five things to consider:
Hire a dedicated employee benefits specialist. This person could be in-house (as a Benefits Administrator or Compensation and Benefits Manager) or external (such as a Benefits Broker). They will help you find the best options based on your company's needs, calculate costs and gains, and even negotiate prices for certain benefits.
Find the right software. It's very difficult (and unnecessary) to manage benefit packages without the help of technology. A good employee benefits information system helps you see which employees receive which benefits, export statistics and administer benefits (it might also integrate with your talent acquisition software to further streamline the entire HR process). To find the right software, do your research and make a compelling business case.
Measure benefits and costs diligently. This will be the responsibility of the finance department, but it's important for HR to keep track of rising or plummeting costs and gains. Having data will be vital to form your long-term benefits strategy.
Include a description of benefits and perks in your Employee Handbook. No number of great benefits will be effective if employees don't know they have them. Prepare a section in your Employee Handbook to give important information on what your company offers (use our benefits and perks template as an employee benefits package example to get started with your own).
Monitor employees' wishes and needs. Employees' needs may change. Offering free lunches and gym memberships is great for younger employees. But, as they grow older and have families, flexible hours or parental leave might be more important. Listen and make changes when needed.
Frequently asked questions
What is the most common type of employee benefit?

Health insurance is the most commonly offered employee benefit. However, life insurance, dental insurance, and access to retirement accounts are also popular to retain talent.
What are mandatory benefits for employees?

Mandatory or statutory benefits are those that employers are legally required to provide. These include worker's compensation insurance, unemployment insurance, and in some regions, paid sick leave.
What are good benefits to offer employees?

Good benefits can vary based on the company and position, but may include health insurance, dental insurance, vision care, life insurance, paid vacation leave, personal leave, sick leave, child care, fitness benefits, retirement benefits, and college debt relief.
How do employee benefits impact job satisfaction?

Employee benefits significantly impact job satisfaction. They not only provide financial security but also contribute to a positive work environment, thereby enhancing employee engagement and retention.
How can employers effectively manage employee benefits?

Employers can manage benefits effectively by hiring a dedicated benefits specialist, using the right software, diligently measuring benefits and costs, clearly describing benefits in the Employee Handbook, and regularly monitoring employees' needs.