How to post jobs on Craigslist: A step-by-step guide for employers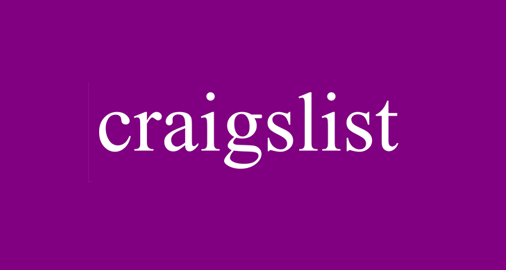 Craigslist is a classified ads website, operating in over 70 countries. Starting life as an events email list in 1995, the site now has over 20 billion page views, and 80 million new advertisements each month. While it covers everything from properties to rent and gigs to attend, Craigslist is also a great place for employers to attract candidates and post jobs for free. This tutorial will give step-by-step guidance on how to post jobs on Craigslist.
Posting a job to Craigslist is free for most employers; selected areas charge a fee between $7-75. With a paid posting account you also get the benefit of:
Tools for managing your post
Multi-user access for a single account
Pre-purchased Craigslist job postings
Invoicing and online payment
Get in touch with Craigslist to find out if you'll need to pay to post a job ad in your area.
How to post free or paid job listings on Craigslist:
Setting up an account with Craigslist
If you're posting a free job on Craigslist, you can jump right in; there's no need to set up an account. If you'd like the option to save your drafts, edit, delete or re-advertise a free job post, then an account will be useful. Setting up your free account is easy, simply enter your email address and a password, and verify your email address.
Read why savvy recruiters use free job posting sites.
To apply for a paid posting account with Craigslist, you'll need a basic free account first. Complete the online application form and once your account has been approved, a member of the Craigslist accounting staff will take payment for paid postings within 1-7 business days. You can pay for posts with a credit card, by post or with a check.
How to post a job on Craigslist for free:
1. Choose the right location
Craigslist is a global network. Before you begin, make sure your location is correct; you'll find it at the top right of the page. To change it, choose a new location from the directory of Craigslist sites.
Once your location is correct, select 'post to classifieds' in the top left corner of the home page.

2. Select the job's category
On the following screen, pick 'job offered'. Then choose the job's category from the list e.g. 'accounting/finance'.
3. Start building your job ad
Next, enter the job title, specific location and job description. Need some help with the descriptions? Try the job description library for a comprehensive list of job description templates.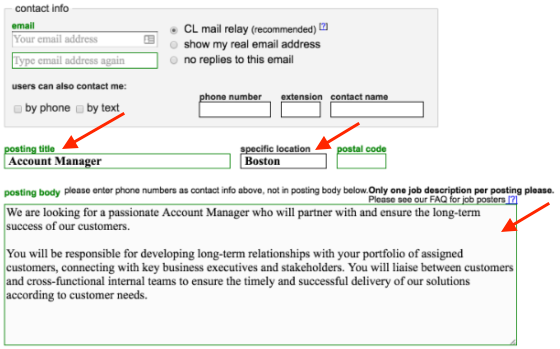 Related: How to write the best job description ever
4. Add contact details for applicants
Next—assuming you're not using recruiting software to track applicants (see below)—enter your email address. You'll see the option to show your real address, or to use the Craigslist mail relay. Mail relay will protect your email address from spam by creating an intermediate email address based on random numbers and letters. Any candidate responses are then delivered to that address and forwarded on to your own email account. It's recommended to protect your email address on heavily trafficked sites such as this, and so mail relay is an easy, safe option.
5. Complete your ad with useful information
Tick any relevant details regarding telecommuting or contract type and select 'continue' at the bottom of the screen. Add any images you need to your Craigslist job posting and select 'done with images' or move straight on to review and publish your job listing on Craigslist.
Note: your ad may take approximately half an hour to appear on Craigslist.
Managing applications from Craigslist
When you post a job for free on Craigslist, you'll usually receive applications via email, potentially using the Craigslist mail relay to protect your account from spam. This means that you'll need to keep on top of your inbox over the following weeks. Your email will be used to manage day to day communications along with reviewing and replying to candidates, forwarding applications to members of your team and keeping tracking of feedback… And that's before you've started to schedule calls or interviews.
An Applicant Tracking System like Workable will help. Workable is recruiting software, used by teams to help streamline their recruiting; instead of individual applications arriving from Craigslist by email, Workable automatically gathers applications into a searchable candidate database. Every candidate can be screened via a candidate profile and other members of your team can add comments.
Recruiting software will help to centralize your hiring activity. In brief, it's used to:
Using Workable with Craigslist
If you're using Workable to gather your candidates from Craigslist, you can still store your candidates in your Workable pipeline for review. Once you've used Workable to post the job to your chosen free job sites or bought any additional premium posts, you'll see the job mailbox on the Your Network step: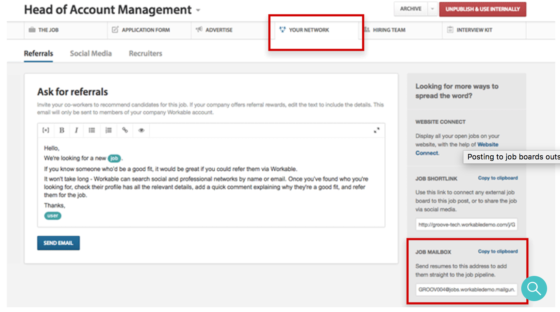 The job mailbox is an email address created specifically for the position. Candidates can email resumes to the job mailbox in following formats: .pdf, .rtf, .odt, .doc & .docx.
Simply copy and paste the job mailbox address into your job description on Craigslist. Workable's ATS will extract the information from the resumes to create profiles that will be added to the "applied" stage of your pipeline.
Related: What's the best day to post jobs?
More resources for posting jobs:
Frequently asked questions
Is Craigslist good to post for jobs?
While it covers everything from properties to rent and gigs to attend, Craigslist is also a great place for employers to attract candidates and post jobs for free.
Is it safe to hire from Craigslist?
Deal with people from Craigslist posts that you can meet in person. You may be in touch initially through phone calls or messages, but ensuring that you can do business in person is key to avoiding scams across the board on Craigslist or other job board sites. Don't send money in advance.
How long do Craigslist posts stay up?
The expiration dates for Craigslist posts vary depending on your location. In most cities, a classified post lasts up to 45 days before automatically expiring and then being deleted. If you post a Craigslist classified ad targeted for most major U.S. cities, however, it expires within just one week.