How to post a job on Snagajob
Snagajob is an international job board covering industries including hospitality, retail, healthcare and more. Advertising vacancies for customers like Burger King, Michaels and Dunkin Donuts, Snagajob connects workers with hourly jobs. With over 60 million registered job seekers the average candidate age is between 16-30, and jobseekers here have an average of 3 years experience.
Snagajob makes it easy for companies to source and attract candidates. It uses personality tests to identify each candidate's own strengths and weaknesses, and multiple ways for applicants to search by job type and location. Catering to the millennial market, the Snagajob site and application process is entirely mobile friendly.
When you post a job on Snagajob
The word gets out immediately:
active job seekers in your zip code will receive an alert
the job will appear in relevant search results on Snagajob.com and the Snagajob mobile app
the job will be emailed to local job seekers in the Daily Job Alert email
you'll receive a short url to share on social media
Snagajob also gives you the option to perform a more proactive candidate search. Based on the job title, Snagajob will match you with local job seekers qualified for your position. You can view the profiles and approach potential candidates to invite them to apply.
How much does it cost to post a job on Snagajob?
Snagajob offer three plans from $89-$249 a month:
Starter: the starter plan offers a job posting on Snagajob for one month. The job will also be sent directly to potential candidates in a targeted email blast. Also included are the option for candidates to '1-click apply' (pulling in their Snagajob profile details into their application) and tools to sort and filter the applications you receive.
Starter Plus: the plus plan offers all the benefits of the starter plan, but includes visual personality assessment tools—which Snagajob claim to be more reliable than the Myers Briggs test.
Growing plan: the premium plan, this offers three active job postings for one month. You'll also be featured in the targeted email blast, get the visual personality assessments and some basic applicant tracking tools to help manage the applications as they arrive.
How to post a job on Snagajob
Posting on Snagajob is simple:
Select 'Post a job' from the top right of Snagajob's homepage.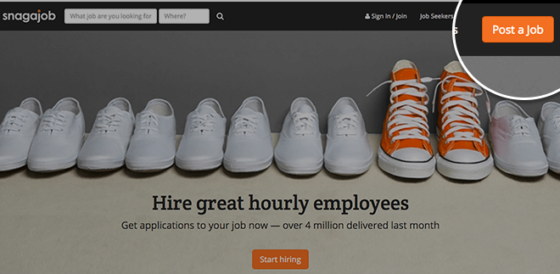 Review the available plans and choose the one that best matches your needs.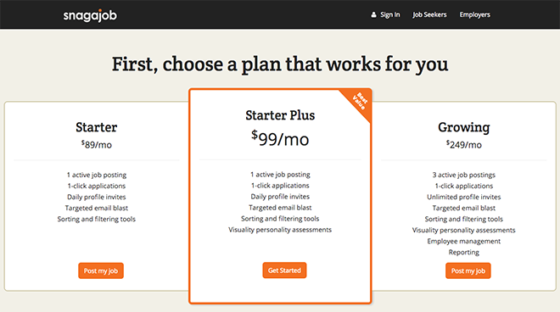 Enter your personal details to open your account.
The page that follows forms the bulk of the job post. Include the job title, salary and location and a description of the job itself. As you enter the information on this page, you'll see the live preview update in the right hand column. For help with writing job descriptions, try the Job Description Library, a collection of job description templates ready to copy and paste.
When the job description and details are complete, enter your billing information and select 'Checkout' at the bottom of the page to post your job to Snagajob.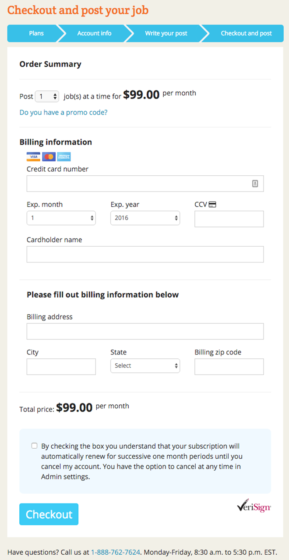 Related: What's the best day to advertise job openings?
Managing applications from Snagajob
As part of the job posting package, Snagajob provides basic tools to help manage candidate applications. You'll be able to sort, filter and review candidates to create a list of prospects for interview. This is available via the desktop or mobile application.
In order to maximise your reach for every job, you might consider advertising your job in multiple locations. To do this, you'll need to keep on top of applications arriving in multiple different places; from your own email inbox to the tools provided by additional job boards.
It's at times like this that an Applicant Tracking System (ATS) can help. This is recruiting software, used by teams to help streamline and centralize their recruiting; instead of individual applications arriving from in multiple places, recruiting software automatically gathers applications into a searchable candidate database. Every candidate can be screened via a candidate profile and other members of your team can collaborate in the process, adding comments and feedback.
In short, recruiting software is used to:
Using Snagajob with Workable
If you're using Workable to review candidates from Snagajob, you can still gather your candidates in your Workable pipeline for review. Once you've used Workable to post the job to your chosen free job sites or bought any additional premium posts, you'll see the job shortlink on the Your network steps: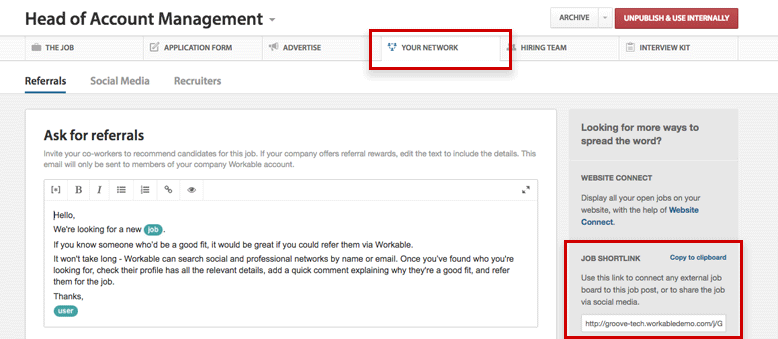 Simply copy and paste this into the 'Additional Information' window when you're setting up your job ad on Snagajob: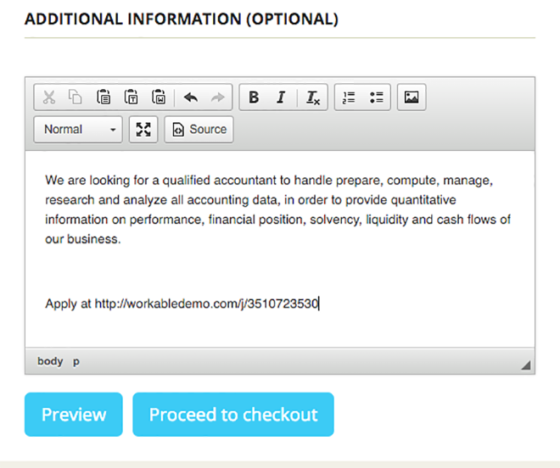 Find out more about the Workable free trial, or sign up and get started now.
More resources for posting jobs: