How to post job ads on Seek
Seek.com.au is a leading job board catering to the Australian and New Zealand job markets. With over 4 million unique job seekers per month generating a huge database of potential candidates, Seek is the ideal place to post a job ad, but also to begin your proactive search for talent.
To give job seekers a better sense of the culture and unique selling points of every employer, Seek provide a review board for companies. This is a place for candidates to read testimonials from employees past and present and get a sense of whether they're the right fit for the company. All this makes for better researched applications, and hopefully, candidates who are fully engaged with your mission and culture.
Candidates can also create their own profiles to be included in the Seek talent database. Registration and creation of a profile means that jobseekers will receive email alerts when the right kind of jobs are posted. As a registered employer, you'll receive access to the database to search for candidates that could be a great fit.
Advertise a job on Seek
Like many modern job boards, Seek provide a range of different ways to spread the word that you're hiring. A 'Classic job ad' will be advertised on the job site for 30 days, and sent via email to potential candidates in the Seek talent database who match your criteria. To attract today's job seekers all ads are optimized for desktop, mobile and tablet. You'll also receive access to the Seek talent database to begin a proactive search.
A 'Standout ad' gives you the option to make your ad stand out visually. With a bold, eye catching border, these ads also feature your own company logo and give you the option to add three additional bullet points to really sell the job.
The most expensive job posting option on Seek is the 'Premium ad'. This includes the visual enhancements on the Standout ad, but also features a color background to make it stand out even further. In addition, this Seek job post receives priority listing at the top of job searches for seven days.
If you're hiring for a number of different jobs, then you'll save money when you purchase Seek job ads in bulk. With discounts available from 3-30 positions, ads are valid from 6 months of the purchase date. Should you be hiring for even more than 30 positions, Seek offer additional discounts for custom plans.
For companies looking to build up their employer brand, Seek's job board also offer a banner advertising options.
How to post a job on Seek
With Seek, you can set up an account and post a job in one simple process:
Select 'Register for FREE' to the left of Seek's employers homepage.
Enter your account details and select 'Send activation email'.
Check your email for the Seek confirmation message, and click the confirmation link. This will direct you back to the website. Click 'Create a job' to get started.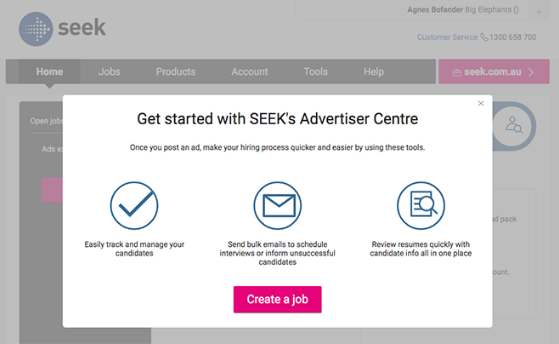 Review each plan and choose the one that's best for your company's hiring needs.
Enter your job details and select 'Continue'.
Add selling points, salary information and a logo. Next, enter the job summary, and the job details. This job description library has an extensive list of descriptions and requirements to copy and paste.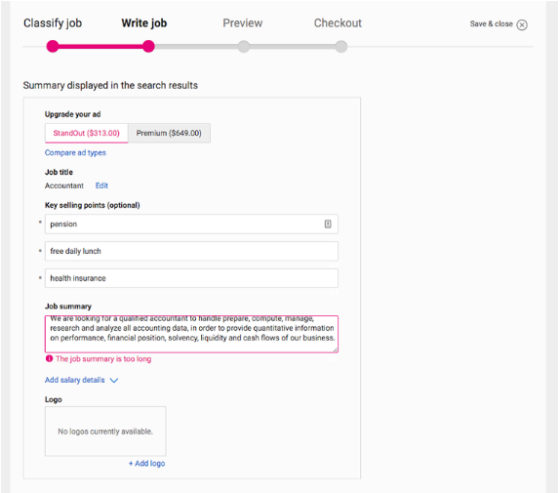 Next, review your job post, make any edits as necessary, or if you're good to go, select 'Continue'.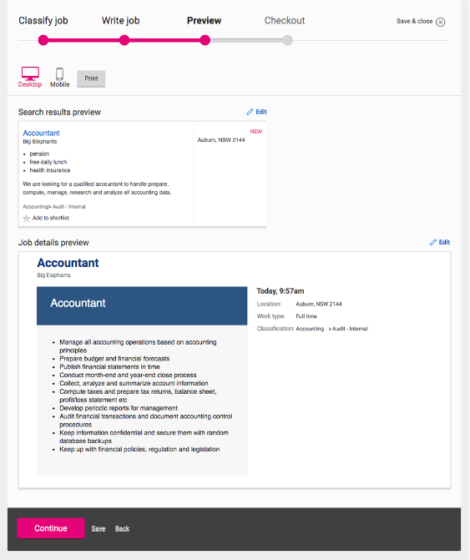 Enter your business address and select 'Continue to payment options'.
Finally, enter in your billing information and select 'Pay by credit card'. Congratulations! You've now posted your job to Seek.
Managing your Seek applications
Like many large job boards, Seek offers a simple tool to track and manage applications as they arrive. You'll be able to evaluate candidates and move them through a basic recruiting pipeline. Seek also offers the option to bulk reject candidates by email when they're found to be unsuitable for the position.
If you're increasing your chance of reaching more candidates by posting to multiple job boards, then a single method of tracking candidates will become problematic. You'll need to log in and out of different job boards, track some applications via email and others with external systems.
To solve this problem, many companies centralize their hiring with an applicant tracking system.
Essentially, an applicant tracking system (ATS) is recruiting software, independent of any job board. You'll be able to connect it to multiple job boards, making it easier to post jobs everywhere with one submission, and gather the candidates in a customizable recruiting pipeline. When you need feedback from your hiring team, you can share candidate profiles and their comments can be added directly to the candidate timeline.
Related: What's the best day to advertise job openings?
Using Seek with Workable
If you've signed up for a Workable free trial, you can connect your account to Seek to find out more about the way applicant tracking can work for you. Start by creating your job in Workable. Note that Workable provides a free branded careers page with every account. You can also publish your job to any of the additional free and premium job boards.
The Seek integration is a simple two step process:
Send an email to [email protected] with your Seek account number and a request to authorise Workable to post jobs and fetch candidates from your Seek account. Seek.com.au will respond with your Seek ID.
Log in to Workable and access the Integrations page via the settings menu at the top right of the screen. On the page that follows, select 'Seek'. Copy the ID code from the email into the Seek ID field on this page.
Click 'Update Settings' to complete the integration. You'll only need go through this process once. Now Workable will use your Seek ID for any future posts you make to Seek.
Find out more about Workable's integration with Seek and how you can customize your Seek job posts directly via Workable.
More resources for posting jobs: