How to post jobs on Dribbble: a guide for employers
More than a global job board for creative professionals, Dribbble is a bustling community of designers sharing work, organizing meetups, and creating job opportunities. A lively mix of web designers, illustrators, graphic designers, icon artists, typographers and more, Dribbble is a place where people get together to talk about the work they love.
Beginning as a small side project and blossoming into a community and portfolio site, Dribbble is also an active community for job seekers and employers.
Set up a team and build your employer brand
If you're a design agency looking to hire now or in the future, set up a team page on Dribbble to promote your current design team and the work they're creating. Encourage members of your team to post and discuss their projects; as well as receiving valuable feedback this will help build up your employer brand.
When you post a job on Dribbble as a team owner, the job will also get increased visibility on the job board, by appearing with your team icon. Designers will be able to see immediately that you're members of the community. Checking out your work will allow them to self-screen and see if they're a good match for the type of work that you do. The jobs that you post will also be visible on your team page.
Designers can also search for 'jobs posted by teams' and 'teams that are hiring'. Find out more about using Dribbble for teams.
How much does it cost to post a job on Dribbble?
With four different price plans available, Dribbble has something to match your company's needs regardless of scale. Prices range from $338-$375 per job, depending on the number of job slots you purchase at one time. Discounts are available for bulk purchase; you can buy job slots now and use them at any time in the future.
Job posts on Dribbble are active for one month, and during that period you also have access to Pro search tools, where you can search for designers by location, skills, availability and more.
How to post a job to Dribbble
Posting a job to Dribbble is easy, and fast, with or without an account:
Select 'Post a job' from the dropdown menu under Jobs.
Select the plan that best suits your hiring needs. The more job credits you buy the more you save. Each credit is equal to one job ad.
In the following page, enter your job details. Unlike many job boards, Dribbble does not display the full ad. Rather they are a listings site, displaying the company name, job title and location. You'll need to link to your job ad on your own careers page.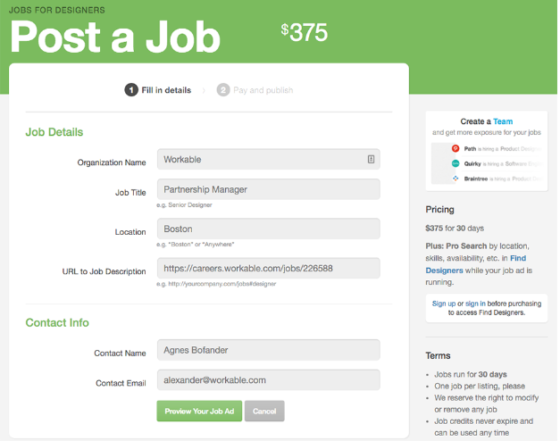 Enter your billing information and select 'Pay and Publish'
Congratulations! Your job post is now on Dribbble
Related: What's the best day to advertise job openings?
Creating a careers page and managing applications from Dribbble
To advertise on Dribbble, you'll need
an external careers page displaying the details of your job
a way of managing the applications as they arrive.
Recruitment software will help solve this. Software like Workable provides the option to create careers pages that update automatically and job descriptions optimized for desktop and mobile. Should you need to pre-screen candidates to speed up your hiring process you can also create a custom application form for the job.
When it comes to receiving applications, email and spreadsheets are fine if you're hiring alone, or only expecting a few applications, but recruiting software will also help you to work more collaboratively with your team. From your job description page it's easy to set up the application process so that all Dribbble applications are gathered automatically into a searchable candidate database. A profile is created for every candidate which can be shared with your co-workers or hiring team. The system will also keep track of feedback and evaluations, streamlining your communications and ultimately, your recruiting process.
How to source candidates on Dribbble using Workable
If you start using the Workable free trial to post on Dribbble, you might also like to use it to source passive candidates. A highly searchable, visual site, Dribbble is an amazing design talent pool, whether you're looking for freelancers, contractors or permanent team members. Dribbble Pro members are given the opportunity to mark themselves as 'For Hire', and anyone with a pro account is able to contact a pro designer via their 'Hire Me' button. Dribbble have excellent, short, practical guidelines to follow when you're sending that very first message.
Source and recruit skilled designers with Workable's Boolean search cheat sheets.
If you're creating a shortlist of designers to contact, or wish to share the designers you've found with your team before you make first contact, use the Workable Chrome Extension to 'clip' designers into the sourced stage of your Workable candidate pipeline. This will gather the candidate's contact details and automatically generate a candidate profile for review with your team. Dribbble will be listed as the candidate source automatically, making the process simpler—and more enjoyable as you browse.
More resources for posting jobs: