Why are you still using hiring spreadsheets?
Hiring great people is the key to building a successful business. Given this, you'd think most companies would use specialist hiring tools to manage such an important task.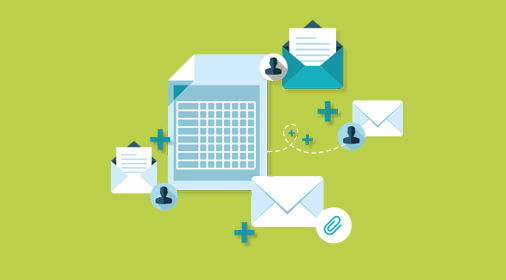 They bring in specialist tools for almost every other important aspect of their business; Trello for project management, Hootsuite for social media, Mailchimp for email marketing, Intercom for customer service. But when it comes to tracking a high-stakes investment such as hiring, many companies still rely on a disjointed combination of email and Excel, rather than specialist recruiting software.
Picture the scene…
A resume arrives in your mailbox. You forward it on and exchange emails with colleagues to get feedback. Vying for attention in a busy inbox, the resume drops out of view or is filed away in an email folder. You forget about it. A few days later you wonder what happened to it. You spend time searching in your inbox and then in a series of email folders. You can't find it, but maybe the candidate's details have been entered into a spreadsheet for safe keeping? Or not. And the feedback you gathered… did you save it with your own notes? Where are your notes? What happened to the hiring spreadsheet?
It's a time-consuming, frustrating, all-too-common scenario, which distracts from the real purpose of recruitment; making collaborative, strategic decisions about hiring great people.
Breaking away from hiring spreadsheets
In its simplest form, recruitment is an extended conversation between existing teams and future hires. Historically as the go-to tool for online conversations, the email inbox is where most interactions with candidates begin. So it's easy to see why many companies use email to share information and communicate with candidates. Excel's become the fallback system for logging candidate data for similar reasons. Installed by default on most business computers, it's familiar, provides form and structure, and it's right there.
Both email and Excel touch on key aspects of hiring – communication and candidate information. But neither was designed with recruitment in mind. They might eventually lead – through luck more than design – to a series of successful hires. But using them through habit comes at a price.
10 reasons to replace email and hiring spreadsheets with an applicant tracking system
Piecemeal and labour-intensive, spreadsheets and inboxes can't compete with specialist recruiting and applicant tracking system (ATS). Here are 10 reasons why:
Administrative tasks drain resources and waste time
Managing the day-to-day hiring process without the right recruiting tools means you'll spend a lot of time repeating tasks such as copy and pasting, searching, storing and saving.
You can't nurture talent or get long-term value from your candidate pool
There are gems to be found in those previous job applications, but buried away in spreadsheets and inboxes, their value is lost.
It's hard to build an informed hiring strategy
Making data-driven, long-term decisions about future hiring is difficult with disparate systems, an inconsistent process and no recruiting analytics tools.
Time to hire takes longer
A key recruiting efficiency metric, time to hire is a strong indication of how well a recruiting team is performing. Manually managing tasks that could be automated, means it takes longer to move from the applied to the acceptance stage – and costs more.
Candidate experience fails expectations
A fragmented and piecemeal management system won't offer the seamless, enriched, and informed process for job applicants and candidates.

Poor candidate experience negatively impacts your employment brand. Screenshot via Workable

Employer brand is weakened
A poor candidate experience reflects badly on your company reputation and can impact on business. Companies with strong brands have a lower cost-per-hire and attract better candidates.
Manual job advertising is ineffective and time-consuming
Posting jobs manually across individual job boards and social media sites takes time, adds to your list of admin tasks, and offers little guarantee of success.
Good quality candidates are forgotten or lose interest
It's hard to keep track of where candidates are in the hiring process, so some get lost along the way. Poor, infrequent communication leads others to drop out, or get hired elsewhere.
Compliance is at risk
Without a standardized approach or specialized tools for employment background checks, it's harder to protect sensitive candidate data or demonstrate how you're meeting employment laws and regulations.
Team collaboration suffers
Using a fractured approach to managing hiring means it's difficult to build a coherent, efficient hiring team, with shared access to all the relevant information and communication.
Looking for a mobile recruiting app? See how our industry-leading iOS and Android app compares to other applicant tracking systems, like Lever and Greenhouse.
What can an applicant tracking system do?
Using an applicant tracking system (ATS) for hiring offers an online, collaborative space for everyone on your hiring team. It's packed with features designed to streamline, organize and centralize your recruitment:
Enriched candidate profiles hold all candidate information and interaction in a central place, making it easier to review applicants and collaborate with your hiring team.
Interview kits and scorecards build a structured, systematic interview process, proven to be more effective in gathering fair and accurate assessments, and actionable feedback.
ATS software has the potential to automate almost every aspect of your day-to-day hiring admin. It frees up time for the important tasks – sourcing and hiring the right people. And it boosts your brand by offering a better experience for your candidates as well as your hiring team. But it goes further than that. Personalized hiring reports and analytics will optimize your hiring strategy and monitor compliance. Integrations with popular apps, tools and job boards allow you to extend your reach and automate tasks beyond the day-to-day admin. Mobile recruiting takes hiring tasks out of the office. And you can use your ATS as a talent CRM, prompting you to nurture prospects and build up a thriving pool of future hires.
Getting an ATS is as easy as ABC
Making the move from email and Excel to specialist recruiting software is straightforward and doesn't take much more than a willingness to change. You don't need a large HR department or a big budget to make big improvements to the way you manage your hiring. Take advantage of free trials to test and choose ATS software that's intuitive and easy-to-use. Check out the customer support that the company has to offer. And look at options for importing any existing data. Cover all three and you're all set for a quick and seamless transition.
Ready to get started? Sign up for a 15-day free trial of the leading ATS for ambitious companies and start hiring better people, faster.