How to create a great candidate experience
Creating a great candidate experience involves clear communication, respect for candidates' time, and a smooth application process. It's essential to provide detailed information about what to expect at interviews, give candidates full attention during interviews, and follow up promptly.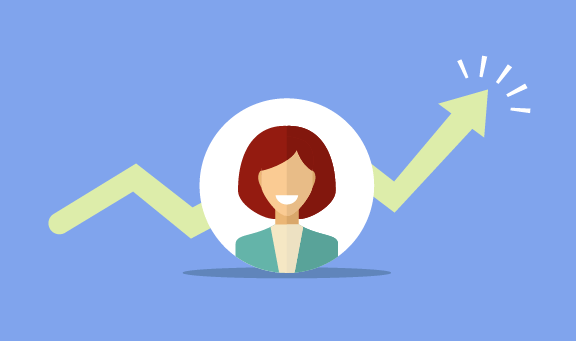 What is candidate experience? This popular buzzword is actually one of the most important factors for attracting talent. That's because the candidate experience definition is "how candidates feel about your company once they experience your hiring process." And these candidate 'feelings', whether good or bad, influence candidates in their decision to apply to your company or accept your job offer.
So, a good candidate experience will make candidates feel good about your company after they see how you treat them. A better candidate experience might make them eager to share their good feelings with others, helping build up your reputation. On the other hand, a bad candidate experience will make candidates lose respect for you, both as an employer and as a brand.
First off, let's consider why a good candidate experience is important.
Why is the candidate experience important?
In short: the candidate experience is important because you want your reputation as an employer to stand out – especially for those candidates who didn't make it to the job offer. Their experience in the overall selection process will determine whether or not they apply for another job at your company.
For example, if you have a strong pool of candidates and four or five of them could easily have done the job that you're hiring for, you'd want them to reapply with you for other roles in the company or if that role opens up again in the future. It saves you time and resources in the evaluation process, since you already are familiar with them. It also speaks volumes for their willingness to work in your company.
Also, if they have a poor candidate experience with you – and we all have been there at one time or another – they may openly talk about it with friends, colleagues and peers in their network. That will impact your employer brand because other strong candidates may decide not to apply for your open roles as a result.
What's the most common complaint a candidate has about the job application experience? It's when they are 'ghosted' – companies never get back to them whether it's in the form of a response to an application or a follow-up after an interview.
The data backs all of this up – 42% of candidates will not apply for a position at your company if they've had a bad experience with you, and one in five (22%) actively advise their peers to not apply as well, according to a CareerBuilder report.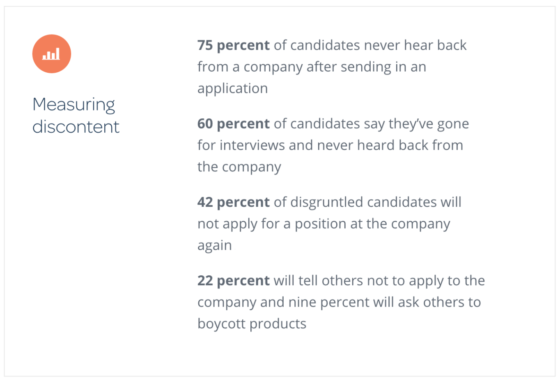 Responding to every candidate's application is the easiest way to solve this complaint. But crafting a good candidate experience in recruitment involves more than that. It involves a mindset shift that focuses on respecting candidates' time and designing your candidate experience to be as painless as possible.
Here's how to improve candidate experience at each stage of the hiring process:
These are some candidate experience best practices:
Make sure you're hiring to fill a real need
Disorganization breeds bad candidate experience. Organization and planning breed good candidate experience. Being well-organized starts with planning your hiring strategy by identifying gaps you need to fill — and who would be best-suited to fill them. Candidates will have much better-defined job duties and a better candidate experience, as a result.
Perform a skills gap analysis first. Conducting a formal skills gap analysis is the best way to identify the kind of additional skills your team needs to grow. You can perform skills gap analyses on an individual or team level, to help with succession planning, training goals and hiring plans. Often, a formal skills gap analysis can help companies see that they can train their current employees, instead of hiring new ones.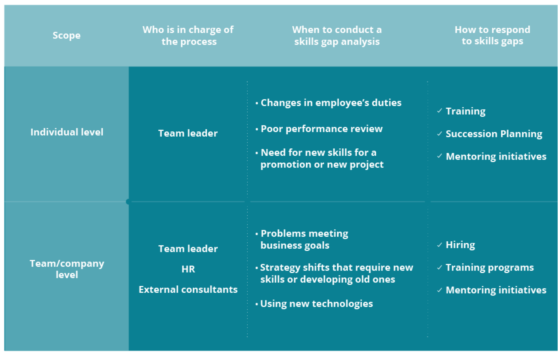 Choose a job title second. Once companies identify the skill gaps they need to fill, they can back-engineer job titles and responsibilities to fit those skills. This skills-first approach improves candidate experience in recruitment because it focuses on finding people to meet business needs — instead of headcount aspirations.
Write clear job descriptions
Use simple language. Even if candidates know your industry's buzzwords, it's best to keep job descriptions as clear and jargon-free as possible. Many stereotypical job description phrases (like "passionate," "team-player" and "guru") are overused to the point of being meaningless (or sounding suspicious).
List must-haves (not nice-to-haves) as requirements. Job descriptions with endless lists of requirements turn off candidates (particularly female candidates) who don't think they meet every single requirement. It's best to separate your 'wish list' traits from 'must-haves' to discourage strong candidates from bouncing.
Structure your job description to be easy to read. Job ads follow the same writing rules as blog posts and articles. They're easier to read if they list the most important information first and are full of bullet points, active verbs and short sentences. Here's some job description writing advice from the U.S. Small Business Administration:

Tell candidates the title of your Hiring Manager, for context. A lot of people leave their jobs because of a bad relationship with their direct manager. It's best to tell candidates who their manager will be, to help them with their research and give them more context for the seniority and growth opportunities of your open role.
Make management responsibilities obvious. If the role you're advertising for has management responsibilities, make them explicit. 'Manager' job titles are in-vogue and don't always translate into responsibility for direct reports. If your manager-level employees actually have to manage people, let your candidates know.
Make it easy for candidates to apply to your jobs
Make your careers page easy to find. Careers pages are often buried in obscure sections of company websites. Make yours as easy to find as possible. Candidates will be grateful for not having to hunt through your sitemap and will recognize that you value your job application process enough to make it front-and-center.
Give clear application instructions. Long, complicated application instructions confuse and turn off candidates. To avoid candidates' dropping out of your application process without completing it, make sure to let them know what they'll need to submit before they start.
Don't make applicants log into your system to apply. Passwords are terrible. They're user experience kryptonite. Nobody likes them — especially if they have strict rules for adding symbols, capital letters and numbers. Do your candidates a favor and don't ask them to create a new one. Let them apply without logging into anything for a better candidate experience.
Offer LinkedIn or resume parsing. Anything that makes the application process shorter and easier for candidates will improve your candidate experience. LinkedIn parsing is a great option for making applications more convenient.
Better yet, offer LinkedIn's 'easy apply' option when you post your job to LinkedIn:
Make your entire application process obvious, on one page. The easiest way to avoid surprises for candidates, like mandatory portfolio uploads or special answers to questions is to keep your application to a one-page format. This helps candidates prepare everything they need ahead of time, without having to stop in the middle of a multi-page application process (which often doesn't even have a back-button navigation) to craft an essay or answer additional questions. Workable allows you to place your full application right under your job descriptions, making it easy for candidates to get ready to apply: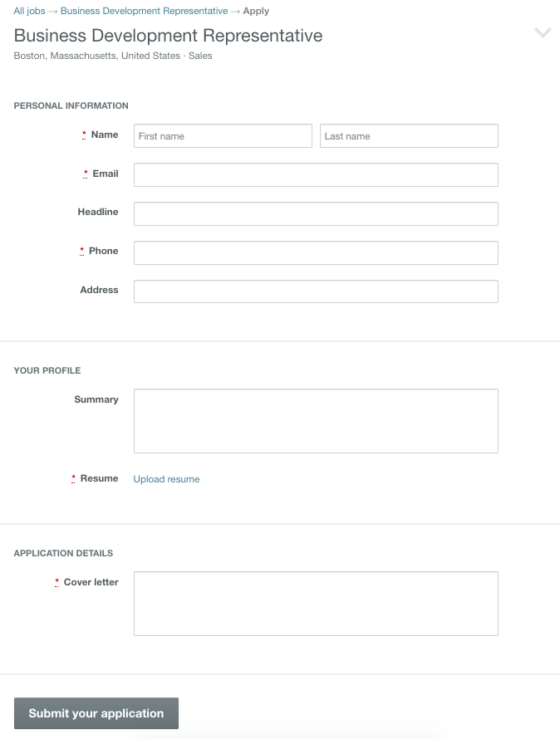 Keep your application process short and mobile-friendly. The shorter your application, the more user-friendly it is. Shorter applications are easier to fill out on mobile devices and demonstrate that you respect your candidates' time. The Indeed app offers an 'apply from your phone' option for job postings, making it easy for applicants to apply to jobs on the go: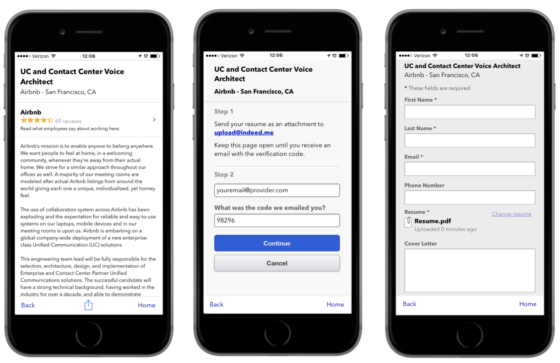 Avoid restricting file uploads to small sizes. If you offer a file upload option for resumes and portfolios, be generous with your file size limit. Some formatted resumes and portfolios are large files, because they showcase high-quality images and artwork. Candidates will feel more positively towards you, and your application process, if they don't have to compress their file sizes and skimp on their quality standards.
Allow for free-response answers and URL links. If you can't offer large file size limits for file uploads, offer candidates the opportunity to submit URL links to work samples that are too large to upload in PDF format. It's also a good idea to offer free-response fields for candidates to copy and paste writing samples or add a few more details that they didn't have an opportunity to cover in other parts of your application form.
Make answers 'required' only if they're really required. This saves candidates' time and can also help speed up the application review process for recruiters and hiring managers, so they can get back to candidates faster. This improves the efficiency of your entire hiring process and returns better time to hire and time to fill metrics.
Don't ask for salary history as a required field. Savvy job seekers know that they shouldn't answer salary history questions, if they want to maintain the upper hand in salary negotiations. Making current salary a required field, with a drop-down menu or 'enter numeric values only' criteria, will annoy these candidates. Asking for salary history also perpetuates the gender pay gap, and is illegal in some states, so you should probably avoid it altogether.
Send a confirmation email when candidates' submit their application. Acknowledging candidates' applications is a good practice, even if you send a generic thank you email. To stand out and help candidates feel more prepared for interviews, send candidates a copy of their application. This adds an extra layer of personalization to your confirmation email and helps job-seekers keep track of what information they sent you. (Which can be helpful when they're tailoring their resume and writing unique answers for lots of job applications.)
Avoid candidate reference numbers, use names instead. Sometimes application confirmation emails include cryptic candidate reference numbers. This sends the message that candidates are numbers, not people. It's best to avoid it. That way, you avoid candidate confusion and keep your communication tone personal.
Do a test run by submitting an application yourself. There's nothing like user testing to see if things are unclear. Send in a sample application and check to see what your email templates look like, from a candidate's perspective. It's also a good idea to ask a colleague to submit a test application, to see if there are any user experience glitches that a fresh pair of eyes can uncover. This is a good way to determine what a great candidate experience looks like.
Related: Frequently asked questions about candidate experience metrics
Follow-up early and often
Send a rejection email or an interview invite as soon as you can. At Workable, we advocate for a Two Day Rule for positive candidate experience. That's because the overwhelming majority of candidates who end up accepting interviews and jobs are those who had a response from the employer within two days of applying. Getting back to candidates promptly, with either good news or bad, will set you apart and demonstrate that you value your candidates' time (which is one of the best ways to improve candidate experience).
Message candidates from a human email address. Nothing spells disinterest clearer than a generic rejection message from a [email protected] email address. Rejection emails don't sting as much if they come from a human email address. Similarly, interview invites are more inviting if they have a person's name attached to them.
Respond to candidate thank you and follow-up notes. Once your interview process is rolling, you'll likely get thank you and follow-up emails from candidates after phone screens and in-person interviews. Acknowledging these thank you notes with a reply is the most polite thing to do. It makes candidates feel more appreciated and demonstrates that you're organized and courteous.
Communicate with (and thank) candidates during each step of the hiring process
Talk to people on the phone before asking them to take a test or do an assignment. Assignments are a great way to test candidates' skills and narrow your choices. But it's best to talk to people before asking them to commit anymore time to your application process. It makes people more comfortable and helps you scale down the number of people you ask to spend extra time on assignments or tests.
Make any test or assignment directions clear and be transparent about your timeline. Asking candidates to audition their work skills by completing an assignment is a significant request that involves a time commitment. You can help candidates feel more at ease if you provide clear instructions and make yourself available to answer any clarification questions they may have. (Any clarification questions candidates ask can help you design clearer instructions in the future.)
Thank candidates when they submit assignments or take tests. Thanking candidates for their time and effort is particularly important when they complete assignments or take tests. It's a good idea to keep track of your deadline for each candidate to submit additional application materials to you, and be ready to send prompt thank you messages once they do.
Make the remaining steps of your hiring timeline transparent and keep candidates updated along the way. Silence is a common candidate experience killer — it's even more anxiety-inducing for candidates if they don't hear back from employers after an assignment or test round, when they know their skills (or personalities) are being judged. Help to ease the tension with a clear timeline for getting back to candidates, and stick to it.
Learn how Frosch Travel improved candidate experience with Workable:
Give candidates information about what to expect at in-person interviews
Send a calendar invite with as much information as possible. Calendar invites eradicate time-zone confusion and make the location of the interview clear.
Tell candidates:
How many interviewers they will be meeting with, who they are and how they will join the interview (i.e., on video stream, etc.)
How long you expect the interview to take.
What format the interview will take. (i.e., do candidates have to prepare a mock presentation, or expect you to follow a structured interview format?)
What your office dress code is. (Pictures from work events can help with this.)
How to enter your office building as a visitor. (Should candidates check-in at the reception desk, or with security? Do they need an ID? How long does that process usually take?)
Where to park, if your office is located in a busy area.
Related: Structured interview questions: Tips and examples for hiring
Give candidates your full attention at interviews
Prepare for interviews by:
Reviewing your candidate's profile. (A mobile ATS can help you prepare for interviews on the go by providing in-app links to candidate profiles. And an ATS with a robust calendar integration can add links to candidate profiles right in your work calendar.)
Booking a meeting room ahead of time.
Creating a list of job-relevant questions.
Arranging for someone to be ready to greet the candidate when they arrive.
Then, when it's time for the interview:
Start the interview on time.
Offer candidates' some water or coffee, to feel welcome and comfortable.
Explain your interview process to candidates. (Particularly if you're using a structured interview process or a group interview format.)
Avoid multitasking while speaking with candidates.
Maintain eye contact as much as possible.
Take notes during the interview, or directly afterwards. (If you use a laptop to take notes during the interview, explain what you're doing. Or, just opt for paper notes instead. Laptops can make candidates feel nervous.)
Thank candidates for their time and tell them when you'll get in touch with them.
Don't schedule something directly after the interview, if at all possible. Give candidates' time to ask questions, so they don't feel like they're being rushed out of your office.
Tell candidates if you're no longer considering them, as soon as you can
Sending a clear rejection message is much better than giving candidates the silent treatment. The best rejection messages end things on a positive note and offer to provide more specific feedback to candidates, who are often interested in learning from their interview experience with you. Wish candidates well, offer to keep in contact and, if you think they would be a good candidate for future roles, tell them that you will consider them in the future.
If you want to keep certain candidates in mind for future openings, keep track of them
If you tell candidates that you will keep them in mind for future jobs, make sure you have the infrastructure to keep that promise. Applicant tracking systems can help you keep high-potential candidates in mind by providing a searchable candidate database of previous applicants, replete with social media profiles and a detailed history of your interaction with each candidate. You can snooze candidates, set reminders for future dates and use tags to add context to candidates' profiles that can remind you of their availability and future job interests:

Be open to giving (and receiving) feedback
Companies are often wary of offering to give specific feedback to rejected candidates, for fear of legal issues. You can address those fears by structuring your feedback carefully. Candidates appreciate specific information about their applications and, if they advance to later stages of the hiring process, they are more likely to expect specific, personalized feedback delivered with candor and kindness. This kind of feedback can help candidates approach their job search in a more strategic way and can help them figure out whether they would like to pursue another job opportunity with you.
It's also useful to ask candidates to give you feedback. A candidate experience survey can help you structure your questions and keep yourself accountable for improving your candidates' experience. But, if you ask candidates for candid feedback — be prepared to offer them the exact same thing in return.
Frequently asked questions
What is a candidate assessment?

A candidate assessment is a systematic process utilized by recruiters to evaluate an applicant's suitability for a specific role. This assessment can be administered at various stages of the interview process.
What are pre-employment assessment tools?

Pre-employment assessment tools are instrumental in identifying qualified and deserving candidates in a time-efficient and cost-effective manner. They aid recruiters in pinpointing candidates who are a good fit for a particular position.
What are assessment tools in recruitment and selection?

Recruitment assessment tools are typically web applications designed to enhance recruitment processes. They assist in identifying the right talent and augment the quality of candidates that progress through the recruitment assessment process.
How can you improve the candidate experience at each stage of the hiring process?

Improving candidate experience involves clear communication, respecting candidates' time, and making the application process as smooth as possible. Prompt follow-ups, providing detailed information about interviews, and giving candidates full attention during interviews are also crucial.
How can you maintain a positive relationship with candidates who are no longer being considered?

Sending clear rejection messages promptly and offering to provide specific feedback can help maintain a positive relationship with candidates. If suitable, you can also express your willingness to consider them for future opportunities.