Sending an interview assignment: example email
This is an email template you can use when you want to send an assignment to your candidates as part of your hiring process. For some positions, especially technical roles, adding a written assignment or test will help you evaluate your candidates' skills through a real work project and screen people who approach problems the best way.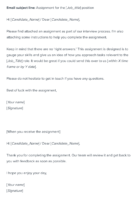 You should let your candidates know about your assignment process ahead of time. Then, when writing your email, pay extra attention to your subject line and ensure it is clear about its purpose. Since there should be a specific deadline for your candidate to complete the assignment, make that clear upfront. In your email, mention the exact timeframe for the assignment and also provide contact information, in case your candidates need additional clarifications. Before hitting 'send', make sure you have included a link, or attachment, to the assignment along with necessary instructions to help your candidates understand what they'll have to do. It's also essential to send a confirmation once you've received their assignment, to thank them for taking the time to complete it and let them know about next steps.
Email subject line: Assignment for the [Job_title] position
Hi [Candidate_Name] / Dear [Candidate_Name],
Please find attached an assignment as part of our interview process. I'm also attaching some instructions to help you complete the assignment.
Keep in mind that there are no 'right answers.' This assignment is designed is to gauge your skills and give us an idea of how you approach tasks relevant to the [Job_Title] role. It would be great if you could send this over to us [within X time frame or by Y date].
Please do not hesitate to get in touch if you have any questions.
Best of luck with the assignment,
[Your name]
[Signature]
[When you receive the assignment]
Hi [Candidate_Name] / Dear [Candidate_Name],
Thank you for completing the assignment. Our team will review it and get back to you with feedback as soon as possible.
I hope you enjoy your day,
[Your name]
[Signature]