Candidate rejection email template
A candidate rejection email is a formal letter sent to job candidates to inform them that they're not moving forward to the next stage of your hiring process. If you're wondering about whether you should send a rejection email, it's important to keep in mind that ignoring a rejected candidate could negatively impact your employer brand and sabotage your company's candidate experience. Use this rejection email sample to build and maintain a relationship with your applicants.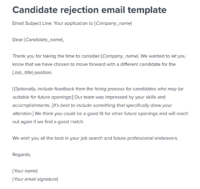 Explaining why you're rejecting candidates shows candidates that you appreciate the time and effort they took to apply to your job, and won't leave them guessing. If, for example, they were skilled but lacked experience, they might consider applying again in the future. Or, if they applied late in your application cycle, or were more suitable for another position, you could reach out to them when there's another opening. If your candidate was in the final stages of your hiring process, you could suggest connecting on social media (e.g. LinkedIn) to stay in touch. But, if you know that you won't reconsider a candidate in the future – it's best to be honest and avoid alluding to future opportunities. Even if you're rejecting a candidate outright, adding a short personal note (like 'good luck with your X project' or 'best of luck with your future endeavours') will increase the likelihood of leaving a good impression.
This late-stage candidate rejection email template will help you inform your candidates that they're not moving forward to the final stage of your hiring process. You can customize your email to give your candidates some feedback and details about why you decided to reject them, especially if they went through an interview process. For candidates rejected through your resume screening process, you should opt for a simple, short message. You could also choose between a formal or casual tone, depending on your company culture. For more inspiration, read our post-interview, applicant and candidate rejection letter samples or our job application rejection email template.
Sending rejection letters to candidates is an integral part of the hiring process. Signup for free to Workable's all-in-one recruiting software for better candidate experience.
Candidate rejection email template
Email Subject Line: Your application to [Company_name]
Dear [Candidate_name],
Thank you for taking the time to consider [Company_name]. We wanted to let you know that we have chosen to move forward with a different candidate for the [Job_title] position.
[Optionally, include feedback from the hiring process for candidates who may be suitable for future openings:] Our team was impressed by your skills and accomplishments. [It's best to include something that specifically drew your attention.] We think you could be a good fit for other future openings and will reach out again if we find a good match.
We wish you all the best in your job search and future professional endeavors.
Regards,
[Your name]
[Your email signature]