12 time-saving email templates for recruiters
Email templates for recruiters are pre-written messages used for communicating with potential candidates during the hiring process. They are important as they save time, ensure consistent communication, and can be personalized to fit different scenarios, such as scheduling interviews, providing feedback, or making job offers.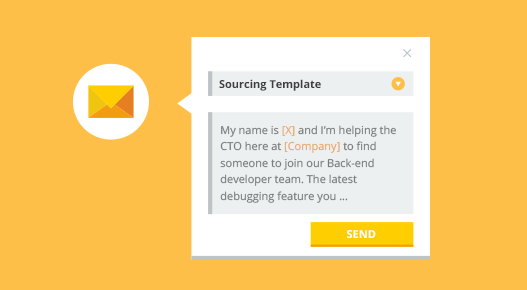 Email templates for recruiters are valuable tools, but they should come with a safety label: 'Use with care.' There's always the risk of sounding like a robot if you use 'one-size-fits-all' templates. Opt for messages that mirror your company's style and are similar to face-to-face conversations.
Our email templates for recruiters and human resources templates can help you spark conversations with candidates. They support all stages of your recruitment cycle: from your first communication with potential candidates to onboarding emails for new hires. Recruiters also communicate with current employees on a regular basis, so drafting some email templates for common occasions can save a lot of repetitive email writing. Keep track of the successes and failures with recruiting email metrics so you can grow and improve your outreach over time.
Sourcing emails
Sourcing emails are the trickiest. Your emails to potential candidates need to be deft and direct, if you want them to consider your job opportunity.
Note: When sourcing candidates who reside in the EU, you need to comply with the General Data Protection Regulation (GDPR.) See our guide for more information on ensuring your emails are compliant.
Cold emails
To communicate with passive candidates, a brief email explaining how you found them and why you want to contact them is usually a good place to start.
My name is [X] and I'm helping the CTO here at [Company] to find someone to join our Back-end developer team. The latest debugging feature you published in Github particularly drew our attention. We are currently working on a similar project for our application and we think your experience would be a strong addition to our team.
If you would like to increase your open and response rates, you should personalize your messages. Using templates for personalized emails can sound like an oxymoron. However, templates can serve as an inspiration point to come up with your own recruiting emails, avoiding common email mistakes.
Tutorial: How to source passive candidates
Warm emails
If you share a connection with the person you're emailing (e.g. if they are a past candidate or a referred candidate), you can use this to your advantage. Pique their interest with a genuine, personal message; don't just hope they'll get hooked on your name-dropping.
I am [your name], a recruiter at [Company]. We met around 2 months ago when you applied for the web designer position. I remember you were looking for a new apartment at that time. How did the house hunt go?
Although we decided to move on with a more experienced candidate, our team was really impressed with both your design skills and your positive attitude during the interview process. We now have a new opening for a junior web designer, that is closer to your profile. I'd really like to give you some more details about the role, if you're interested.
We are currently looking to hire a Marketing specialist and [Employee_name] mentioned that you might be a good fit.
From what I have seen in your LinkedIn profile, you have an impressive background in paid campaigns and you've done some interesting things organizing promotional events, which is our priority for this new role.
Here, at [Company], we're always looking for more great people like [Employee_name], so we'd like to get to know you.
Employee referrals are the number one hiring source. To encourage your employees to refer candidates who could be a good fit, you should use an appropriate email template for your internal referral request email. Make sure you include all necessary information: what your new hire will do, who they'll work with and what kind of experience they need.
We are excited to announce that we are currently looking for a Technical writer to join [Hiring_Manager_name's] team! If you know someone who understands end-user requirements and has experience in software documentation, feel free to let us know by simply replying to this email.
Recruiting emails
Interview emails
When you're inviting candidates to an interview, there are specific details you should include, like the interview date and place, the name(s) of the interviewer(s) and how long the process will take. Different kinds of interview invitations require additional details, too:
Phone interviews
A phone interview email is usually the first interview invite you send during your hiring process, so remember to thank your candidate for their application and remind them about the basics of the position you're hiring for.
Thank you for applying to [Company].
We would like to have a phone discussion about your application for the [Job_title] role. I'd like to tell you more about [Company] and get to know you a bit better.
On-site interviews
Your invitation to an on-site interview should include logistical information (location, what your candidate might need to bring with them, etc.) If you find it necessary, you might add the exact location of your office on the map and directions for how to get there.
Your application for the [Job_title] position stood out to us and we would like to invite you for an interview at our office[s] to get to know you a bit better.
You will meet with the Marketing department manager, [Manager' name]. The interview will last about [X] minutes and you'll have the chance to discuss the [Job_title] position and learn more about our company.
Please note that the security guard will ask to see your ID to let you enter the building.
Additional interview rounds
If you're crafting an email to invite candidates for a second interview, you should explain the purpose of the interview (e.g. meeting with the company CEO for a second round, or completing a test.)
Thank you for taking the time to discuss the [Job_title] position with us. We'd like to invite you for a second interview at our office[s]. You will meet with [Manager's name], head of the IT department, to discuss your written assignment and delve deeper into job duties.
Application emails
During your hiring process, you'll probably need to exchange various emails with your applicants. Some of them could be pretty standard, like a confirmation that you received their resume. But for others, you can use email templates to save some time.
Assignments
To better evaluate your candidates' skills, you may find it useful to send an assignment or assessment test. In your email, prepare your candidate by providing instructions and setting a timeframe.
Thank you for taking the time to speak to us on the phone. We would like to invite you to complete an assignment for the next round of our interview process. Please find the assignment attached. Its objective is to gauge your skills, give us an idea of how you approach tasks relevant to the job and provide us with some talking points. We would appreciate it if you could return your completed assignment to us [by X date/ in Y time frame].
Rejections
Nobody likes to send bad news, but there are many reasons to always send a rejection email. It's best not to leave your candidates guessing. So, briefly explain why you decided to stop considering a candidate's application. The key here is to end things on a positive note in order to create a bridge from rejection to building a relationship.
Although we are now focusing on hiring more senior [Job_title], we'll be more than happy to get in touch with you again for a future job opening. We'll keep your resume on file for [time_period.]
Hiring emails
Job offer
Your job offer email should aim to inform your new hire about all necessary job details that will help them make a decision.
We have been impressed with your background and would like to formally offer you the position of [Job_title]. This is a [full/part] time position [mention working days and hours] with an annual salary of [X]. You will be reporting to the head of the [Department_name] department. Your expected starting date is [date.]
You could also use our tips on how to write a standout job offer email to increase your acceptance rate.
Onboarding
Your next step is to welcome your new employee, once they've accepted your job offer. Prepare your new hire: Tell them what to expect on their first days, who they'll meet and provide some practical details (like starting date and working hours.) A proper onboarding email will show that you're organized throughout your recruiting cycle and that you have specific plans for your employees.
We are all really excited to welcome you to our team! As agreed, your start date is [date.] We expect you to be at our office by [time] and our dress code is [casual/ business casual.]
We've organized your first days to help you settle in properly. You can find more details in the attached agenda.
New hire announcement
Using an email to announce a new hire can be a warm way to welcome all new employees. As a recruiter, you have the chance to introduce your newest team member and make sure they're not a stranger to their teammates on their first day.
I am very pleased to announce that [Employee's name] will be joining us as an Android developer on [Start date.] [Employee's name] will work with our mobile team to help us elevate our applications. Please make sure you give [him/her] a warm welcome and introduce yourselves!
More: Innovative recruiting tools and techniques for modern HR teams
Frequently asked questions
How do you write a recruiting message?

Begin your message with context around who you are and why you're reaching out. Include what stood out to you about this candidate, how you think they can thrive at your organization, and why your employer is the best place for them to launch their career.
What is a recruitment template?

Recruiting teams have their hands full screening resumes, tracking candidates through the interview pipeline, making offers, and managing the negotiation process. The recruitment template helps recruiters track candidates while centralizing all the relevant details like scheduling and paperwork.
What do you say when recruiting?

My name is [your name], and I'm a recruiter at [company name]. We're currently looking for someone with experience in [skill] for a [title of open role] opening. I saw your profile on [professional networking site] and am really impressed by what you're doing at [candidate's current company].