Recruiting email metrics: how to measure your email success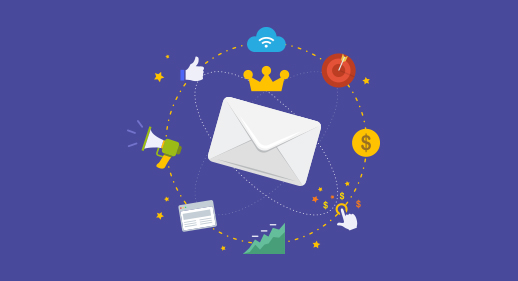 Recruiting email metrics help you measure the impact of your messages. Whether it's to find out if a referred candidate would be a good fit for your company, or to inform a past candidate about a new job, use metrics to shed light on your digital recruiting techniques.
Here are four types of metrics you can use to analyze your recruitment emails:
Measuring recruitment email open rate
Email open rate is a simple HR metric that measures how many recipients opened your emails. It excludes any emails that bounce (failed to deliver) as the intended recipient does not receive an email to open.

How to use open rate:
An email is considered opened if some kind of interaction occurs (e.g. a candidate replies, clicks a link or views an image.)
Low open rates indicate that you should rewrite your subject lines. Using your recipient's name and crafting a subject line that clearly conveys the email's purpose can increase your open rates. Recruitment email benchmarks for open rates vary widely among industries and depend on what you're interested in measuring.
High open rates are a good sign for recruitment, but they're not enough. After opening your emails, recipients should take desired actions (e.g. reply to your email or call you.)
Measuring recruitment email response rate
Email response rate measures the number of replies you get to the emails you send. This metric also excludes emails that bounce.

How to use response rate:
Simply sending emails back and forth to schedule an interview with a candidate won't reveal much about your response rate. Instead, evaluate your first communication with potential candidates by calculating your cold email response rate.
You can expect low response rates if you use boilerplate templates. Personalize your emails to show candidates you spent time learning about them.
Measuring recruitment email click-through rate
Click-through rate is the percentage of recipients who click at least one of your links in an email. For example, if you include links to job descriptions in emails, you can track candidates' interest in your open roles by calculating click-through rates.

How to use click-through rate:
Links are useful when you want to keep emails short. But, people tend to ignore links in recruitment emails, especially when they read their emails in a hurry or on their cell phones. If your click-through rate is low, opt for recruitment email templates that contain all the necessary information in the text and don't overuse external links.
Your link text can also affect your click-through rate. Experiment with different phrases to prompt readers to open your links. "Find out more about our exciting job opportunity!" reads as spammy and "Click here!" is too generic. Make sure your link text is descriptive and routes to relevant content.
Important links should visually stand out in your recruitment email. Candidates are more likely to click your link if it's highlighted in a different format from the rest of the content in the email. But it's also important to note that, for cybersecurity reasons, some recipients may be wary of clicking links in an email from somebody they don't know.
Measuring recruitment email conversion rates
In sales, a conversion rate is the number of people who complete a desired action after they receive your email, like purchasing your product or subscribing to your list. Similarly, you can calculate the success of your recruiting emails depending on the action you want candidates to take.
Conversion rates for recruiting emails relate to numbers of:
Interviews
Hires
Accepted job offers
How to use interview conversion rate:
This rate indicates whether you approach the right candidates and if you pique their interest enough to consider an interview at your company.
Low interview conversion rates should prompt you to learn more about your candidates before communicating with them. Thorough research will give you valuable insight into each candidate's background.

How to use hiring conversion rate:
This rate reflects how many candidates you originally sourced through cold emails you end up hiring.
A low hiring conversion rate on its own isn't necessarily a bad sign. Quality of hire is worth considering, as well. Take a look at where your most qualified candidates come from and steer your recruiting efforts toward those sources. You may also want to improve your recruitment sourcing strategy.

How to use job offer conversion rate:
Job offer conversion rates reflect how successfully you close the deal with candidates you want to hire.
A low job offer conversion rate is a warning sign. When candidates reject your offer, you turn to your second choice, or worse, start the recruiting process over again. To increase your conversion rates, review your job offer emails to make sure they're welcoming and clear about the position's details.
Use our free job offer email template to help improve job offer conversion rate.
Useful recruitment email tools
Instead of manually tracking your recruiting email metrics, use technology as your measurement companion. With email tools, you can follow and understand your audience's preferences, like optimal days and times to send your emails, and which devices your recipients prefer (e.g. mobiles or computers.)
Here are our picks of tools that can help you measure and improve your email recruiting metrics:
People Search is a Chrome extension for candidate sourcing. A single search gathers data from millions of online networks and trusted sources, including contact information, resumes and social media profiles. This makes it easier – and faster – to reach out with a personalized email, directly to a prospect's own email address.
MailChimp is an email marketing platform with automation and analytics features. Its detailed reporting provides insight on open and click-through rates for your recruiting emails. Plus, you can design and experiment with different time-saving email templates.
SalesHandy is an email productivity tool that works for both Gmail and Outlook. Track how many times your emails and attachments are opened. Use SalesHandy to keep detailed dashboards with recruiting email metrics for all of your team members.
Opening the lines of communication with candidates in a recruitment email isn't going to guarantee you a hire, but good first impressions can go a long way. Measure your recruiting efforts with these key email metrics to source and hire effectively.