How to send recruiting emails to candidates: An FAQ guide
These FAQs about recruiting emails will help you optimize your process, including best practices on scheduling interviews and feedback, rejecting candidates and making a job offer.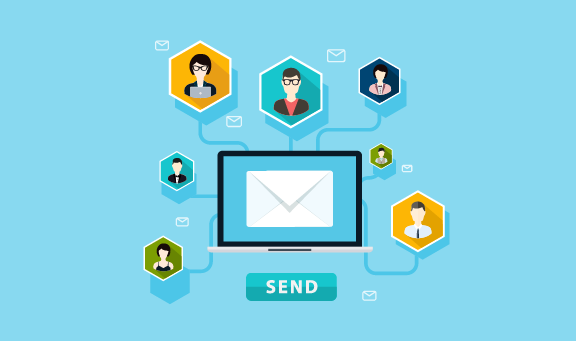 Effective email communication with candidates helps you build a strong brand, both as an employer and as a recruiter. From reaching out to passive candidates, to rejecting candidates with grace, our guide on recruiting email manners will help improve your communication with candidates.
Here are some frequently asked questions about how to email candidates:
Who should email a passive candidate about an open position: a recruiter or a hiring manager?
Both options work, as long as the email is relevant and personalized.
A recruiting email from a hiring manager or CEO may come as a pleasant surprise to potential candidates who are used to communicating with recruiters. Alternatively, recruiters are more experienced with writing emails that capture recipients' attention.
No matter who hits "send," recruiters and hiring managers should collaborate when sending cold emails to passive candidates. Hiring managers know whether a potential candidate's background fits the role. Recruiters know how to pitch the company and role to candidates, without sounding too technical or too generic. They'll also know to include a GDPR-compliant privacy notice when they contact EU candidates for the first time.
Who should email a referred candidate for an open position: a recruiter or a hiring manager?
Both options work, as long as the email is transparent, carefully crafted and mentions the name of the person who made the referral.
Choose what works best for your company, based on your hiring processes and referral policy. It's best for the recruiter to send emails to referred candidates, so they can provide additional job-related information to pique candidates' interest. If the referred candidate already knows about the open role and the hiring team identifies the individual as qualified, the hiring manager can speed up the process and directly schedule an interview by email.
How quickly should recruiters respond to candidate inquiries via email?
As a general rule, recruiters should try to reduce waiting time to a minimum, while making sure all replies are accurate. But, recruiters should prioritize each email differently, depending on their type. For example:
Interview scheduling emails: Prioritize interview scheduling emails. If a candidate wants to reschedule an interview, reply as soon as possible to set up a new appointment.
Interview feedback emails: Interview feedback emails to candidates may need to wait for a response until the respective hiring stage is complete. In the meantime, send a quick reply politely explaining that the process is ongoing and that you will follow up later.
Interview update emails: Recruiters may want to make exceptions for candidates they would like to keep "warm." If a potentially good fit asks for an update on their status, you should reply as soon as you can, to keep their interest.
Post-job offer emails: Continue to communicate promptly even after candidates have accepted a job offer. If new hires have questions about next steps and paperwork, direct them to the most appropriate person (e.g. the hiring manager or an HR manager.)
How many passive candidates should I email for a hard-to-fill role?
When sourcing passive candidates for hard-to-fill roles, focus on quality, not quantity. Instead of sending generic emails en masse, send two or three cold, personalized emails to qualified potential candidates who are likely to be interested in your job.
For hard-to-fill roles, source potential candidates on social media, craft targeted Boolean strings and dig deeper into portfolio sites and resume databases. You could also ask for referrals from your network and current employees. Once you've found a good fit, invest the time to write a personalized message.
Related: Sourcing on Google: Boolean search for recruiters
Track your time-to-fill rate for each position, so that you know the optimal number of candidates you should contact in the future for this type of role.
What are some tips for emailing candidates?
Here's how to improve your emails to candidates, from first time cold emails to follow ups:
Be concise: Your emails to candidates should be brief and clear. Stick to 200-250 words to keep candidates' attention focused on your message.
Be professional: Keep your language formal. Emojis, slang and abbreviations in emails may turn candidates off, even if your company tone is usually casual.
Be accurate: It's off-putting for candidates to receive an email addressed to the wrong recipient. Always proofread your email subject lines before sending, especially if you're using templates.
Be courteous: Respect candidates' time. It's best to avoid emails after office hours or on weekends. If you're in a different location to you candidates, keep time zones in mind and communicate during mutual working hours.
Be tactful: Avoid emailing candidates' work accounts. Use their personal emails, instead, or contact them via LinkedIn, if you don't have their personal email address.
Be compliant: If you're contacting EU candidates, you need to comply with the General Data Protection Regulation (GDPR). Send candidates a link to your privacy notice and let them know why you've collected their data.
How can I improve my email response rate?
When crafting your email, make sure you follow basic business-writing rules. Candidates are more likely to respond to a recruiting email if the message:
Starts with an engaging subject line.
Is free of grammar and spelling errors (e.g. spells the candidate's name correctly.)
Clarifies the position you're hiring for.
Includes a specific call to action (e.g. "Would you be available for a quick chat about the position this week?")
Gets straight to the point.
Strikes a friendly, yet professional tone.
Is personalized for each candidate.
Candidates are more likely to open and reply to emails from people they already know. So, if you've previously met (for example, if they're past candidates, if you've interacted with them through social media or if you share a mutual connection), mention this in your email.
How can I measure the success of my recruiting emails?
Recruiting email metrics will help you identify areas to improve your communication with candidates. Here are the most important rates you should track:
Open rate: The percentage of recipients who open your emails.
Response rate: The percentage of recipients who reply to your emails.
Click-through rate: The percentage of recipients who click at least one link in your emails.
Conversion rates: The percentage of recipients you interviewed, offered a job and hired.
Email tools help you monitor these metrics and test whether your messages are effective.
Do personalized emails to candidates have more impact?
Yes. Candidates skim generic cold emails that don't explain why this "amazing job opportunity" might interest them. Personalization will help your messages stand out. Potential candidates want to know:
What's in it for me?
How does this position align with my background?
Why does this recruiter have an interest in hiring me?
Why should I consider a call or meeting with this recruiter?
Template emails make recruiting more efficient, but can turn off potential hires, if they're not customized. Take the time to write a thoughtful message that candidates will appreciate and remember.
What are some ways to personalize recruiting emails?
Learn about the person you are trying to recruit and be genuine. There are many ways to do this, both online and offline. Here are a few tips:
Customize your subject lines with the recipient's name.
Gather information about potential candidates using various sources (e.g. social media, blogs and portfolio databases) and mention a job-related accomplishment that caught your attention.
If you've previously met, remind them of how and where, and explain what prompted you to reach out.
For referrals, mention the name of your mutual connection in the subject line or early in your message. (e.g. "We are looking to hire a [Job_title] and [Employee_name] mentioned that you might be a good fit.")
Avoid clichés (like "I was impressed by your profile"). List their specific achievements instead.
Avoid getting too personal in your communication, though. Only use job-related information you found online. You want to grab candidates' attention and show them that you invested time to learn about them, but in a professional way.
For EU candidates, make sure to follow guidelines of the General Data Protection Regulation (GDPR) when collecting personal data on candidates.
What should I include in a phone interview invitation email?
Phone interviews are often part of initial candidate screening phases. Here's what to cover in a phone interview invitation email to candidates:
Introduce yourself by name, title and company.
Remind candidates about the position they applied for.
Explain what the phone call will cover (e.g. "I'd like to give you some more details about the role" or "I'd like to get to know you a bit better and clarify some details about your resume.")
Provide the name of the interviewer and the estimated duration of the call.
Suggest available days and times for the call and ask for confirmation. Make sure you use the correct time zones to schedule interviews.
If necessary, mention what else the candidate needs to know about the interview (e.g. "The interview will follow a structured interview format.")
Follow a similar outline if you're inviting candidates to a Skype or video interview. Make sure you have candidates' phone numbers and/or Skype account details before the interview.
Related: Structured interview questions: Tips and examples for hiring
What should I include in an interview email?
Here's what you should include in your interview invitation email:
Introduce yourself by name, title and company.
Thank candidates for applying and remind them of the exact role they applied for.
Explain broadly what the interview will cover.
Provide the name(s) of the interviewer(s) and the estimated duration of the interview.
Suggest available days and times for the interview and ask for confirmation from candidates.
Include the exact location of the office where the interview will be held (if necessary, attach a map with directions.)
Let candidates know what they will need to bring with them (e.g. ID or completed interview assignment.)
If necessary, mention what else the candidate will need to know about the interview (e.g. "You will be tested on your knowledge of Excel.")
Make sure your email signature includes your contact details for candidates to easily reach out.
What should I include in a job offer email?
A job offer email (or letter) should be both informative and engaging. Here's what you should include in your emails to increase job offer acceptance rates:
A warm introduction (e.g. "It's my pleasure to offer you the position of [Job title] at [Company name].")
The position's details (job title, working hours, department and manager.)
Contract length (if applicable.)
Salary and benefits.
Company documents (like company policies, employee handbook or employment terms that your candidate needs to sign.)
A specific timeframe for when you would like to hear back from the candidate.
A job offer email template that's easy to customize for every position will save you time. If the candidate has already accepted your offer (e.g. over the phone), you can tweak your email and make it more of a welcome message.
What should I include in a candidate rejection email?
A rejection email lets candidates know they won't advance in the hiring process. It should also aim to end the hiring process on a positive note. Here's what you should include in a candidate rejection email:
Inform them that they won't move on to the next hiring stage.
Briefly explain the reason(s) for rejection.
Share additional feedback (especially if the candidate made it to the last stage.)
Mention something you liked about the candidate.
Thank them for their time and wish them well.
Let them know if you'd like to keep their resume for future openings.
Suggest connecting on LinkedIn or invite them to keep in touch.
When should I call a candidate instead of sending a rejection letter or email?
No matter how you choose to reject a candidate, never leave them guessing. The way a company rejects candidates can make or break its reputation.
Choose to reject candidates by phone, instead of email, when: