Video interview invitation email
Use this video interview invitation email template during your hiring process to schedule video calls with candidates. Video interviews help you screen candidates before inviting them to an on-site interview.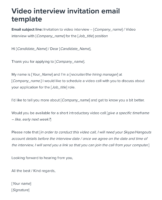 When writing this email, it's best to make sure your subject line clearly communicates that you're sending a video interview invitation. Otherwise, candidates may not open your message.
If this is the first time you communicate with the candidate after they applied to work at your company, mention the position you're interviewing for and briefly explain that this video call is part of your hiring process.
If you have already informed the candidate about the video interview, you can coordinate via email to arrange the details. Set the date and time, inform about the estimated duration of the interview and explain how you will call them (e.g. exchange Skype accounts or provide candidates with a link to follow to log into the interview.)
To avoid confusion when you're scheduling your video interviews, remember to point out correct time zones, if you and your candidates are in different locations.
You can customize this video interview email template to strike a more casual or formal tone, depending on your company culture.
If you are conducting phone interviews with candidates, check our Phone interview invitation email template and Phone screening interview questions. You can confirm the interview using our phone interview confirmation template.
Looking to save time with the interview process? Sign up for our 15-day free trial of Workable's end-to-end recruiting software and start hiring better people, faster.
Video interview invitation email template
Email subject line
Invitation to video interview – [Company_name] / Video interview with [Company_name] for the [Job_title] position
Email body
Hi [Candidate_Name] / Dear [Candidate_Name],
Thank you for applying to [Company_name].
My name is [Your_Name] and I'm a [recruiter/the hiring manager] at [Company_name.] I would like to schedule a video call with you to discuss about your application for the [Job_title] role.
I'd like to tell you more about [Company_name] and get to know you a bit better.
Would you be available for a short introductory video call [give a specific timeframe – like, early next week?]
Please note that [in order to conduct this video call, I will need your Skype/Hangouts account details before the interview date / once we agree on the date and time of the interview, I will send you a link so that you can join the call from your computer.]
Email sign off
Looking forward to hearing from you,
All the best / Kind regards,
[Your name]
[Signature]
More resources: