Phone interview invitation email
This is a phone interview email template to use during your hiring process. Once you've evaluated your candidates' resumes, you can conduct screening calls to help you choose candidates to go through to the second interview phase.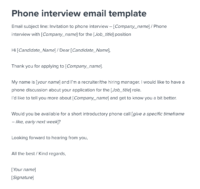 When writing this email, it's best to make sure your subject line clearly communicates that you're sending a phone interview invitation. (Otherwise candidates may assume the worst and not open your message.) Keep your message brief. Mention the position you're interviewing for and the timeframe for the interview. You may also use the same template for a video or Skype interview. You can customize this phone interview email template to give a more casual or formal tone, depending on your company culture. You can confirm the interview using our phone interview confirmation template.
Looking to save time with the interview process? Sign up for our 15-day free trial of Workable's end-to-end recruiting software and start hiring better people, faster.
Phone interview email template
Email subject line
Invitation to phone interview – [Company_name] / Phone interview with [Company_name] for the [Job_title] position
Email body
Hi [Candidate_Name] / Dear [Candidate_Name],
Thank you for applying to [Company_name].
My name is [your name] and I'm a recruiter/the hiring manager. I would like to have a phone discussion about your application for the [Job_title] role.
I'd like to tell you more about [Company_name] and get to know you a bit better.
Would you be available for a short introductory phone call [give a specific timeframe – like, early next week]?
Email sign off
Looking forward to hearing from you,
All the best / Kind regards,
[Your name]
[Signature]
What should be included in a phone interview email?
Introduction and purpose:
Begin with a cordial greeting, specifically addressing the candidate. Introduce the reason for the email, emphasizing the position they've applied for. For instance: "Thank you for expressing interest in the [Job_title] role at [Company_name]. We've reviewed your application and would like to proceed with a phone interview to further discuss your qualifications."
Date and time of the interview:
Clearly mention the proposed phone interview's date and time. To offer the candidate some flexibility, consider suggesting a few different time slots. Also, provide an estimated duration so they can plan their day accordingly. For example, "We're looking at scheduling the phone interview on [Date]. It's expected to last about [duration]. Please let us know which time works best for you."
Interviewer details:
Offer information about the person conducting the interview. This is valuable as it allows the candidate to familiarize themselves with the interviewer's role or background beforehand. "The interview will be conducted by [Interviewer's Name], our [Interviewer's Position]."
Agenda or topics to be covered:
Provide a succinct outline of what the phone interview will encompass. While detailed specifics aren't necessary, a general idea helps the candidate prepare effectively. "During our conversation, we'll delve into areas like your previous work experience, certain technical competencies, and your potential fit within our organizational culture."
Any preparations needed:
If there are any prerequisites or preparations required from the candidate's end, mention them clearly. This could be anything from specific documents to an online pre-assessment. "Ahead of our call, kindly ensure you have [specific documents] at hand, and please complete the online assessment linked here."
Logistics and technical details:
Highlight whether the interview will be a standard phone call or if it involves a particular software or platform. If using a digital platform, remember to include any requisite access details. "We'll be conducting this interview via [Platform/Regular Call]. In case of any technical interruptions, here's an alternative contact method [backup method]."
Encourage questions:
It's essential to maintain an open communication channel. Encourage the candidate to reach out for any clarifications or queries they might have. "We appreciate your proactive involvement in this process. If any questions or concerns arise before our scheduled conversation, please feel free to contact us."
Concluding remarks:
Conclude the email on an optimistic note, signifying enthusiasm for the forthcoming dialogue. "We're genuinely looking forward to our conversation and hope to delve deeper into the potential of having you join our team."
More resources: