How to set up a candidate experience survey
To improve your candidate experience, you should first know where your hiring process stands. Here's how to set up a candidate experience survey: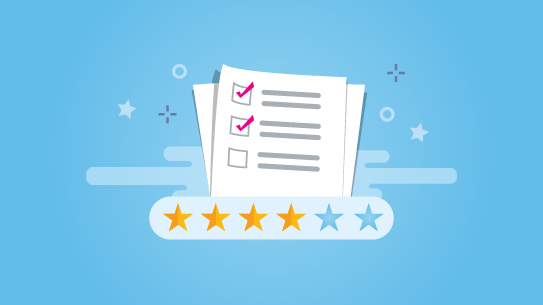 How you interact with candidates during the hiring process is critical. Pitfalls, small or large, hurt your reputation, cost you great hires and damage your employer brand. To understand and improve candidate experience, recruiters should put themselves in candidates' shoes by surveying them. Though surveys are prone to bias issues, you can combat their limitations by designing your candidate experience survey process in a thoughtful and intentional way.
The candidate experience timeline begins from the moment a job seeker learns about an open position at your company and continues throughout the candidate's interview process. It ends with a job offer or rejection letter. Use surveys to ask for candidate experience feedback in order to reveal strengths and weaknesses in each stage of your hiring process, This way, you can continue to refine and improve your recruiting strategy.
Who to survey
Applicants (post-interview)
Ideally, all of the candidates you interview would answer your survey questions, so you can learn about:
The clarity of your job descriptions ("Did your discussion with the recruiter reflect what you read in the job ad?")
Their first impressions of your offices and employees ("How friendly/warm was the receptionist when you arrived for your interview?")
Your recruiter-candidate communication ("How clearly did our recruiter explain the steps of the hiring process and job details?")
But you are bound to run into sampling biases with these kinds of questions, because it's unlikely that every candidate is going to respond to your survey questions, or appreciate being asked to provide feedback if they're upset about being rejected. To reduce the likelihood of these kinds of sampling biases, send your candidate survey emails to candidates a while after the position they applied to has closed. A candidate who's expecting an invitation for a second interview mightn't share a negative comment, despite being granted anonymity. Likewise, recently-rejected candidates may offer bitter feedback, but you can increase your chances of receiving honest input if you contact them some time after sending a rejection letter.
See also our free post-interview rejection letter sample.
Final stage candidates
Candidates who made it to the final stage of your hiring process can give you a complete overview of their experience. They can answer questions like:
Was email and phone communication prompt and effective during the hiring process?
Were the job details and requirements consistent throughout the hiring process?
What would make our hiring process better?
You may be able to get useful information from candidates who rejected a job offer. For example, losing a great hire because of a poorly crafted job offer letter is something you can fix as soon as possible.
New hires
Though new hires are an admittedly biased and unrepresentative sample population (because they don't include people who rejected your job offer or dropped out of your hiring process) they can give you feedback as part of their onboarding process. Ask them if their first days turned out as they expected, or if they would have appreciated more information about the job before accepting it (e.g. details about working hours, dress code and benefits.) Also, positive input will help you strengthen the things you already do well (e.g. "The recruiter's description of the company's culture encouraged me to accept the job offer.")
It's easier to collect answers from newly-hired employees, compared to candidates you've rejected. New hires will be more invested in helping you improve company procedures. But, they may also be more inclined to portray their experience of your hiring process in a positive light, because they're newly minted employees who want to make a good first impression.
How to survey
Start by testing and comparing survey software to find one that fits your needs. It's easy to create and email an online survey – you can use templates, for example, from Typeform or LeadQuizzes. Here are some basic tips to follow:
Inform candidates about the survey during the hiring process. Rejected candidates who aren't aware of your candidate experience survey might perceive it as spam and ignore it. Increase your reply chances by letting all your candidates know that they should expect to receive a survey.
Respect privacy. Choose a reliable survey tool that keeps candidates' personal information anonymous. Otherwise, you will risk harming your company's reputation. If candidates question their anonymity, they will be less likely to submit honest answers.
Keep it short. Respect candidates' time and create a brief survey that takes no more than five minutes to complete. A total of 6-10 questions will give you more than enough feedback to work with. Detailed questionnaires are off-putting and can hurt your response rate.
Offer an incentive. Candidates will be more willing to answer your survey if there's something in it for them. Airbnb, for example, offers a coupon to rejected candidates to end the process on a positive note. A simple message of appreciation (e.g. "Thank you for your time" or "Your opinion helps us get better") also goes a long way.
Combine closed and open-ended questions. Open-ended questions (e.g. "Why would you choose/ not choose to apply for a future opening at our company?") provide qualitative information and better insight into the candidate's point of view, but are time-consuming for candidates to answer. Closed questions (e.g. multiple choice, "Yes" or "No" options) are quicker for candidates to answer and easier to measure, but they mightn't accurately reflect candidates' opinions. Use both question types in your survey to counterbalance the pros and cons of each.
Related: Frequently asked questions about candidate experience metrics
What to survey
When setting up your candidate experience survey, choose questions that reveal:
Current candidate satisfaction levels
Highs and lows of your hiring process
Differences in candidate experience between departments
Opportunities to improve your overall candidate experience
Designing good survey questions is a multi-step process. Make sure your questions are clear, relevant to your company's procedures and allow candidates to provide objective answers. Leading questions that prompt candidates to tell you what you want to hear won't help you understand (or fix) any problems.
Here's an example of a leading question: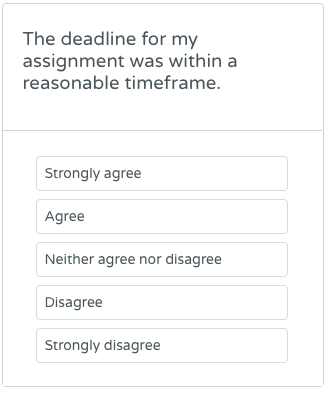 Unless you ask candidates to develop a new website for your company in a day, in most cases candidates will have reasonable amount of time to complete an assignment. Modify your question to get more specific feedback. Here's an example: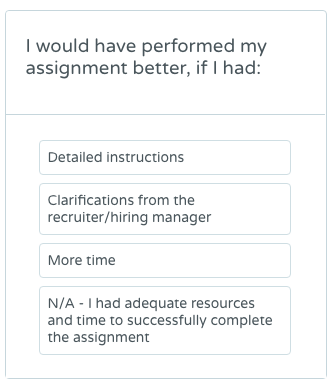 Measure your Net Promoter Score
The Net Promoter Score (NPS) is a simple method to measure customer experience, popular among marketers who want to track the reputation of their brand. You can tweak the traditional NPS question to meet your recruiting needs:
How likely are you to recommend a friend to apply to our company?

Candidates (and current employees) who have an overall positive experience of your company's hiring process will encourage their friends to consider working for your company. If your Net Promoter Score is low, it's time to examine how to improve your hiring process.
Setting up a survey is only the beginning of improving your candidate experience. Combine the results you collect with other sources of applicant opinions. Glassdoor reviews and social networks are some of the most popular places for people to share their candidate experiences and post their opinions about companies.
Use the feedback you get from candidates to revamp your hiring process. Even small changes can boost your employer brand. Caring enough about candidate experience to measure it in the first place is a great place to start.