Second interview invitation email
This is a second interview invitation email template to use during your hiring process. You can use this template to invite candidates who have successfully passed from the first phase of interviews, to a second, more thorough, interview round.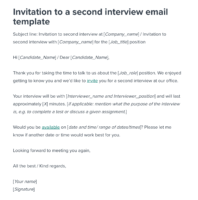 At this point, you have probably already met your candidate and have communicated via email more than once. When writing your second interview invitation email, a less formal tone is usually appropriate. But, like all recruiting emails, make sure the style you choose aligns with your company culture and the position you're recruiting for.
Your message should prepare your candidate for their interview. Don't forget to clearly state that you're sending a second interview invitation in your email's subject line. Briefly explain what the purpose of the second interview is (e.g. to review an assignment, complete a test or meet the CEO/hiring manager) and approximately how long the interview will take. Remind your candidates if they need to bring something with them (like their ID or portfolio).
Is the second round your final interview? See our final round interview questions for more options.
Looking to save time with the interview process? Sign up for our 15-day free trial of Workable's end-to-end recruiting software and start hiring better people, faster.
Invitation to a second interview email template
Subject line
Invitation to second interview at [Company_name] / Invitation to second interview with [Company_name] for the [Job_title] position
Email body
Hi [Candidate_Name] / Dear [Candidate_Name],
Thank you for taking the time to talk to us about the [Job_role] position. We enjoyed getting to know you and we'd like to invite you for a second interview at our office.
Your interview will be with [Interviewer_name and Interviewer_position] and will last approximately [X] minutes. [if applicable: mention what the purpose of the interview is, e.g. to complete a test or discuss a given assignment.]
Would you be available on [date and time/ range of dates/times]? Please let me know if another date or time would work best for you.
Looking forward to meeting you again,
Email sign off
All the best / Kind regards,
[Your name]
[Signature]
What should be included in a second interview email?
A second interview email is a pivotal communication in the hiring process. It signifies the candidate's progression to a more advanced stage, often indicating a heightened interest in their potential fit for the role. As such, the email should be crafted with clarity, enthusiasm, and respect for the candidate's continued interest and commitment.
The email should commence with a personalized greeting, addressing the candidate by name, which fosters a direct and respectful tone. The opening lines should convey the company's appreciation for the candidate's time and effort during the initial interview, and express excitement about the prospect of further discussions. This acknowledgment serves to reinforce the candidate's value and the seriousness with which the company views their application.
The main body of the email should delve into the specifics of the second interview. Clearly outline the date, time, and location of the meeting. If the interview is virtual, provide all necessary links, software requirements, and access codes.
Given that second interviews often involve meeting with senior personnel or multiple team members, it's essential to mention who the candidate will be speaking with, along with their respective roles or titles. This not only helps the candidate prepare but also gives them an understanding of the interview's significance.
Beyond logistics, offer a brief overview of the interview's structure and objectives. The second interview often delves deeper into specific skills, cultural fit, or may involve practical tests and assessments. Giving the candidate a heads-up on what to expect can help them prepare more effectively and approach the interview with confidence.
Towards the conclusion of the email, reiterate the company's enthusiasm about the potential fit and encourage the candidate to reach out with any questions or concerns. This open line of communication ensures that the candidate feels supported and valued throughout the process.