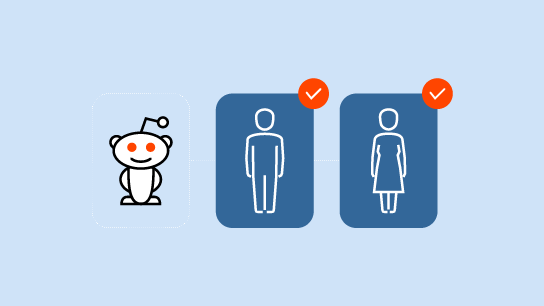 There's a popular saying in the recruiting world: You've got to go where your candidates are. For recruiters, that means going beyond mainstream job boards to source in nontraditional channels. And one of those channels is Reddit.
To get a better perspective on how to recruit on Reddit, we turned to Conor Duffy, VP of Business Development/Recruitment at Strike IT US. Duffy and his team hire for engineering and tech roles. His firm placed 111 hires from Reddit last year. (Full disclosure, my husband was one of them.)
Here's a guide on how to recruit on Reddit:
Know the Reddit landscape
Get to know the popular news aggregator and online forum, which boasts hundreds of millions of unique visitors every month. The site is divided into thousands of mini-communities called "subreddits" where people congregate in forums dedicated to specific topics. These people may be potential candidates for your open roles, but you need to prove yourself before trying to woo them.
Recruiting on social media? Workable is the industry leader with recruitment features to find and hire the best candidates. Sign up for our 15-day free trial.
Here's a brief glossary of terms to familiarize yourself with on Reddit (For more on how to use Reddit, turn to Reddit's own FAQ):
Upvote/Downvote: A tool that allows a Reddit user to like or dislike a post, ultimately determining the post's position on the site. They are up and down arrows on the left of a post, like so:
Karma: A number on your profile that represents how much "good" you've done for the Reddit community. This includes submitting links and comments. Here's an example of a Reddit karma score:
OP: Short for "Original Poster." Used in comment threads to reference the individual who created the original post.
AMA: Short for "Ask Me Anything." A Q&A subreddit with an individual who entertains questions about a topic specific to them. Sometimes, the subject of an AMA is a prominent person (e.g. celebrities, politicians, renowned industry professionals.)
Cakeday: The day you signed up on Reddit (your Reddit birthday.) In recruitment, it may be used to gauge your authenticity in the Reddit community.
It's important to note that some subreddits have their own sets of rules. Abide by these guidelines when connecting with these communities.
Here are some subreddits that may be useful to recruiters:
Build trust with your Reddit communities
Redditors detest spam and can spot fakers. Duffy takes this to heart. He instructs his recruiters to sign up for Reddit accounts to learn how to be active on the site. He advises them to subscribe to at least two subreddits:
One on a topic they're passionate about, unrelated to recruiting;
Another subreddit about jobs to learn about recruiting (e.g. r/BostonJobs.)
The goal is to get them involved in the Reddit recruiting community in an authentic way.
"One of the issues and problems that can arise [in recruiting on Reddit] is faking it," Duffy said. "Don't go into a development community and pass yourself off as a developer. That's the fastest way to alienate good, potential talent."
His team establishes Reddit recruiting cred with potential hires by being involved in a jobs subreddit. They build Reddit karma: his recruiters will answer questions about how to search for jobs and provide users with resume and interview advice, free of charge.
"Set up the fact that you're real, that you're good at what you do and you can be trusted enough to at least have a phone call."
Mind your Reddit job post language
The way you post a job on Reddit matters. Duffy says he sees many Reddit job postings list the job description verbatim. That approach may not pitch the open role in the best way. A long laundry list of qualifications can be visually displeasing and may repel skilled candidates who feel like they don't fulfill every single requirement:
When posting a job on Reddit, be honest and be detailed. If you're wooing developer candidates at a startup, sell the culture. Language like "Maybe you're stuck in a large company" ; "join a small but rapidly growing business" and "get a chance to see your code in action" will entice and engage potential developer candidates.
Job posts that are stripped of identifying information (e.g. by intentionally leaving out location and salary information) will raise suspicion about you and your post, and may discourage qualified candidates from applying.
Here's an example of a job post from Duffy looking to recruit a developer:
Be available
Successful social recruiting with Reddit is an investment in the community. The "spray and pray" method won't get you far, but caring about your potential candidates will. Make yourself easily accessible once you post a job. And interact with candidates before directing them to fill out a lengthy job application.
Duffy believes in being a consultant not just for his clients, but for his candidates. This approach goes a long way with Reddit recruiting in particular and recruiting in general. Valuing your clients and your candidates equally will lead to better retention rates, happier employees and a stronger recruiting reputation.
Frequently asked questions
Can you recruit on Reddit?

Yes! Depending on the industry you're in, Reddit may be an excellent way to recruit talent. For example, if your company deals with visual design or product development, posting jobs can help find employees looking for career opportunities that they might not see elsewhere online.
Can you post job openings on Reddit?

You can use Reddit to get in touch with potential candidates. The site has millions of users, and they're always looking for new talent, so make sure you list yourself among them!
How do I become a good recruiter using Reddit?

It is important to be upfront and honest about the tasks you are offering when messaging someone. Being prompt with your responses will make them feel valued, creating far better relationships than if they were left unanswered for hours.