Best developer job boards: Where to post jobs to hire developers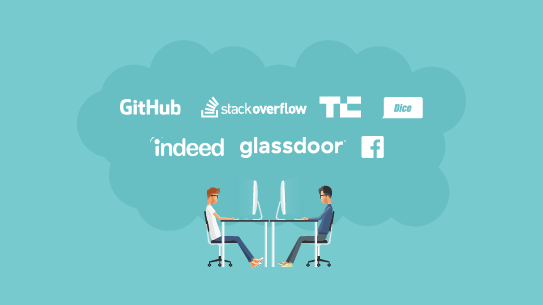 Despite the increasing popularity of candidate sourcing techniques, job boards are still the easiest way to reach millions of software developers. When figuring out how to hire a developer, developer job boards (both niche and mainstream) can help you find strong candidates.
How to source and hire developers – Best developer job boards list:
Use niche job boards
Niche job boards reach your target audience directly, regardless of what type of developer you are looking to hire. Jobs posted on niche boards will result in a smaller number of applications, but more relevant dev candidates than jobs posted on mainstream job boards.
Dice.com
Dice is a tech career website specifically can help you find software developers and other IT professionals. Dice has various pricing options depending on how many jobs you want to post. Dice also cross-publishes jobs to its 3,000 partner sites.
Crunchboard
Crunchboard is the official job board of TechCrunch, a popular technology news publisher. Crunchboard job ads are visible on TechCrunch's network, including its blogs about gadgets and mobile technology, reaching millions of readers.
On Crunchboard, you can buy one job ad for 30 days. You can also purchase job packs – buying listings in bulk – and post the jobs whenever you choose:
Use mainstream job boards
Mainstream job boards reach candidates from various industries. Your job ads will be seen by a larger audience, including developers. Some mainstream job boards are so widely used that they're worth posting your dev jobs on.
Indeed
Indeed is a popular job search engine and yields more hires than all other top job boards combined. It aggregates postings from other job boards and has its own job posting function (both free and paid.) Indeed uses a pay-per-click model for its paid (sponsored) ads, which charges you only when people click on your job ad.
Also, you can source candidates through Indeed Resume, Indeed's large resume database.
Glassdoor
Over 20 million people visit Glassdoor each month. Glassdoor is much more than a job board: it's a community people visit to post and learn about salaries, interviews and company reviews. Being active on Glassdoor (e.g. responding to reviews and adding employee benefits) can boost your employer brand and motivate dev candidates to apply to your jobs.
You can post up to 10 jobs for free. According to Glassdoor, most people who apply through its site are highly qualified candidates:
Glassdoor can also display your ad when candidates research your competitors or browse other sites.
Related: How to post a job on Glassdoor
Facebook
Social websites are the best source of recruiting tech candidates. Facebook, with its 1.7 billion users and useful features for recruiting, is one of the most effective, and convenient, platforms for hiring software and web developers.
On Facebook, you can share your jobs with your network. You can also use your Applicant Tracking System (ATS) to add a jobs tab on your Facebook page (a feature that Facebook itself has recently implemented):
Experiment with different job boards so you can reach a larger number of developer candidates. Track how many qualified candidates and hires you get from each job board, so you can effectively plan your recruiting budget.
More resources for hiring developers:
Expand your reach to great candidates by combining job posting with proactive sourcing. Download our complete sourcing guide for free.
Use Google search to identify hard-to-find candidates.
Source and recruit skilled developers with Workable's Boolean search cheat sheets:
Reach out to developers with our email template for sourcing dev candidates.
Frequently asked questions
How do I recruit the best developer?
When it comes to finding great developers, many companies follow a few tips. First, you should look through public Slack channels where they tend to congregate and create developer meetups in order to build relationships with local candidates while also checking out websites like GitHub or Stack Overflow because those sites are specifically made for programmers.
How do you attract junior developers?
Junior developers are hard to find, but you can increase your chances of success by spelling out the path to professional growth in a job advertisement. Make sure that all potential candidates know what they'll need to do before an interview begins to ensure you find the right candidate for your needs.
What makes a good developer?
Good developers are often technical experts with excellent written and verbal communication skills. Their code is clean, well commented upon, and easily understood by other team members or individuals in charge of reviewing their work.