Best job boards: The ultimate job sites list for 2021
Advertising your job ad to the right job boards is the first step to attracting qualified candidates. But you may not have the time to do thorough research on which job boards are best for which area or function – and this will be especially tough if you're hiring in multiple locations or for dozens of open roles at the same time.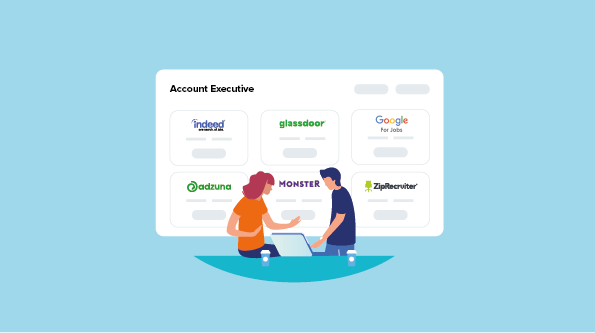 No worries! We're here to help you: we put together a list of job boards and job search engines categorized by cost, location and industry. The best job sites are featured here; you don't need to look anywhere else.
Here are the top job boards and best job posting sites for employers in the U.S. and other parts of the world – navigate our comprehensive list for 2021 by clicking on the ones you're most interested in from this table of contents:
Contents
1. Free job boards
2. Premium job boards
3. Niche job boards and search engines
– IT job boards
– Job boards for Creatives
– Job boards for Veterans
– Job boards for Healthcare
– Startup job boards
– Platforms for freelancers and flexible work
4. UK job boards
5. Australia job boards
6. Singapore job boards
7. Canada job boards
1. Free job boards
Want to find employees for free? It's very tough, but at least posting the job ad can cost next to nothing by using free job boards. A healthy job posting mix does include free options – but make sure you write a good job description to avoid unqualified applicants and monitor the results closely.
Here are the best job boards with free job posting options:
Adzuna
Adzuna is a UK-founded global job search engine with 10 millions of visitors per month – post one job for free to try it. Adzuna might have a local branch in your area so be sure to check for Adzuna New Zealand, Adzuna India, etc.
Glassdoor
Glassdoor is generally not free for employers, but you can post jobs for free during a one-week trial. You can also create a free employer account with limited features.
Google for Jobs
Google for Jobs is an enhanced search feature that collects job ads from various job boards and careers pages and displays them prominently in Google Search. While you can't post a job on Google for Jobs – since it's not really a job board itself – there are ways to encourage Google to pick up your job ads.
Indeed Free
Indeed has a free job posting option which is good for a limited-time exposure. This is because free posts are displayed by publishing date, and your own job ad is pushed down the list once other, newer job ads are published.
Indeed Organic
This is Indeed's search engine at work: it scours the internet for great online job ads and pulls them directly from your careers page or other job boards. To achieve this, you need to build job ads that are clear, concise and non-discriminatory.
Jobcase
Jobcase is a job board designed for hourly workers and offers a free job post for hiring managers. This job site is also part of a network that includes JobTree and Craigslist so you can take advantage of multiple job boards with the same job posting.
SimplyHired
SimplyHired, a popular job board and acquired subsidiary of Recruit Holdings (Indeed's parent company) offers free job posting options for employers and distributes your job ad across a network of 100+ job boards.
Workable job board
Our very own job board shows any job ad published using our system. It's free, it's global and it helps you expand your advertising reach while candidates enjoy the ease of applying through Workable.
ZipRecruiter
ZipRecruiter gives you one reusable post for a 5-day free trial. You can cancel the job posting before the trial ends, or pay to keep the job ad live and get even more qualified candidates.
Some job boards offer free job postings when used via Workable's system. Request a demo to learn more.
2. Premium job boards
We can't overlook paid job boards when talking about the best websites for job postings. These job sites provide more visibility to your job ad – potential candidates will see your open role as a featured post placed prominently in search results. Premium job boards are a good option to maximize your reach to active job seekers.
Here are the top job boards with paid options:
CareerBuilder
CareerBuilder is one of the largest global job boards with almost 125 million candidate profiles in its database. Choose among various pricing options based on the number of jobs you'd like to publish and Resume Database views.
Craigslist
Craigslist is a traditional classified ad website that can also function as a job board – it's useful especially for jobs that involve manual labor or creative work (such as furniture movers, contractors, copywriters, graphic designers, etc).
Indeed
Indeed has paid options that help your job ad reach more candidates. Your post will generally be prominently shown at the top and bottom of each page when a candidate searches for relevant jobs.
Monster
Monster is one of the most popular global job boards online with millions of visitors per month. It offers three paid plans to post your jobs.
Nexxt
Nexxt (formerly Beyond) is one of the largest job posting networks in the world. You can post your job ad on the main job board or choose one of the job sites in Nexxt's career network, such as FinancialJobBank, DiversityWorkers, Disability Jobsite and more.
Snagajob
Snagajob is a popular U.S. job board specializing in hourly work. Snagajob brings you closer to qualified candidates through its network of 90 million job seekers, according to their website.
ZipRecruiter
Post a job on ZipRecruiter and it'll be immediately distributed to 100+ job boards and sites in its network including CareerJet, Resume.com, Twitter and juju.
3. Niche job boards and search engines
Specialized job boards are useful when you want to target your job ad to the right audience. For example, if you're looking for designers, you can post on a designer's job board to reach qualified candidates directly – you may get fewer applications from niche job boards than from mainstream ones, but they have a higher chance of being relevant.
Here, you can find job sites for several popular industries:
IT job boards
These job sites can also be forums or coding platforms visited by millions of developers, engineers and other IT professionals so you can reach a large, qualified audience easily.
Crunchboard
Crunchboard is the official job board of TechCrunch, a popular technology news publisher with more than 12 million readers each month.
Dice.com
Dice is a tech career website with several paid options which cross-publishes job posts to its 3,000 partner sites.
Read more: How to hire developers
Job boards for creatives
Many job boards for creative professionals are also portfolio sites – letting you see each candidate's work first-hand.
99designs.com
This site lets you start an online design contest to receive submissions from qualified candidates. You select the best design and you could also source the best designers.
Behance
Behance, one the the world's largest creative networks, lets you post jobs or look for creative professionals by schools, tools and other keywords.
Dribbble
Dribbble is another popular portfolio site used by millions of designers – post a job or source candidates by searching profiles.
Carbonmade
Carbonmade is a portfolio site, but you can easily search for creative professionals such as designers, copywriters and makeup artists, and reach out to the ones you'd like to work with.
Coroflot
On Coroflot, you can post jobs that will stay live for 90 days and will get distributed across the Design Employment Network reaching millions of candidates.
Hyper Island
Hyper Island is an education company specializing in training for students and consulting for businesses. It offers a free job board function that's mainly active in northern Europe.
Read more: How to hire designers
Job boards for veterans (U.S.)
Job sites for veterans usually provide a wealth of support to employers. You'll find resources on how to hire veterans, how to integrate them into your company, how to support their families and how to post jobs to find the best veterans for your open roles. Here are some job sites that can help you with all this:
Job boards for Healthcare
If you're hiring for the healthcare industry you can also post your job ad in the following job boards:
Health eCareers
Health eCareers is a U.S. website with over 6,500 employers posting medical & healthcare jobs.
Doximity
Doximity has attracted almost 75% of US doctors. It's a professional network and a job board. You could call it a niche version of Linkedin.
HealthJobs Nationwide
As its name implies, HealthJobs Nationwide is a job board aiming to connect healthcare professionals with their future employers.
CareerVitals
CareerVitals is one of the most known job boards when it comes to healthcare industry. You can post your job ad there and connect with its talent pool.
Startup job boards
If you're looking for employees for your startup, here are a few job sites to post jobs in:
AngelList
AngelList is a U.S. website that brings you close to people looking to work in startups. Post your job and communicate directly with qualified candidates.
Crunchboard
Crunchboard is the official job board of TechCrunch, a popular technology news publisher with more than 12 million readers each month.
Mashable
Members of the Mashable network can post tech, digital and social media job openings. Mashable will also promote your job ads to its 45 million monthly visitors and 25 million social followers.
Startupers
Startupers is one of the original resources for startup jobs and hosts thousands of resumes of people who want to work in tech startups. You can also post your job ads for free.
VentureLoop
VentureLoop is the worldwide leader in startup jobs focused on venture and seed capital backed companies.
WorkInStartups
WorkInStartups is a tech job board for UK startups. Unless you're an agency or an external recruiter, you can post jobs for free.
Platforms for freelancers and flexible work
Here are the best job boards for recruiters and employers who want to find freelancers for short-term projects or workers with flexible hours:
Fiverr
Post your project on Fiverr and pay once you approve the work of freelancers you're working with.
FlexCareers
FlexCareers is an Australian job site that helps employers find talented female employees by posting jobs with flexible schedules.
Freelancer
On Freelancer, one of the most popular freelancing employment websites, you can post your project for free and find the right freelancer by looking at profiles and ratings.
Guru
On Guru, you can browse the profiles of more than 3 million freelancers or post a job for free.
Hubstaff Talent
Hubstaff Talent is a platform that helps businesses find remote freelance employees from around the world – and it's free.
Upwork
Upwork is a popular platform where you can find freelancers with various skills and professions, like copywriters, designers or developers.
Learn how an applicant tracking system can save you time in posting on multiple job boards.
4. UK job boards
Wondering what are the best job sites in the UK? Here's a list:
Adzuna
Adzuna is a UK-founded global job board with 10 millions of visitors per month – post one job for free to try it.
CV-library
CV-library has a vast database with millions of CVs you can look through. You can also post jobs by purchasing a single job ad or a bundle.
Escape the city
Escape the city is a community with 300 thousand highly educated members where you can post any kind of job, from fellowships to co-founder positions, in every field.
Indeed UK
Indeed has an active branch in the UK – it offers the same free and paid options as in other locations and it's quite popular among job seekers.
Monster UK
Monster UK attracts millions of job seekers in the UK every month. You can choose out of three types of job ads.
Otta
Otta is a UK-based job site that covers all functions from engineering to sales and marketing and all levels from entry-level to VP. It prides itself on providing unbiased opinions of companies, tailored recommendations, salary benchmarks, and other features. About 3,000 roles are posted there each week.
Reed.co.uk
Reed.co.uk has millions of visitors per month and more than 45 thousand candidates register in its database every week. You can choose among three job advertising options.
Totaljobs (and Jobsite)
Totaljobs recently partnered with Jobsite and the two job sites together get 20 million visits per month. They also have a combined CV database of 15.5 million.
Unicorn Hunt
Unicorn Hunt is a London job board focused on startup jobs and can promote your job ad in social media and their newsletter to help you get more candidates. If you're a recently founded a startup, you can use their "choose your own discount" feature.
WorkInStartups
WorkInStartups is a tech job board for UK startups. Unless you're an agency or an external recruiter, you can post jobs for free.
ForPurposeJobs
ForPurposJobs is a UK board focused on environmental and social consciousness. If your company's mission is around those topics, then this job board is recommended for you.
You can find more details in our article about the best job boards in the UK.
5. Australia job boards
If you're looking for qualified candidates in Australia, check out some of the top job boards in that area:
ArtsHub
ArtsHub is an Australian organization with more than 5,000 members including artists, performers and supporters – you can also post jobs by choosing among various pricing options.
CareerOne
CareerOne has partnered with Monster in Australia and is very popular with job seekers. You can choose among three advertising packs or request a tailored solution.
CareerJet
CareerJet Australia is a branch of the global job search engine. You can post targeted job postings or index your published jobs from your careers page.
Gumtree
Gumtree is a classified ads site in many countries including Australia. Post your jobs and reach candidates in industries like hospitality, construction or other manual labor professions.
Indeed Australia
Just like all other local pages of the popular mega-aggregator, Indeed Australia has over 10 million visitors per month. Post free job ads or invest in sponsored postings to give more visibility to your open roles.
JobActive powered by JobSearch
JobActive is a governmental job site where you can post your open roles for free. Also, this job site can help you contact employment service providers that can suggest qualified candidates (like remote or minority candidates).
Seek
Seek is a well-known Australian job board. It lets you post job ads or look for matching candidate profiles on its large database. Seek also provides a company review board, where candidates read employee feedback, operating similarly to Glassdoor.
SpotJobs
SpotJobs is effective if you're hiring for junior roles or part-time jobs. Candidates can filter their search based on criteria such as location and preferred working schedule, and you can get applications from candidates who match your requirements.

Want more? Check our list of the best 15 job posting sites in Australia.
6. Singapore job boards
Hiring in Singapore? Here are some of the best job sites there:
Beam
Beam is an online professional hub where you can post jobs or proactively source candidates by searching through the sites' profiles.
CareerBuilder
CareerBuilder is a popular international job board and boasts a large network of local branches. Post your job on Careerbuilder Singapore and it'll also appear on job sites such as JobCentral and JobStreet.
Freelancezone
Freelancezone is a job board for freelancing roles. It's free if you have only one open job listing published at any given time. Freelancezone partners with sites like Indeed and recruit.net to provide more visibility to your job ad.
Gumtree Singapore
Gumtree Singapore is the local page of international classified ads site Gumtree. You can post jobs for free to look for various professionals for full-time or part-time roles, or temporary positions.
Indeed Singapore
Indeed Singapore is another branch of the global search engine Indeed. Post free job ads or choose featured posting using a pay-per-click option.
JobisJob India
JobisJob India is part of the global job board JobisJob and operates in Singapore too. You can post vacancies for candidates who are currently in – or want to relocate to – Singapore.
JobStreet Singapore
JobStreet is a widely used Singapore job site, with presence in five Southeast Asia countries. This job board has several posting options and a rich resume database. JobStreet is also partnering with JobsDB, another popular job board.
Monster Singapore
Monster Singapore is a popular job board in Singapore. It offers various job posting options and a resume database with millions of registered users.
STJobs
STJobs has job advertising options based on the number of jobs you want to post. This job board also hosts career fairs where you can meet candidates in-person.
Recruit.net
Recruit.net gives you access to a million active job seekers in Singapore. It's international and also partners with Freelancezone in Singapore.
You can find more job sites in Singapore here.
Post to multiple job boards with one click!

Return to top
7. Canada job boards
Here are the best job board sites in Canada:
Eluta.ca
Eluta is a Toronto-based job board, branded as the "official job search engine of Canada's Top 100 Employers project." Eluta is very popular among job seekers and has both free and paid job posting options.
CareerBuilder Canada
CareerBuilder Canada is the local branch of global job board CareerBuilder. Select the paid plan that suits your needs or search its vast resume database.
Indeed Canada
No list of job boards would be complete without Indeed job boards. In Canada, Indeed offers both free and paid options and also integrated with search engines WowJobs and SimplyHired.
Job Bank
The official government job board of Canada has two versions, Job Bank in English and Job Bank in French, and will help you reach candidates from all provinces. It has also recently partnered with popular Quebec-based job site Jobillico Canada.
Jobboom
Jobboom is a Quebec job board and has recently partnered with Google to give job seekers better access to its job postings. Vacancies for summer jobs or internships are free.
Monster Canada
Monster is popular in Canada attracting millions of job seekers every month. Post your open role and Monster will recommend resumes that match your criteria, helping you find the best candidates faster.
Talent Egg
Talent Egg is a job board that helps you find candidates for paid internships or summer jobs, or hire recent graduates for entry-level roles. Talent Egg has three pricing options.
More about online job boards:
Frequently asked questions
What is a job board?
A job board is a website used by employers to advertise their job vacancies to job seekers. Job seekers can use job boards to search for new job opportunities in their area and profession. Some well-known job board sites are Indeed, Glassdoor, and Careerjet, to name a few.
Do people still use job boards?
Despite efforts to curb job board spending and promote the internal database, it's an undeniable fact that recruiters continue to rely on job boards to find qualified candidates.
Should you use a job board to post a job opening?
At the end of the day, there are few reasons why a recruiter would not use a job board when trying to fill a job opening. It is a simple task to link your job listings with sites such as Facebook, Twitter, and LinkedIn, meaning you can cover a much larger network of candidates.