Best job posting sites to use when hiring for startups
Job boards are crucial for startups seeking to attract talent. They allow startups to reach audiences interested in fast-paced, entrepreneurial companies. Some of the best job posting sites for startups include VentureLoop, CrunchBoard, Mashable, Angel.co, and WeWorkRemotely.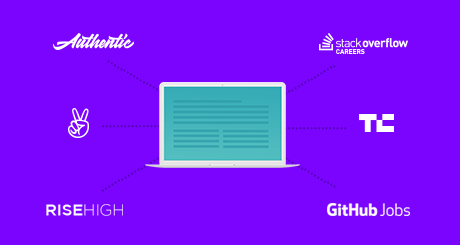 When you are hiring for startups, you're not only looking for a particular set of skills from candidates, you're also looking for people that are ready to hustle, join a thriving culture, and have a sense of flexibility that comes with being part of a growing company. Though most of these intangibles can become clear in an interview or screening, it makes hiring managers' lives easier when these candidates are self-selecting, when they're clearly on the lookout for startup jobs.
By posting your startup jobs on these job boards, you can put your job description in front of an audience that is looking for entrepreneurial, fast-paced companies. Many of these startup job sites hone in on development, design, and other disciplines that are of high value to hiring startups.
Posting Startup Jobs
VentureLoop: VentureLoop is the worldwide leader in startup jobs focused on venture-backed companies. They work closely with venture capital firms like Sequoia Capital, Kleiner Perkins, Benchmark Capital, Sigma Partners and VantagePoint, among others.
Crunchboard: CrunchBoard is the official job board of TechCrunch, leveraging their audience 12 million readers each month. Startup jobs posted on CrunchBoard are visible on the TechCrunch network including the website, daily newsletters and social channels.
Mashable: Members of the Mashable network can post tech, digital and social media job openings. Mashable's job board supplements this with resume and interview tips, and occasional workplace humor.
Angel.co: AngelList is a platform for startups to raise money online, recruit and apply to incubators. Their job board, AngelList Talent, allows startups to both browse passive candidates and accept applications from candidates looking to find startup jobs. It is a great resource for startups and candidates to mutually choose one another.
WeWorkRemotely: We Work Remotely lists jobs that aren't restricted by commutes or a particular geographic area. Though a more specific and exclusive board, this resource is useful for startups who are looking to find the best talent beyond their immediate demographic area, or looking to find part-time or contract talent.
Related: What's the best day to advertise job openings?
Authentic Jobs: Authentic Jobs is a targeted destination for hiring web and creative professionals. Companies like Apple, Comcast, Facebook, frog design, Meetup.com, HBO list their freelance, part-time and full-time creative openings here in order to attract high-intent talent.
Startupers: One of the original resources for startup jobs, Startupers hosts thousands of resumes and CVs of people who want to work in tech startups and offers the opportunity to post job offerings to their huge network of people interested in working in tech startups.
More: The best places to post your job openings
Tech Startup Jobs
GitHub: Github, an essential tool for all software developers, hosts a job board targeted toward people looking for programming opportunities. Any developer on GitHub who has checked "Available for Hire" in their account settings will also be shown targeted job listings on their dashboard, based on their location and favorite programming languages.
Stack Overflow: Another daily resource for the technorati, Stack Overflow offers job listings for software developers and programmers. More than 40 million developers visit Stack Overflow every month. Through their user profiles, their platform can determine what technologies developers use, where in the world they're located, and what skills they're proficient in.
More: Where to post jobs to hire developers
United Kingdom Startup Jobs
RiseHigh: RiseHigh is an exclusive site for passive candidates interested in startup jobs. Fewer than 10 percent of candidates are accepted to join RiseHigh. The RiseHigh team handpicks the most relevant candidates from their platform, and sends relevant candidates straight to your inbox or ATS within 1-2 weeks.
UK Startup Jobs: Job board tailored toward UK candidates looking for startup jobs in product management, software development, business development design and more at growing European startups.
Work In Startups: Launched in 2011, Work In Startups has provided team members in all startup industries through their site.
Unicorn Hunt: Unicorn Hunt is a job board that "helps companies find good talent and that helps good talent find the right company to work for." They particularly avoid recruiter jobs, and have put in processes to to make sure that if recruiters post jobs, they state who the hiring company is.
Hiring for startups? More startup job boards and resources from Workable:
Frequently asked questions
Do startups use recruiters?

The right senior-level talent can mean the difference between success and failure. That's why a startup recruiter service has been so vital for businesses of all sizes, especially those looking to fill high-ranking positions in the organization.
How do early-stage startups hire?

When you're in the early phase, it's not so much about what your company's reputation is but rather who are founding members of this new venture. Early hires will have a personal brand that the organization can leverage to build sales in the market.
What's a startup recruiter?

Start-up recruiters are in a unique position because they're relied on more heavily than usual. Their job is to form that full team and strengthen the business during its development phase when it can be especially fragile in the early stages of the company's development.
What are some of the best job posting sites for startups?

Some of the best job posting sites for startups include VentureLoop, Crunchboard, Mashable, Angel.co, WeWorkRemotely, Authentic Jobs, Startupers, GitHub, Stack Overflow, RiseHigh, UK Startup Jobs, and Work In Startups. These platforms cater to various industries and job types, including technical and non-technical roles.
Are there job posting sites for startups looking to hire remotely?

Yes, WeWorkRemotely is a job posting site that lists jobs that aren't restricted by commutes or a particular geographic area. This can be useful for startups looking to find the best talent beyond their immediate demographic area, or looking to find part-time or contract talent.