How to x-ray Meetup.com with boolean search
Use Meetup.com to find promising job candidates at meetups and events. We suggest Boolean search queries to identify the best candidates.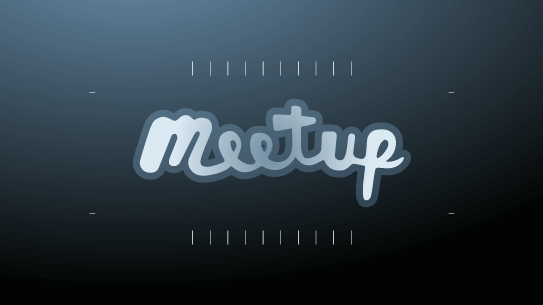 Meetup.com is an event site where people can join groups and organize meetings. It's an excellent recruiting tool for active and passive candidates. Recruiters can search Meetup to find, and meet, promising candidates, without having to go to any events. Here's how: many of Meetup's groups and attendee lists are public. Recruiters can search those public lists for promising candidates through an 'x-ray' boolean search.
Here's a guide on how to search Meetup.com on Google:
Note that the General Data Protection Regulation (GDPR) places restrictions on collecting EU candidate data. Please refer to guidance on using social platforms for recruiting EU candidates.
Find groups
Meetup's search can help you find groups of interest in a specific mile radius from any location. You can also find groups with a basic boolean search, using the 'site:' operator:

Meetup.com usually picks up the searcher's location. If recruiters want to search for groups in other cities, they can add the 'intitle:' command:

This boolean search will generate a list of sales meetup groups based in New York. Meetup groups have a main page where you can see the group's information and their recent activities. You can see all subpages associated with each group on the top of their main page:

If you want your results to include only the main pages of groups, and not sponsors or photos, then you can modify your search with some terms that are almost exclusively found on meetup groups' main pages. The term 'recent meetups' is a good place to start:
Add as many terms as you want to find groups that match all your criteria.
Go through some of the results and choose groups that are more relevant to what you're looking for. For example, if you're planning to expand your B2B sales team to cater to larger companies, it'd be worth looking through groups like this one:

Look at each group's main page. Do they have new members constantly joining? When was their last meetup and do they have more scheduled? Once you identify active groups, you join them to get to know members who may not have much information on their meetup profiles. This is good approach if you plan to recruit for similar positions in the future.
Also, take a look at the side of each group's page. It's a great place to find tags that can help you find other relevant meetups: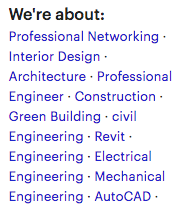 Find profiles
Now it's time to look at meetup members' profiles. There are two ways to search for meetup members on Google:
Use the 'site:' command with members' page urls
Do a generic search with exclusive terms
Members' page URLs
Start by searching Meetup.com for the skills you're interested in:

Then, click on the "members" tab of the most interesting meetups you find:

Now, you can see the members' page url. (In this case, it's https://www.meetup.com/Onshape-Users-Boston/members/) that you can search through with the 'site:' operator.
Refine your search to include more specific skills:

This will help you see profiles of the most relevant meetup members. Keep in mind, though, that not all members will include detailed information on their profiles. Try to make as many diversified searches as possible.
Exclusive words
There are some words or phrases that appear most often on meetup member profiles rather than other pages on meetup. These phrases can help refine your search. Examples are "member of", "interests" and "member since." Of those three, "member since" is most likely to be exclusive to profile pages, so it's best to start there.
Here's how you could use this kind of exclusive word search to find a copywriter in Chicago:
This search strategy can also be used for Twitter an other public social networks.
Workable's Boolean search cheat sheets provide sample search strings to recruit experienced candidates.
How do I evaluate profiles?
If a group member shows up in your search, it means they've mentioned your key terms in their Meetup.com profile. Look at their profile more closely to get a better sense of whether they'd be good fit for the job you're sourcing for:
Look at their interests. You will find an "Interests" section in the bottom left corner of every Meetup.com profile page. Members often list interests that aren't necessarily tied to their profession. These interests could help you figure out whether someone could be a 'culture add' (as opposed to a 'culture fit'):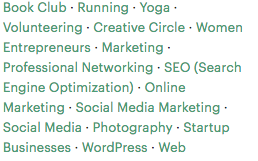 Read their introduction. Many members mention their field of expertise, current employer and professional aspirations in their profile introduction section:

Check out their answers to group questions. Groups sometimes ask their members optional questions about various topics like why they chose that group, what their expertise is or how many years of experience they have. If you're lucky, there will be questions about their email and social media contact information. If not, you can use their information to do a Boolean search to find their email.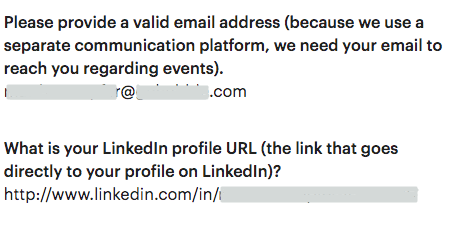 Follow them on social. Often, members will choose to share their social accounts on their Meetup.com profile:

Check out members' other groups. On the left side of members' profile pages, you can see a list of the other groups they've joined. This is a good indication on their interests and a great way to find other, relevant groups for the position you're sourcing for.
Related: Ideas for a successful recruiting event
Once you've found a person who looks promising, you can send them a message through Meetup.com or their social media profiles. You can also use tools like People Search, a Chrome extension, to qualify the prospect even further before you reach out. People Search scans multiple data sources to create a rich profile, including education, work experience, social profiles and contact details. Here's how it works:
You can use the information you find through People Search to personalize your outreach. If you're not sure how to structure your messages to candidates, you could customize one of Workable's passive candidate email templates to save more time and increase your likelihood of getting a response.
Sourcing on Meetup is one of many ways to find great candidates. Download our complete sourcing guide for free.