How to personalize emails for passive candidates
Passive candidates represent a rich resource of talent especially in these times of the so-called "talent shortage". Use this guide to learn how to add a personalize touch when emailing passive candidates and lure them to your organization.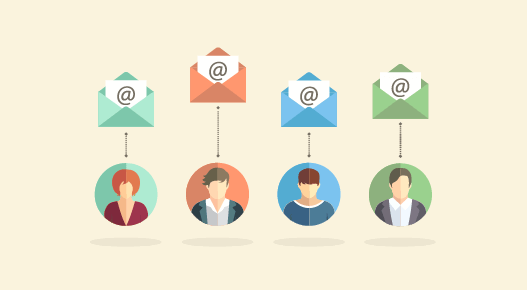 A recruiter's main challenge comes in different names: "communicating with passive candidates," "sourcing talent" and "sending cold emails." Success, though, stems from one fundamental technique; personalizing your communication. Although it's easier said than done, here are a few tips for personalizing when emailing passive candidates to increase your response rate.
A personalized message has to be unique, so 'one-size-fits-all' templates aren't exactly helpful. But you can craft each email keeping a few rules in mind.
1. Research
You can't personalize email templates if you haven't done your research first. Invest some time to learn a few things about your candidate, beyond the first few Google results or LinkedIn headlines. Research will also help you understand whether your recipient would add value to your company and what will be meaningful to them to make them consider your opening. Use various sources, like social media, blogs and portfolio samples of their previous work. Then, craft your email expressing what you liked, posing a question or asking for more details. (For EU candidates, please refer to this guidance on using social media for recruiting under the General Data Protection Regulation, or GDPR.)
Want to learn more about effective candidate sourcing techniques? Download our complete sourcing guide for free.
2. Customize
Personalization doesn't mean pretending to write something personal when you're actually just sending bulk emails. If you were to delete the first line ('Hi [Candidate's name]') would the rest of your email's body copy say something personal or could it speak to anybody? Your message emailing a passive candidate shouldn't leave any doubts. Tailor your recruitment email to your recipient's background and field of interest.
3. Focus on the subject line
Your personalization starts from your subject line. You don't want to write a perfect email that ends up unread in your recipient's trash. Your subject line is the determining factor in whether your email gets opened. So, you should make it count: Use a short phrase that explains what the email is about and something personal to let your recipient know that your email addresses them, specifically. Using your recipient's name in the subject line could increase your open rate by 20%. It's best to opt for this option when it feels natural, though, otherwise your message could look like spam.
4. Tailor your message
It may be less time-consuming to use a boilerplate template for your sourcing emails, but crafting a short and targeted message will improve your response rate. To personalize emails effectively, you need to understand who you're sending to (what matters to them?) and why you're sending them an email (why do you think they'd be good candidate?)
Here are some customized examples of how you can apply these guidelines to personalize your emails for passive candidates.
Cold emails
You've spotted an interesting candidate on LinkedIn, stumbled across a promising developer's project on GitHub or discovered a writer's engaging personal blog. Your next step is to introduce yourself. First, try to get in their shoes. What would you want to know when receiving an email from a stranger? What would make you open that email? Your subject line needs to clearly state what your email is about and grab your recipient's attention.
Examples:
Hi [Candidate's name], your [X] project caught my eye
Hi [Candidate's name], interested in joining our [Company's name] team?
[Company's name] is looking for a talented [Job title] (perhaps it's you?)
Potential job opportunity at [Company name]
In your email mention exactly how you found out about your recipient and what made you want to reach out to them. Keep it job-related to spark your recipient's interest in your job opening.
Examples:
I can tell you are an expert in [e.g. mobile development / ruby on rails api] based on your [profile, article, blog, etc.]
Our team is doing some interesting work in [e.g. web design] which appears to be what you're drawn to.
I really loved your post about [X, e.g. new marketing techniques] on [e.g.Twitter].
Referrals
Employee referrals are usually an effective way to source candidates. However, you still need to pay attention when you first communicate with referrals. Mention the name of the person who made the referral in your subject line, to increase the likelihood that your recipient will open your email.
Examples:
Referral from [Employee's name]
[Employee's name] mentioned you're a great [Job title]
[Employee's name] thinks you'd be a good [Job title] for our team
Having a mutual connection is a starting point, but doesn't qualify as a reason to consider someone for your job opening. Format your email to highlight how your recipients's skills and experience match your specific job requirements.
Examples:
I've heard about the great work you're doing in the [e.g. sales development] field.
We're always interested in growing our [e.g. customer service] team with passionate people and from what I've heard you have extensive experience in this area.
Past candidates
There are various reasons why you might decide to reach out to a candidate you have previously rejected (or who previously turned down one of your job offers.) First, you should personalize the email to remind your recipient about who you are and what your company does.
Examples:
New job opportunity at [Company name]
Interested in a new job opportunity with [Company name]?
Reaching out with a new job opportunity at [Company name]
Your recipient might be surprised to hear from you again, so be straightforward about why you decided to contact them. (Please note that if this is an EU candidate, you should have already informed them that you have kept their contact details and resume on file, as per GDPR.)
Examples:
Although we decided to move forward with a different candidate for the [Job tile] role last [month name], your interview performance really stood out and we would like to discuss another role we think you might be interested in.
From what I see in your profile, you've recently graduated from [college] and I thought you might be interested in checking out our current openings.
I can tell from your profile that you have gained solid experience in [specific field, e.g. social media marketing] and I would like to talk to you about a role we're currently hiring for.
We were really impressed by your skills and we'd be open to another conversation about salary requirements, if you're still interested/available.
Mutual interests
In this scenario, you share something in common with the candidate you want to reach out to. So, when you personalize this email, it's worth mentioning what connects you, to give a more friendly tone to your message.
Examples:
Subject line: Reconnecting after [College name]
Hi [Recipient's name],
It's been a while but it feels like it was only yesterday we were trying to debug that code from [professor's name] class. What have you been up to ever since?
I'm currently working as a [Your job title] at [Company name] and we have an opening for a [Job title.] We are looking for someone with background like yours and I thought you might be interested in joining our team.
Subject line: Reconnecting from [previous company]
Hi [Recipient's name],
I hope everything is going well for you.
I'm currently working as a [Your job title] at [Company's name] and we have an opening for a [Job title.] I remembered that your skills in [specific field, e.g. JavaScripts] are exceptional so I thought you might be interested in this position. Plus, it would be nice to catch up again.'
Subject line: [Company's name]: Follow-up from [jobs fair/ recruitment event]
Hi [Recipient's name],
I'm [Your name], [Your job title] from [Company name.] We met at [Insert specific details: name, place and time of the event.]
Our short chat prompted me to check out your profile/resume and I see you've done some interesting work in [specific field.] We are currently looking for a [Job title] with your experience. I'd be happy to talk to you about the role, if you're interested.
Subject line: [Your Twitter username] from [Twitter chat]
'Hi [Recipient's name],
I'm [Your name], ([Your Twitter username], on Twitter). When I'm not tweeting, I'm recruiting for [Company name.] We're looking for a [Job title]. You seem to have some interesting opinions about [specific field] so I would like to tell you a little bit more about our position and get to know you better, if you're interested.
Mistakes to avoid
There's personalization and there's over-personalization. You don't need to comment on your candidate's Facebook photos to get their attention. Asking a question about their latest job-related post, though, could be a good talking point. You want to send the message that you're genuinely interested in your candidate and you've invested some time to learn about them, but only in a strictly professional way.
Take the time to record and analyze recruiting email metrics. These statistics will help you grow and improve your emails to passive candidates over time.
We all share some personal things on social media, but it's best not to mention them, in recruiting contexts. That way, you'll avoid showing bias or saying anything inappropriate. It's best to follow a simple rule of thumb: don't mention anything that's illegal to ask in a job interview. There's a thin line between sourcing and stalking and you don't want to cross it.