How to hire freelancers
Hiring freelancers can be beneficial for short-term projects, providing access to specialized skills without the costs of full-time employment. It's crucial to communicate expectations clearly, manage them effectively, and show appreciation for their work. This can lead to a mutually beneficial collaboration and enhance your employer brand.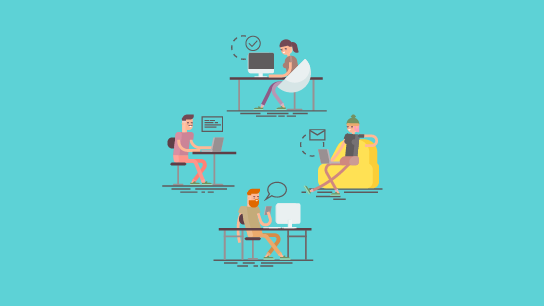 As the gig economy grows in stature in the world of employment, you'll find yourself considering freelancers and contractors to fill crucial roles in your organization. This guide will help you source, recruit, and hire freelancers – including developers, programmers and more.
If you want help with a short-term project, hiring a freelancer may be a good choice. You can save money on employment benefits and taxes associated with full and part-time employees, and still have access to the kind of expertise you need. Companies typically hire freelance developers, programmers, designers and writers.
Here's our guide on how to hire a freelancer plus a few tips on how to make this arrangement work for both parties:
Hire freelancers online:
When looking for these professionals online, you have ample choices. Consider using:
Freelancing platforms. While the gig economy may not be a booming trend, you can still find many good writing, design and other creative freelancers online. Dedicated platforms let you explore freelancers' profiles and post your projects. They also have rating systems to help you evaluate professionals based on reviews from previous gigs.
Portfolio sites. Portfolio sites provide a glimpse into people's best work. These sites are especially useful when you need to find creative professionals (e.g. freelance designers, copywriters and developers). Post a job, explore profiles and reach out to those interested in freelancing. You could also use Boolean search on Google to find profiles that match your criteria.
Social platforms. Apart from the usual suspects, like Twitter and Facebook, other platforms can be useful too. For example, on Reddit, you can use a subreddit to describe your project or find subreddits of people offering their services. Also, you can search sites like Meetup to discover groups created for freelancers.
You could also directly post a job for freelancers on job boards or ad sites, like Craigslist and Indeed.
Evaluate freelance candidates
Quality of work is the most important criterion. To evaluate a freelancer:
Read reviews. If you are using a freelancing platform, look into a freelancer's reviews from clients. Find out if any issues have come up. If they have consistently low ratings, consider other freelancers.
Study their portfolio. Explore the projects they have worked on before. If you are looking for a certain level of expertise or specific skills, choose freelancers who have worked on projects similar to yours.
Offer a smaller paid project. Ask them to work on a part of the larger project you're hiring for, or an independent task. Judge the quality of their work first-hand. Pilot assignments are especially useful when you're hiring freelancers for big projects or thinking of putting them on retainer.
Meet them. A face-to-face with freelancers may not always be possible, but try to arrange an online meeting through phone or video. Talk to them, explain your project in detail and let them ask questions. The best freelancers will take care to understand your requirements and will suggest what they need to better complete the project.
How to manage freelancers
Contract employees who were hired to write a blog post or design a logo may be easy to manage. But, if you hire freelancers to help with larger-scale projects, you may need to put some extra thought into how to manage them properly.
Here are three tips for managing freelancers:
Communicate thoroughly
To communicate your expectations effectively, provide:
Deadlines. Since you may not be the freelancer's only client, discuss and set deadlines so you can receive your work on time.
Milestones. Break large projects up into milestones – manageable sections for which freelancers get a portion of their overall payment. Milestones help you track progress and help your freelancers feel more secure. And, paying by output puts the focus on quality rather than the number of hours spent on work.
Vision. If you want a freelancer to redesign your website, let them know how you imagine it. Communicate your requirements upfront, and as clearly as possible, to make sure you are both on the same page.
Context. Describe how this task or sub-project fits into a larger project or strategy. A good freelancer will find ways to tailor their output to align with your overall business strategy.
Classify freelancers correctly
Freelancers are different from your employees in that they're not bound to one particular employer. This means that they don't receive the benefits that an employee does, but they also get to work on their own terms with little oversight.
When managing freelancers, it's important to keep this kind of arrangement intact. Companies often misclassify their workers as independent contractors, although their work conditions indicate they are actually employees. The U.S. Internal Revenue Service (IRS) penalizes cases of misclassifications and as a result, some employers have to pay heavy fines, as well as back wages and taxes.
How you treat freelancers as a whole matters, and the criteria that courts use vary. But, generally, it's best not to:
Dictate schedules. Specifying an output and deadlines is essential, but telling your freelancers how many hours to work or during which time frame may invite legal trouble.
Assign critical tasks. A freelancer's work should not be an integral part of your production processes or the service your business provides.
Cover their costs. Independent contractors or freelancers make their own investments in a project and shoulder some risk of loss. Avoid paying for equipment, tools, training, transportation or other expenses.
Supervise their work. You could occasionally check in with your freelancer to receive an update on a project (whether off-site or on-site). But, it's best to avoid asking them to follow specific work methods or report regularly to you.
Use a salary-like payment structure. Freelancers have different payment structures than employees. You could either pay by the hour or by output. Paying a flat amount periodically may turn your freelancers into employees, in the eyes of the law.
Be their only customer. Companies have little control over this, but a freelancer should not be economically dependent on you. Ensure you don't give your freelancer so much work that they're unable to get other clients.
Hire freelancers only when you need a specific project or task done. If you find that you need someone on a daily basis, or you feel the need to provide specific directions, hire a part-time or full-time employee instead.
Show your appreciation
If you're satisfied with a freelancer's work, make moves to keep them on your radar. In the future, you may need to hire them again for a project or even offer them employment. Here are a few things you could do:
Leave positive reviews on their profiles.
Thank them publicly through a social media account.
Refer them to a partner or affiliated business as freelancers.
Invite them to celebrate the end of a project they were part of.
All of these actions help demonstrate your respect for the work your freelancers do for you, and can only enhance your employer brand.
Freelancers bring expertise and experience when you need them. If you take some time to hire and manage freelancers properly, you will reap the rewards of a mutually beneficial collaboration.
Frequently asked questions
What are the benefits of hiring a freelancer?

Hiring a freelancer can be cost-effective as it eliminates the need for employment benefits and taxes associated with full and part-time employees. You can access specialized expertise for short-term projects, typically in areas like development, programming, design, and writing.
How can I find freelancers online?

You can find freelancers through various platforms such as freelancing platforms, portfolio sites, and social platforms. Freelancing platforms allow you to explore profiles, post projects, and evaluate professionals based on reviews. Portfolio sites are useful for finding creative professionals, and social platforms can provide access to freelancer groups.
What should I consider when evaluating a freelancer?

The quality of work is paramount. You can read reviews from previous clients, study their portfolio, offer a smaller paid project to judge their work firsthand, and arrange an online meeting to discuss your project in detail.
How can I manage freelancers effectively?

Communication is key. Provide clear deadlines, set milestones for large projects, communicate your vision and requirements upfront, and explain how the task fits into a larger project or strategy. It's also important to classify freelancers correctly to avoid legal issues.
How can I show appreciation to my freelancers?

If you're satisfied with a freelancer's work, you can leave positive reviews on their profiles, thank them publicly through social media, refer them to a partner or affiliated business, or invite them to celebrate the end of a project they were part of. This not only shows respect for their work but also enhances your employer brand.