How to find and hire designers
To hire the best designers, your recruitment process should be also well-designed. Here's how to structure your hiring process to attract, assess and hire skilled designers for your roles:
How to find a designer
Post your job ad in places where designers gather. Coroflot and AIGA Design Jobs are good sites to start.
You could also get creative yourself:
obviously they need a graphic designer ??#GraphicDesign #Graphics #GraphicDesigner pic.twitter.com/xLdm28KGhy

— The Crazy Programmer (@thecrazyprogrmr) January 20, 2017
Many qualified designers are already employed or only interested in part-time or freelance jobs. Pique their attention by learning more about their work through your sourcing methods.
Here's how to hire your next web or graphic designer:
Find and browse designer portfolios
Portfolios are designers' resumes. They give you a good idea of potential candidates' abilities and the quality of their previous work. Some of the most popular portfolio sites include: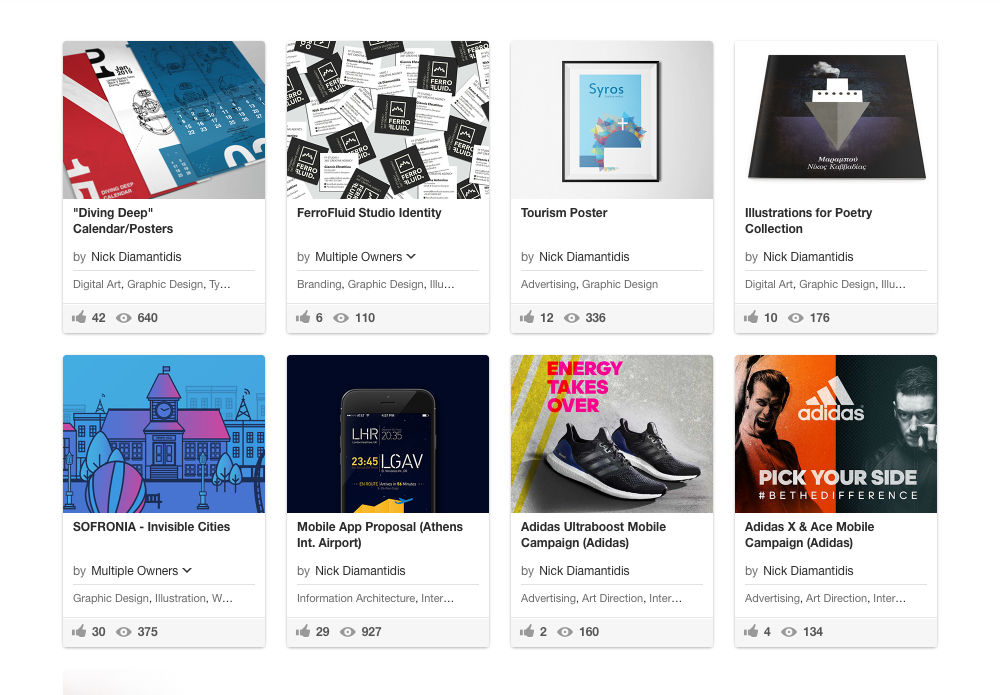 Hire designers through social networks
Facebook, Instagram and Pinterest are social communities where designers upload their work, exchange tips and get inspired. Join relevant Slack Channels (like Designer Hangout and DribbblePeople) or Facebook groups (like UI/UX Designers and Graphic Designers) and start Twitter chats to become part of those circles. Recruiters who are active on social media can get in front of creative projects and begin building relationships with potential future candidates.
Related: How to post jobs on Facebook
Use Boolean search to find web and graphic designers
Targeted Boolean search strings will uncover profiles based on criteria like experience, location and knowledge of specific tools. Using Boolean search on Google is a way to x-ray for hard-to-find skills. Here's our Boolean search cheat sheet on how to find a designer and an example of what an effective search string looks like:
Attraction, though, is a two-way street. To make candidates consider your open roles, you need to show them you're a design-conscious company. Here's how:
Sell your employer brand
Sway design candidates with your well-designed careers page and offer creative perks. Benefits could include a training budget or access to design tools and equipment of their choice.
Host designer meetups
Meetups allow professional designers to network and learn something new in their field. Hosting meetup events (that focus on UX, product or mobile design) gives you the chance to invite potential candidates to your offices and sends a strong message that you're interested in building and contributing to a design community.
Sponsor design conferences
Sponsorships boost brand awareness. Your company will stand out as a sponsor for a design conference. Attendees will be more likely to consider your open roles, since you will have proven you're active in the design world.
How to assess web and graphic designers
When hiring a designer, look beyond their resumes. Designers with a passion for the field attend conferences, try new design apps and work on personal projects. Ask your candidates which designers they follow, how they keep up with industry trends and what inspires them.
For senior roles: Find out what new skills they may bring to the table. Those could include expertise in a specific field, such as UX design, or strong leadership abilities. Opt for people who are collaborative, innovative and able to emulate your company's aesthetic.
Embrace diversity among candidates for all design roles. Diversity is key to success, particularly within creative teams. People of various backgrounds and mindsets have a greater collective intelligence, contribute new ideas and offer fresh takes on existing designs.
Traits to look for when hiring designers
The pursuit of perfection may lead to never-ending projects, but a desire to improve one's work is the mark of a designer who wants to grow. As Zaharenia Atzitzikaki, Workable's Lead UI Designer, puts it:
Good design is not like the top of the mountain you want to reach. It's more like an endless road you walk to get better.
Candidates who embrace a growth philosophy will grow with your company. So, when hiring designers, keep an eye out for people who:
Always consider the user. Professional designers create pieces of work with the end-user in mind. Hire people who view their designs as part of a bigger picture. They should care about the process of gathering requirements and make sure the outcome meets their users' needs.
Gracefully handle criticism. Designers usually work on teams. They collaborate with developers, marketers and a company's clients. Your candidates should be able to receive feedback constructively from various individuals.
Help team members improve. Ask candidates to critique someone else's designs. It's a good sign if a candidate is able to spot areas that need improvement, but how they deliver that feedback matters. Rejecting fellow designers' efforts outright, without suggesting how to improve a design, could indicate a lack of team spirit.
Tips for evaluating design assignments
Assignments help you compare candidates' work and make objective hiring decisions. Here are some tips to better evaluate design assignments:
Inform candidates early on in the recruiting process that you use assignments as part of your hiring process. Explain how this kind of assignment will help you understand whether you're both on the same page about the position's requirements. Send instructions via email and include a specific deadline.
Assign a reasonably challenging project with a fair deadline and don't expect perfection. When assessing candidates' finished assignments, look for people who are methodical, know how to follow guidelines and meet deadlines. Even if their work isn't error-free, candidates who treat the assignment professionally are genuinely interested in the job.
Design assignments are not about right or wrong answers. They help you understand the candidate's way of working and provide you with good talking points for interviews.
If a candidate advances to the next interview stage after their assignment, ask them to walk you through their way of working. Here are some example questions that will help you assess their assignments:
What tools did you use to create this design?
Did you use any resources (e.g. font/typography libraries) and/or templates from your past projects?
Did you sketch before finalizing your images? If so, was it a digital or hand-drawing?
How much time did this assignment take you? Given more time, what would you have done to improve the design?
What was the most difficult part of this assignment for you?
Once you've made a hiring decision and your candidate accepts your job offer, it's time to onboard your new team member. Provide them with necessary resources, train them on tools you use and, most importantly, involve them in your design process as soon as possible.