How to attract and hire entry-level employees
Building a successful entry-level workforce involves crafting engaging job ads, using situational interviews, and providing comprehensive onboarding. Retention strategies include updating job duties, designing career paths, and regular check-ins. A checklist ensures all steps are taken, contributing to long-term company growth.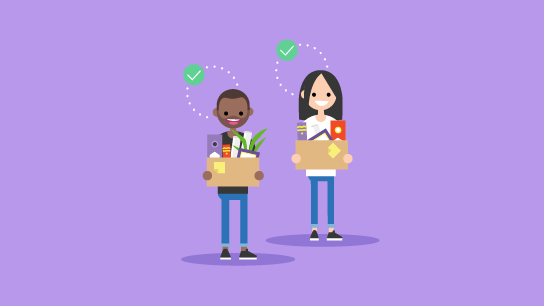 Skilled junior employees support main operations, improve company procedures and offer fresh ideas that contribute to your long-term success. The following tips will help you hire entry-level employees who will add value to your company.
Tips for hiring entry-level employees:
Recruiting entry-level employees is a challenge. Cast too wide a net with a generic job ad and you'll get many irrelevant applications. Alternatively, you might also turn off quality employees who consider the role too junior.
Here is how to employ strategies for hiring entry-level employees:
Craft targeted and engaging job ads. Write effective job descriptions that explain duties clearly. List the required skills for the role, instead of focusing on experience. Include perks and benefits and speak to how employees in this position can grow at your company.
Attend and host job fairs and career events. Networking with college alumni groups will get you in front of recent graduates and interns. But if you rely solely on colleges, you might miss out on professionals who decided to change careers. Participate in job fairs and host an open house event to connect with potential employees from various backgrounds.
Peruse social media and online communities. Go beyond resumes to gain an understanding of junior employees' abilities. These individuals may choose social platforms to showcase their work, which could include personal side projects relevant to the role. Some examples include:
Interviewing employees for entry-level roles
A poorly written resume from an experienced professional might be unacceptable. But, for junior employees, consider evaluating common resume mistakes on a case-by-case basis. Separate experience from abilities when interviewing entry-level employees by using:
Situational interview questions. Opt for hypothetical scenarios that test how employees would use their skills in work-related situations (e.g. "What would you do if you didn't know how to answer a client's question?"), instead of behavioral questions that focus on past experiences (e.g. "Describe a time when you managed X project.") Place value on extracurricular activities like volunteer work and conference attendance that speak to employees' skills and interests.
Skills-based assignments. To make sure your future hires complete their projects accurately and effectively, give them assignments that simulate their main job duties. These tests will reveal how employees apply their knowledge, even if they lack relevant work experience.
Group and phone interviews. To quickly evaluate employees and spot potential deal-breakers early on, consider phone screens and group interviews. Keep in mind that junior employees might not be familiar with these interview formats. Explain the process and factor any interview red flags you spot into your assessments.
Onboarding entry-level employees
The first days at a new job involve acclimating to the workspace, getting to know colleagues and learning the role. Entry-level employees are new to hiring and onboarding, so help them:
Set up devices and complete HR paperwork. Make sure you provide employees with detailed manuals that explain how to set up their workspace in simple steps. Ask the IT department to check if they properly installed everything they need for the role. Also, be sure to guide them on any tax or ID documents they need to provide to HR.
Learn the work culture. Young, inexperienced employees mightn't be familiar with work habits and may dress unprofessionally without realizing it. A mentor – preferably a member of their team – can teach them how to reply to emails, describe the team's daily schedule and advise them on the company dress code.
Complete their first tasks. It's normal for entry-level employees to be unsure about their performance. Praise your new hires for their first successes, even if small. Positive feedback will help deflate new-job-jitters and give them the confidence to take on more challenging tasks.
Retaining entry-level employees
Here's how you can decrease your turnover rate for junior positions:
Update job duties. No matter how senior, all employees handle basic tasks from time to time. For entry-level employees, this can become the norm. Make sure to regularly review their duties and assign junior employees advanced tasks when they're ready to take on new responsibilities.
Design career paths. Show your entry-level employees that you're interested in long-term collaboration by investing in their training. Professional development doesn't necessarily mean climbing the corporate ladder. Ask your junior employees what they would like to learn more about. Teach them new skills and prompt them to become mentors themselves.
Check in regularly. Invite junior employees to participate in weekly or biweekly one-on-one meetings. These frequent meetings will communicate an open-door culture. New employees will feel more comfortable talking to you candidly. These meetings can naturally become places to provide helpful work-related feedback or performance reviews.
Use the following checklist as a guide when recruiting for entry-level roles. Give your junior employees professional development opportunities and they will contribute to your company's growth in the long run.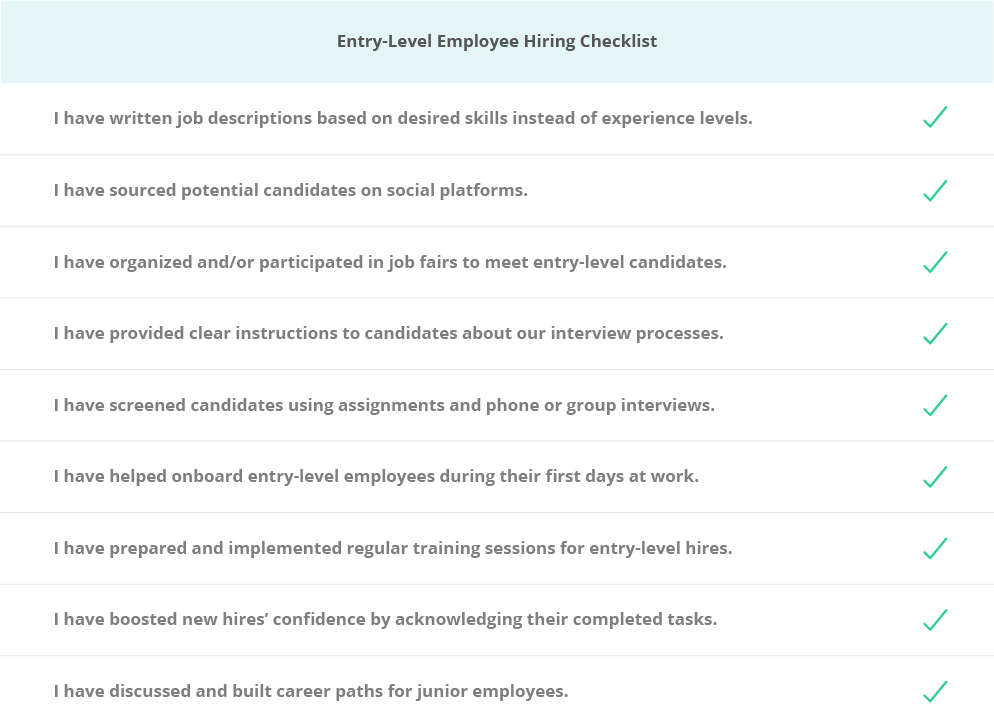 Frequently asked questions
What are some effective strategies for hiring entry-level employees?

Crafting targeted and engaging job ads, attending and hosting job fairs, and perusing social media and online communities are effective strategies for hiring entry-level employees. These methods allow you to connect with potential employees from various backgrounds.
How should interviews for entry-level roles be conducted?

For entry-level roles, consider using situational interview questions, skills-based assignments, and group and phone interviews. These methods help evaluate candidates' abilities and potential, even if they lack relevant work experience.
What should be included in the onboarding process for entry-level employees?

The onboarding process for entry-level employees should include setting up devices, completing HR paperwork, learning about the work culture, and completing their first tasks. Providing detailed manuals, assigning a mentor, and giving positive feedback can help new hires acclimate to the workplace.
How can companies retain entry-level employees?

Companies can retain entry-level employees by regularly updating job duties, designing career paths, and checking in regularly. Offering professional development opportunities and creating an open-door culture can decrease turnover rates for junior positions.
What is the importance of a checklist when recruiting for entry-level roles?

A checklist serves as a guide when recruiting for entry-level roles. It ensures that all necessary steps are taken, from crafting effective job ads to providing professional development opportunities, contributing to the company's long-term growth.