How to recruit on Pinterest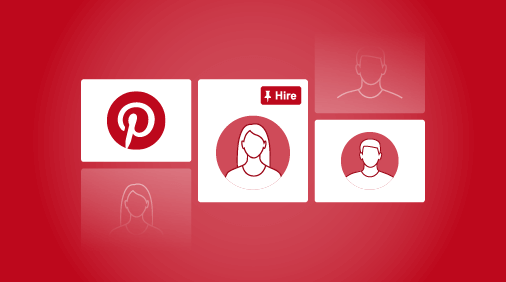 Pinterest is more than a virtual repository for recipes, crafts and wedding ideas. It's a social platform that can help companies build strong employer brands and attract potential candidates.
Here's how to start recruiting on Pinterest:
What is Pinterest?
Pinterest is a digital pinboarding tool that lets you bookmark content that interests you. For some businesses, Pinterest also serves as a digital storefront to display products, increase website traffic and boost customer engagement.
Here's an overview of some basic Pinterest terminology to help you get started:
Pins
Pins are your virtual bookmarks. They include images or videos, with descriptions and links to the original source online. You can save pins you like from your favorite websites or other Pinterest accounts. You can also pin your own pictures or videos by uploading them from your your computer or phone.
Here are some pins related to "hiring employees":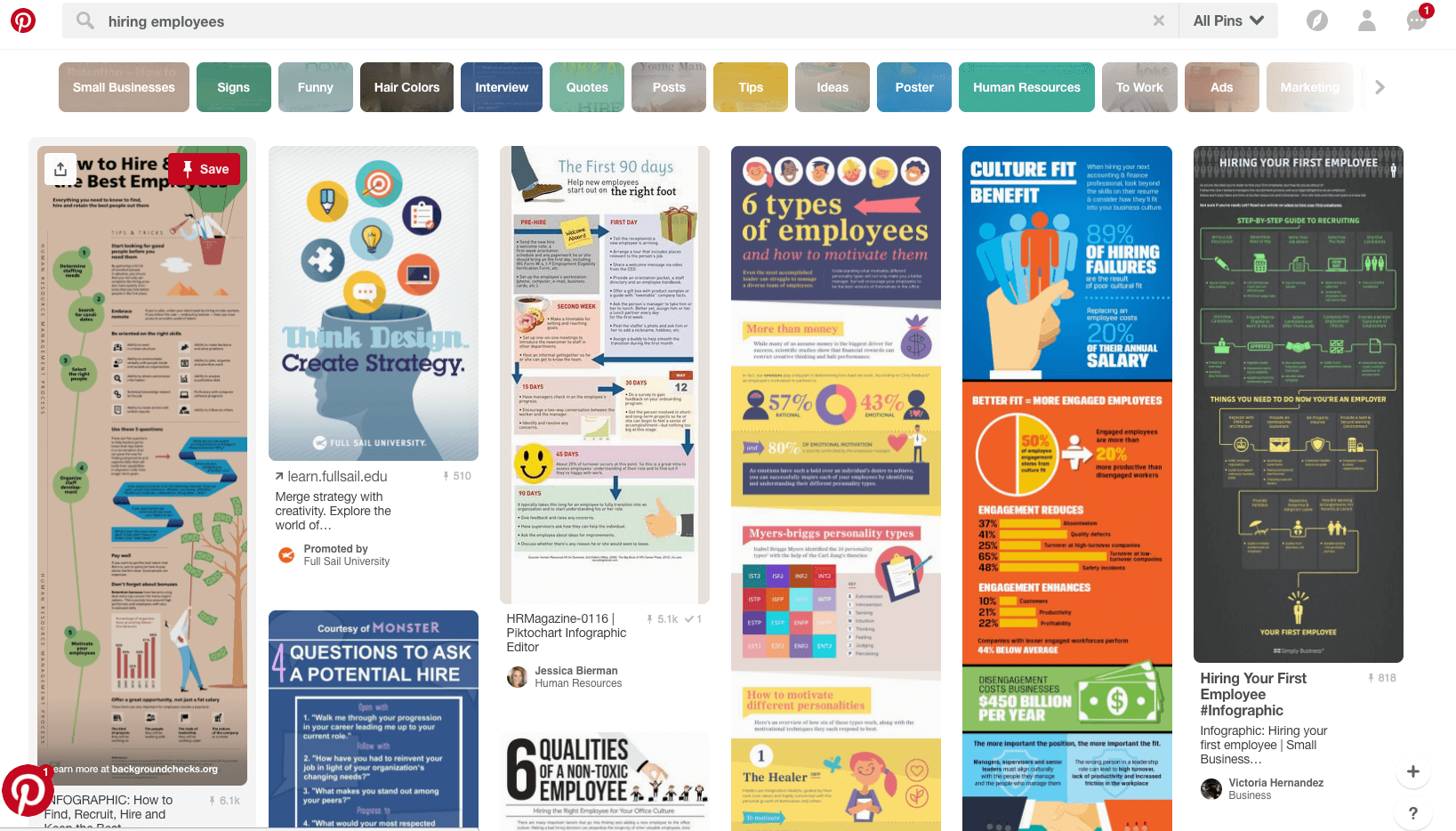 Boards
Boards are where you save your pins. Create boards by topic. You can keep your boards secret – visible only to you, or you can share them with the public, or people you choose. You can invite people to group boards to share ideas and pins.
Here are boards related to "hiring" that anyone can follow: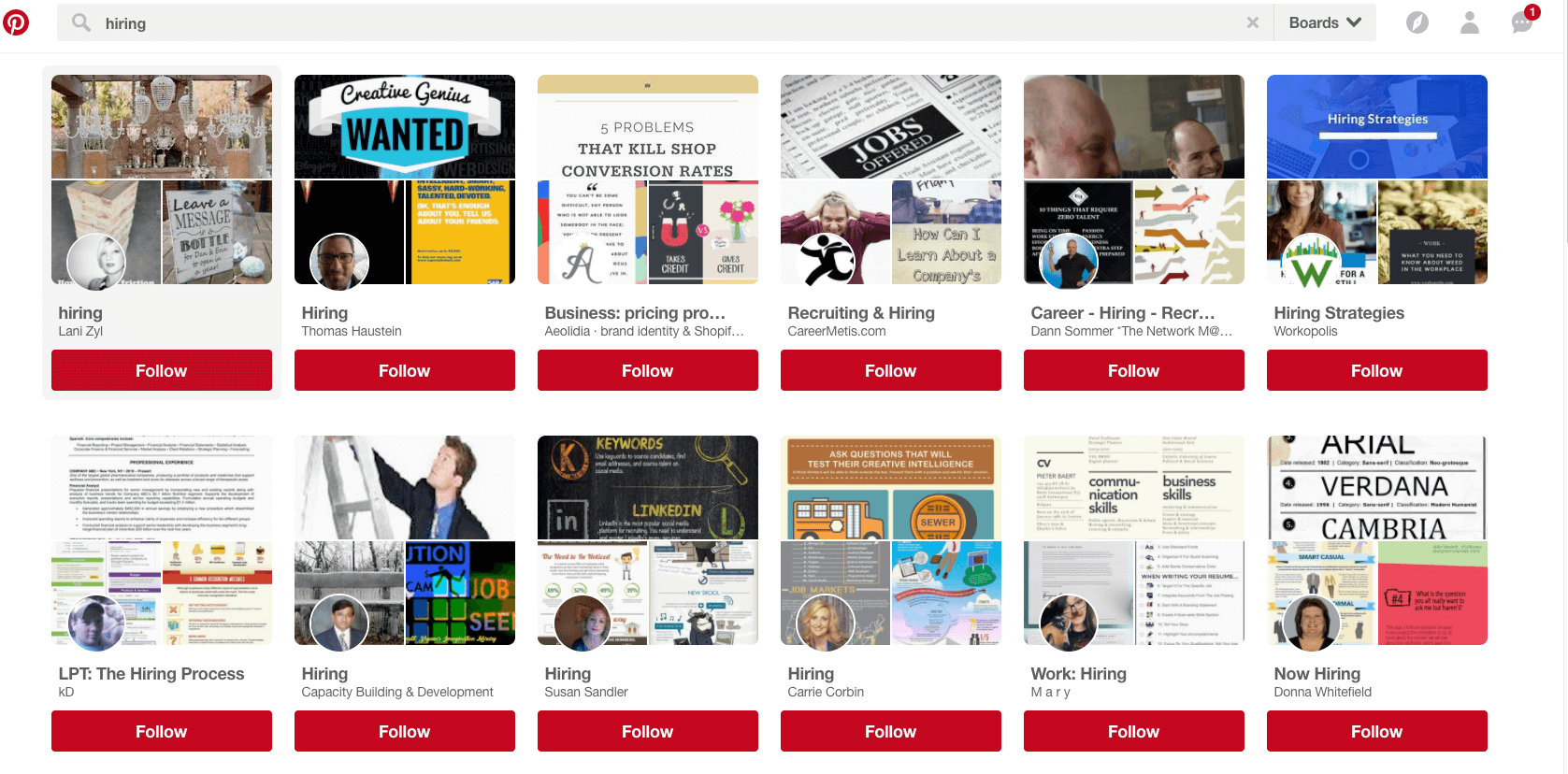 Promoted pins
Promoted pins are pins that you can pay to promote to desired audiences. The amount you pay depends on your targeting and bid options. Keep in mind that promoted pins are currently available only to businesses in the US, Canada, the UK, Ireland, Australia and New Zealand.
Here's an example of pin promoted by MOO: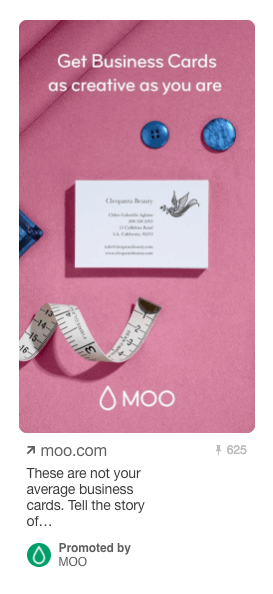 Repins
Repins numbers (small grey numbers that appear under the left-hand side of pins) represent how many times other Pinterest members saved your pins to one of their boards. Measure your repin stats, along with more metrics in your company's Pinterest Profile Analytics page.
Pinners
Pinners are Pinterest members. Use "People you reach" analytics to understand your audience's demographics and interests.
Why recruit on Pinterest?
Pinterest is a multimedia platform that hosts images, videos and infographics. And this type of content catches people's attention. With few words, Pinterest helps you describe your company culture and attract candidates who want to work with you.
Types of candidates on Pinterest
Pinterest's 175 million monthly users are a diverse audience. Consider recruiting on Pinterest if you're hiring:
Women: Most Pinterest users are women, making it a good place to source more female candidates.
Millennials: Like most social networks, Pinterest is popular with millennials. Half of U.S. millennials use Pinterest, according to the site.
Parents: If you offer parental leave or child-care facilities, Pinterest is a good place to promote them. According to Pinterest, seven out of 10 U.S. mothers and 1 in 3 U.S. fathers use the platform.
Creatives: Pinterest is uniquely visual, so it's a great place to look for portfolios of photographers, architects, designers and travel and fashion professionals.
How to set up your Pinterest account
Setting up a business profile on Pinterest is easy and free. Here's a step-by-step overview:
Visit Pinterest for Business and click "Join as a business."
Fill out your company's details, including your company name, email and business type.
Click "Create account" after you read the Business Terms of Service, and you're all set.
Edit your profile when you're logged in:
Upload a picture: Use your company's logo to make your business easily recognizable.
Choose a username: Make sure it's "www.pinterest.com/company_name" to make it easy for candidates and customers to find you. Otherwise, the default username might be something like "www.pinterest.com/company_name1234."
Add your 'about you' details: Add a description of your company using a maximum of 160 characters.
Add your location: Identify your office location(s).
Add a link to your website: Enter and confirm the URL of your corporate website, where people can learn more about your company.
Note that if you're already using Pinterest with your personal account, you will need to log out before creating a Business profile. Or, you can convert your personal account to a business profile to maintain your pins, boards and followers.
How to recruit on Pinterest
Introduce your teams
Candidates want to learn about your position through potential colleagues. Share pictures of employees at work or ask employees to describe their job in short videos. You can also create one board for each department to give more specifics about how different teams work.
Sodexo, a French food services and facilities management company, has designated boards for various departments.
Cosmetics company L'Oréal presents its offices in different locations.
Promote your perks and benefits
Create boards that showcase benefits you offer or ask your employees to describe their jobs in their own words.
Post your job openings
Advertise your job openings on Pinterest and provide links to your careers page. Use images and videos to describe what skills you're looking for in candidates.
Carousel Consultancy, a London-based recruiting firm, created a board for its Social Media Community Manager & Blogger position. In this board, candidates get an overview of the role and learn how to apply.
Boost your employer brand
Beyond displaying your products and services, Pinterest can help you show potential candidates what working at your company looks like. Use Pinterest to share company events and moments of your daily work life.
Describe your company values
Use visual aids, like videos, images and infographics on Pinterest to illustrate your company values. This will help you attract candidates who are a culture fit.
Share career advice
On your Pinterest business account, share content that's relevant to your candidates, like career tips. Here are some examples:
Asana, a software company that creates a team productivity tool, shares career-related articles that are likely to appeal to potential candidates and also help new hires onboard.
When building your Pinterest recruiting strategy, keep in mind that Pinterest's strengths lie in its content-sharing features. Focus on creating a business page that reflects your company culture. A mix of appealing, genuine and useful pictures and videos will help attract candidates you want to hire.