The Best free and premium job sites in Canada
Hiring in Canada? This top-10 list of the best job sites in Canada will help you get a head start on your recruitment strategy in the Great White North.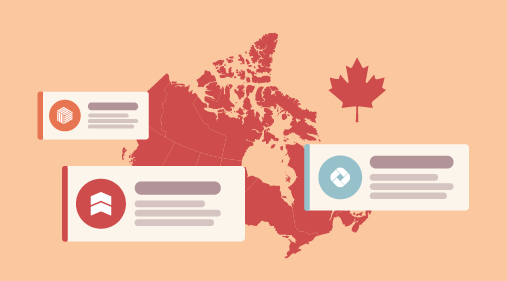 Good job boards help you attract qualified candidates – and that's why they're strong allies in Canada's tightening labour market. Competition for talent will be even more fierce as the number of job vacancies increases and employers will need to invest in the right channels to find the right people. To help you decide how to form a job posting strategy, we examine some of the best job sites in Canada.
Top 10 job sites in Canada for 2019
International job boards
Most global job boards and job search engines have local websites in various countries. They're well-known among job seekers and many of them offer a resume database to help you source candidates. Here are some of the best international job boards with local versions in Canada:
Indeed Canada
The global mega-aggregator Indeed has various country-specific branches, including a Canadian version. Indeed collects and displays jobs from other sites (like your careers page) for free, if the job ads meet its standards. Indeed also offers free and paid posting options right from its platform. You can benefit from integrations with search engines WowJobs and SimplyHired, which was acquired by Recruit Holdings, Indeed's parent company. (Recruit Holdings recently acquired Workopolis too).
Glassdoor
Glassdoor is a global review site and job board (also recently acquired by Recruit Holdings). Millions of candidates visit this site to explore and leave reviews as well as look for jobs. This means that Glassdoor gives you both a platform to post jobs and an opportunity to build up your employer brand. You can do this by responding to reviews and sharing information about your workplace (including photos and videos).
Monster Canada
One of the most visited job boards worldwide, Monster, has a popular branch in Canada. This job board attracts millions of job seekers every month and has built an impressive resume database. When you post your job ad, Monster will recommend resumes that match your criteria, helping you find the best candidates faster.
CareerBuilder Canada
CareerBuilder Canada is the local version of global employment site CareerBuilder. You can use this platform to post jobs (there are paid plans depending on the number of jobs you want to have posted simultaneously) or search the vast resume database for resumes that meeting your criteria.
Local job boards
There are several country-based job sites in Canada which are often very popular with local talent. Here are some well-known Canadian job sites:
Eluta.ca
This Toronto-based job board is branded as the "official job search engine of Canada's Top 100 Employers project", attracting millions of candidates annually. You can display your job ads for free on Eluta, provided they're already published on your careers page. Or you can choose to post a sponsored job ad to increase visibility among job seekers.
Jobbank
The official government job board of Canada has two versions, Job Bank in English and Job Bank in French and it's one of the best free job posting sites in Canada. Your job ad will reach job seekers from all provinces, both English- and French-speaking, and you can market it to groups of people, like veterans, indigenous peoples or people with disabilities. Job Bank will also show you a list of candidates who match your requirements.
Jobillico
Jobillico Canada is based in Quebec and used by two million job seekers, according to its website. It has recently partnered with Job Bank, so if you have an account with Jobillico, your job ad will also appear there at no extra cost so you can reach more candidates.
Jobboom
Employers use Jobboom to post jobs mainly in Quebec. This job board is popular in the province and recently partnered with Google to give job seekers better access to its job postings. And, if you want to post summer jobs or internships, you can do so for free.
Talent Egg
If you're offering paid internships or summer jobs, or hiring recent graduates for entry-level roles across Canada, Talent Egg is a good option. You can choose among three pricing options that let you post branded jobs and build your employer profile.
Frequently asked questions
What site has the most job postings?

Indeed is the most popular job posting site in the world. It started off as a job search engine that would crawl the web and index every job ever published, as well as offer no-cost job postings. Indeed has a huge resume database and claims to receive over 180 million unique visitors per month.
Is Craigslist a good place to post a job?

Most experts say that Craigslist is a great source for job hunters and offers lots of legitimate job opportunities. At the same time, though, the things that make the site so popular for job seekers can also make it harder to find the right job.
Does Indeed cost money?

The cost of posting a job on Indeed starts at $0. Sponsored job postings range from $0.10 to $5 per click. The cost-per-click is for each job seeker who clicks on your post, even if they don't apply.