How to calculate recruitment costs for budget planning
Recruitment costs refer to all expenses made by the company related to the hiring process of new employees. A detailed recruitment budget can drive an effective recruiting process. Invest the time to calculate recruitment costs and plan your budget the right way.
How to calculate your recruitment costs:
Step 1: Estimate your total number of hires
Get an idea of how many people you need to hire by talking to hiring managers. Organize meetings to talk to them about previous hiring budgets, projected hiring needs, upcoming objectives and team-wide skills gaps.
You can also budget your number of hires by using a variety of quantitative methods, including your recruitment yield ratio.
Chart quarterly projected hiring needs in a table like this one: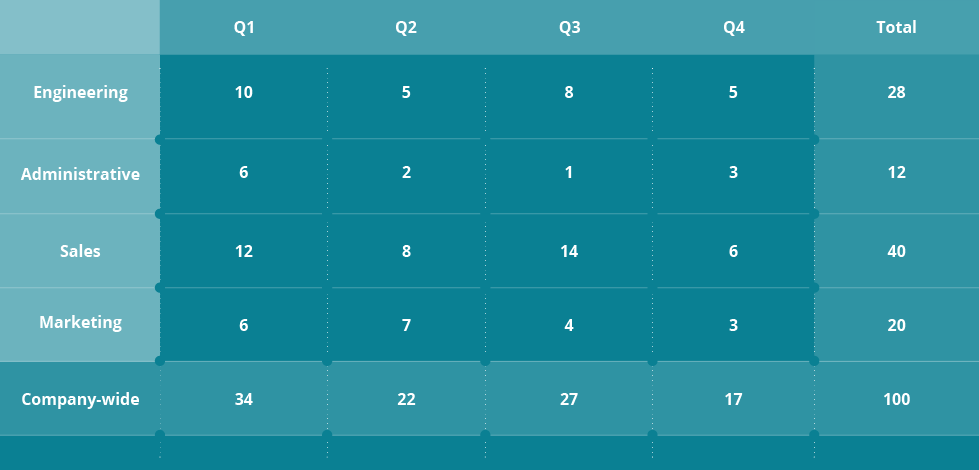 This table should represent your potential hires. You can use it to budget positions. Make sure to include your hiring plans for expanding teams, along with planned departures.
You should also budget for unexpected vacancies. Calculate your turnover rate for the previous year, either by department or company-wide. This can help you estimate a budget contingency to cover some expected turnover. If you don't have enough historical data, you can use the average turnover data for your industry.
Based on your planning and estimated turnover, you can calculate the total number of new hires. For example, imagine you employ 400 people and plan to hire 100 more. Without any turnover, you would have 500 employees by the end of the year. If you estimate that 10% of your employees are likely to leave, then you'd need to fill 50 more positions to get to 500 total employees by year's end. So, you would have to hire 150 people: 50 to replace current employees and 100 to fill new roles.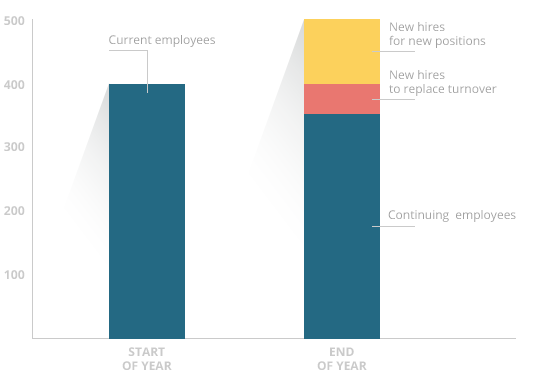 Step 2: Estimate your basic recruitment costs
Basic recruiting costs can include:
Job boards. Analyze previous expenses on job boards to draw useful conclusions. How much did you spend on Indeed, LinkedIn or niche job boards? Ask yourself which job boards worked for specific industries (e.g. sales, developers, financial positions). Use your estimated hires to calculate future job board fees.
Recruiters' salaries. These costs refer to any in-house recruiters. Add the total cost of their salaries to your budget. As a rule of thumb, you need one in-house recruiter for every 50 hires planned in a year. External recruiters can be a better choice for harder-to-fill and executive positions. External recruiters usually charge about 20 percent of a base salary on a contingency basis. Plan to use a retained search for executive hires, which can cost up to 40 percent of a hire's base salary.
Employer branding. This includes all funds you need to establish an employer brand, from attending events (separate from recruiting events) to creating material (e.g. company videos, social media). Track how many quality candidates you meet at each recruiting event, so you can plan to attend the most effective events in the future.
Step 3: Estimate your fixed costs
This category can include:
Partnerships with universities and institutions. Think of the candidates you sourced from graduate career fairs or campus recruitment events in previous years. How many of them were actually hired? Use this information to calculate how much to budget for partnerships with universities and institutions.
External recruiting agencies. Many companies rely on external recruiters to do their hiring. Add agency fees to your budget, if this applies to you.
Recruiting events. Calculate fees, tickets and accommodations for events you're interested in attending. If you're not sure, draw on previous event-spending budgets as a guide.
Step 4: Estimate your recruiting technology costs
Factor software fees for recruiting tools (monthly or annually) into your recruitment budget plan. Consider, for example:
Step 5: Estimate your recruitment costs to improve hiring
Add steps to your recruitment and hiring processes. For example, you could use pre-employment testing to screen candidates before interviewing them. Testing fees are usually tied to how many candidates take your tests.
Implement an employee referral program. Multiply any incentives and bonuses in your employee referral program by the number of hires you expect to come from employee referrals. Historical data will come in handy to determine this number. Also, include any costs to promote and brand your referral program.
Step 6: Estimate your miscellaneous hiring costs
Consider how far your recruiting budget will go. Will you budget a mobile careers page redesign to attract new candidates? Are you willing to fly in candidates for interviews? Will you cover relocation expenses for new hires? It's best to discuss this with your team early so you can budget properly.
Step 7: Calculate cost-per-hire
Cost-per-hire metrics can help you evaluate and track your budget. You can calculate your cost per hire estimate with this formula:

Internal costs are funds you spend on internal recruiting efforts (e.g. referral programs and recruiters' salaries). External costs cover all external recruiting efforts (e.g job ad postings and recruiting agency fees).
Calculate your average cost per hire easily with our free tool.
More: FAQ on Recruiting Budget Metrics
How to interpret your estimated cost-per-hire
"Cost-per-hire depends on company size and number of hires. Larger companies making a lot of hires can keep the cost lower than smaller companies. But, generally, aiming for an average cost-per-hire between $3,000 and $5,000 is good practice."

– Lacey Brandt, Workable CFO
The more people you hire, the lower your cost-per-hire will be. This is because some fixed costs can be spread out over a larger number of hires.
Keep in mind that your cost for each hire will vary. Some roles are harder to fill, so they can be more expensive. So, it's best to use your average cost-per-hire calculation for general planning purposes, instead of as a guideline for each hire's cost.