How to build your first employee referral program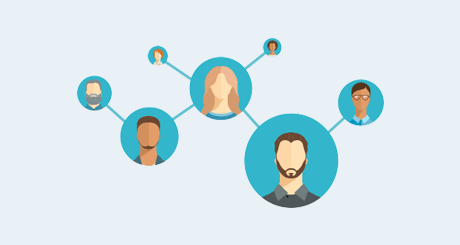 The best thing about starting an employee referral program is that you can be confident that they work. Candidate referrals have stood the test of time as the number one hiring source. We can definitively say that you're missing out on excellent potential hires if you're not tapping the networks of your talented team, or not making it easy for people outside your company to refer candidates.
The following step-by-step guide to creating your first referral program includes real examples from top companies, plus pages from our own referral program ideas and success stories.
See next: The Art of the Employee Referral: a complete guide
Step 1: Define your goals
.@Pinterest asked engineers to refer 10x more diverse candidates from underrepresented backgrounds & got 55x more. https://t.co/YkxZ1Egreq

— Vauhini Vara (@vauhinivara) January 15, 2016
If you're doing it right, your employee referral program isn't just about participation rates and putting capable bums on seats. You're thinking about how the people you hire will grow along with your company and you're considering factors like their sense of purpose and culture fit. Employee churn is expensive, so think long-term.
Hootsuite hires people who believe that social media can change the world. Virgin Hotels' culture code encourages employees to bring their whole selves to work. Buzzfeed prioritizes diversity because they value a range of perspectives and because it allows them to recruit from the widest possible pool of talent. Pinterest was looking for both diversity and quantity and got both in spades.Once you know what you're trying to achieve, coach others on what you're looking for. Send an all-staff email. Put it on your careers page. Don't be shy.
Step 2: Streamline your process
Do what you can to make your process as effortless as possible. Boil it down so that all your referrers have to do is submit names and contact info to your hiring team. Tech tools can do your heavy lifting for you. Our friends at eFounders refer candidates by typing in a short Slack command. This creates a new referred candidate in their hiring pipeline in Workable, and also sends candidates an email with the link to the job listing.
We need a designer to join @denisewilton on our product marketing team in #London – http://t.co/x86lmtFn8P pic.twitter.com/EAYs21vi2a — Workable (@Workable) September 30, 2015
incase you don't read *every single tweet I post* and don't know yet – we're hiring a designer @Workable! http://t.co/1Cg4xaALGU — Denise Wilton (@denisewilton) October 8, 2015
We like to namecheck our hiring managers on Twitter when promoting our own open positions at Workable. It's an easy way for candidates to learn more about who they would be working with. We also frequently use People Search, which enables our hiring team to source candidates to our talent pool from social media and popular professional networks. If used with LinkedIn, you can add a candidate's entire work history with a few clicks.
Step 3: Incentivize, incentivize, incentivize
Hiring bonuses are nice, but they're not the only way to tantalize people into referring qualified candidates. Our Boston neighbors Raizlabs offer a choice of three kinds of travel adventures, including dogsledding in Maine, to successful referrers. Referral rewards don't need to be lavish, either. Consider announcing bonuses like charitable donations, gourmet foods, tickets to local events, or even a one-on-one lunch with your CEO.
Step 4: Follow up with referrers
What happens after people refer candidates to your jobs? Well, it's always nice to thank people and acknowledge that their referral was received. LinkedIn polled their own staff, and results showed that eight out of ten employees wanted to know whether or not their referred candidate was hired. Nurture relationships with your referrers by making them feel appreciated and keeping them in the loop.
Infographic via LinkedIn
Step 5: Postmortem analysis
How did you do? What did you learn? To find out, take a dive into your analytics. For this particular initiative, look into these two quantitative metrics: your participation rate (how many people referred candidates?) and your referral to hire ratio (of these referred candidates, how many were hired?). Qualitative feedback, such as answers to questions like, "Did this process work well for you?" from referrers and referred candidates is also useful for continuously improving your referral program.
Need more reasons to get going? Referred candidates cost less to recruit, are happier at work, more likely to be hired, and perform better than non-referred candidates. All great reasons to start building your employee referral program today.