Improve your recruitment sourcing strategy: five lesser-known methods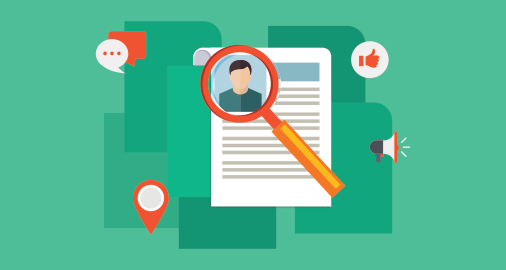 Sourcing strategies for recruiters are a work in progress. They can always be reshaped and improved with new techniques and technology.
With the right mix of sourcing methods and tools, you can reach out to and connect with a large number of passive candidates. Whether you're actively looking to fill positions or simply building relationships for the future, improving your recruitment sourcing strategies can improve your recruitment yield ratio over time.
Here are a few techniques on how to enhance your recruitment sourcing strategy:
Expand your social network sourcing
Say "social network sourcing" and LinkedIn immediately comes to mind. Most people have a LinkedIn profile, so qualified candidates are ample on its platform. But, other social networks like Facebook, Instagram and Snapchat are trending up as methods of sourcing. An engaged company presence on various platforms can help you communicate with and attract talented people. Think about which platforms are more relevant to your search criteria. Here's a list of some well-known and lesser-known social media networks that can be good for this purpose:
Note: For EU candidates, please refer to this guidance on using social media for recruiting under the General Data Protection Regulation, or GDPR.
Source candidates on Twitter and Facebook
Twitter and Facebook are both great options for talent sourcing. Most people have a Twitter and Facebook presence. Recruiting using Facebook graph search with the right terms can yield very relevant results.
For example, if you want a marketing professional who studied in New York and works at Johnson&Johnson, Facebook search can source all profiles that fit these criteria. Following conversations on Twitter can help you find an online community of qualified candidates. For example, it's easy to follow hashtags such as #Java or #pycon to find people who attend the annual Python conference. You can also use Twitter's advanced search to discover conversations happening in a particular location or about a particular topic.
You can use Workable's People Search to easily find the social profiles of your passive candidates.
Discover tech candidates on Github
Github is an online platform where developers keep their code and work on individual or collective projects. Through Github, companies can connect with developers and evaluate their work. It's a reliable, rich platform full of people with sought-after skills. The same is true for all online professional sites, where people showcase work samples and have conversations (like Dribbble, Behance, Stack Overflow etc.)
More: Where to post jobs to hire developers
Use Reddit to gauge your candidates' interests
Few consider Reddit as a talent sourcing tool. It's a messaging platform where people discuss all kinds of topics. Yet, what place could be better to find great candidates than a huge community of engaged users? It's more relevant for individual recruiters, but creating a corporate account could prove useful too. You can create subreddits to post jobs and give more information to users. Or you can reply to people actively looking for a job through the site.
Source engaged candidates on Slack
Slack is a messaging tool for teams. While very successful for team collaboration, it can also be used as a sourcing ally. It gives users the ability to create public communities to discuss topics of interest. You can find many qualified people by joining one of the many groups or creating your own to connect and boost your brand.
Refine your search using SEO strategies
Most recruitment sourcing strategies use keyword searches. Most people rely on keywords when surfing online. But using these effective sourcing methods depends on out-of-the-box thinking:
Use different search engines and sites
Google and Bing are great search engines. But, it often pays to try other places for recruiting candidates you might not find in traditional methods. For example, there are specific search engines for talent sourcing like Monster's talentbin, Scavado or other search engine alternatives to try innovative internet sourcing techniques.
Find the right search keywords
Keywords are the core of internet search. It's critical to use relevant keywords in your job posts. And it's just as important to search passive candidates using keywords they're more likely to use in their resumes or online conversations. Sites like AcronymFinder can help you identify acronyms that are relevant to specific professions. Talking with people who are doing the job you're sourcing for can help you find the most relevant terms too.
Use Boolean search terms
When sourcing, internet search techniques can get you higher quality results. Using boolean operators like AND, OR and NOT help you refine your search for candidates with specific or overlapping characteristics, and help disqualify candidates too. One technique is flip search which helps you discover people who link to a particular site. For example, a software engineer who has worked for Oracle, is likely to link to Oracle's site. With the search term: 'link:www.oracle.com AND "software engineer"' you can discover them. Learn about this technique and use it carefully along with others like x-ray search.
Workable's Boolean search cheat sheets provide sample search strings to recruit experienced candidates.
Grow your employee referral program
Excellent employees know other excellent employees. Companies always ask current employees to refer acquaintances. But most companies don't take a systematic and strategic approach to referrals. Employee referral programs and software can help a lot. You can track referrals through an Applicant Tracking System (ATS) or with independent software like Zao which includes incentives and gamification technology. Check out some examples of referral programs from well-known companies and start crafting your own.
Download our free sourcing guide for tips on how to create effective referral programs.
Reach out to your talent pool
Meeting passive candidates is an important part of any recruitment sourcing strategy. It's the key to successfully sourcing candidates:
Source and recruit at meetups and events
Communicating online is a big part of everyone's life. But most people want to meet "in real life." They're also less likely to trust you if you're always talking to them online, but you're nowhere to be found at conferences or other events. You can use sites like Meetup to help you meet and source people you want to hire. Hosting or sponsoring recruitment events is also a good sourcing candidates strategy.
Have an active online employer brand
An active corporate presence online is a must for sourcing or simply creating a stronger employer brand. Many companies think having an online presence stops at opening a Facebook account. But engaging people as a method of sourcing requires a lot more effort. Don't just use social media to find candidates. Allow them to find you and create valuable content to get their attention.
Use professional sourcing services
Employers and recruiters can get the most out of online sourcing by using professional services. There are many online services like Networkmonkey, Resource and 1-Page that scan the Internet to find candidates who match your criteria. If you have a team of competent recruiters, these services might seem redundant. But, they can be useful if recruiters want to dedicate more time to attending events or connecting with passive candidates. Determine what works best for you.