Search engine optimized job descriptions: dos and don'ts
Search engine optimization (SEO) is a method of inbound marketing that makes your page findable and trackable by Google, Bing and other search engines. Job descriptions that are clear, targeted and searchable attract the most relevant and qualified job seekers to apply to your open roles.
Here's how to use job description keywords and SEO tactics to make your job descriptions rank higher in search results:
Do use relevant keywords and phrases
Search engines scan your content for commonly-searched job keywords and phrases, like titles and responsibilities. The more people who click on your content while searching specific job description keywords, the more likely your content will get boosted to the top of future searches.
So, if you're hiring an Office Manager, make sure you emphasize the most important job description keywords related to Office Manager job duties, including:
Administration

Scheduling

Organize

Support
Here they are highlighted in a sample job description: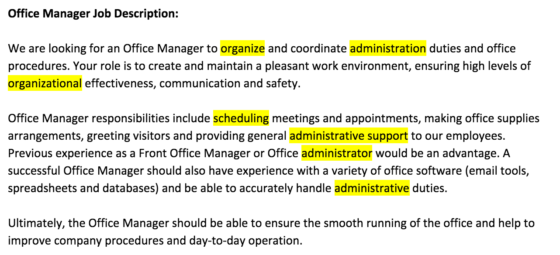 Here are some other things to consider when choosing job description keywords and phrases for your job descriptions:
What are some typical ways that people in this industry describe their work?

How would someone in this industry search for their position on a job board?

What are alternative job titles that might be similar to this position?

Is there a more specific job title to describe the role than the one you are using?
If you're at a loss for finding your job-related keywords, try these SEO tools:
Don't overuse job description keywords
It may be tempting to use the most relevant job keywords as often as possible in your job descriptions. But, search engines start to get suspicious if they see a singular term repeated an unnatural number of times on a page. Stick to using the term you're trying to rank for once or twice per paragraph, at most.
A good way to test to see if you have overused specific keywords in a job description is to read it aloud. If it is repetitive, or hard to read, reduce the number of times you use that keyword phrase.
Find alternate ways to emphasize the job title throughout your job description. Instead of repeating keywords like "accountant," try "bookkeeper," "CPA," "certified public accountant" or "comptroller." By switching up your language to include synonyms, related phrases and interchangeable job titles, you will create more compelling content and attract candidates with diverse backgrounds to your position.
Related: How to write the best job description ever
Do optimize your company description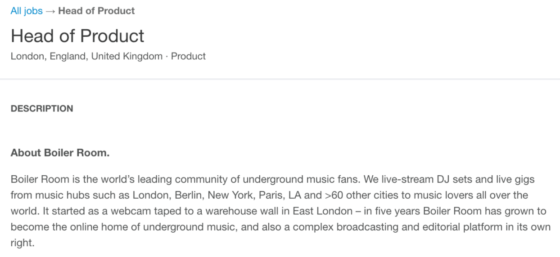 Your candidates should not be in the dark about what your company does. Write a clear description of your company on your careers page and include the core values that are important to your company. By using specific keywords on your careers page, like "retail," "software," "manufacturing," or another clear indicator of your company function, you will attract candidates who are looking for a job and a company like yours.
Don't create walls of text
You're familiar with this type of job description: several long paragraphs that over-explain job responsibilities, list too many "nice-to-have" qualifications and ultimately confuse and alienate candidates. Search engines notice this too, and will downgrade these kind of listings in search results.
Instead, create brief job descriptions with clear headings (known as H1s, H2s, and H3s in SEO-terms) and bulleted lists, wherever possible. In this example from HelpScout, their Job title "DevOps Engineer" is the H1 and the word "Description" is their H2.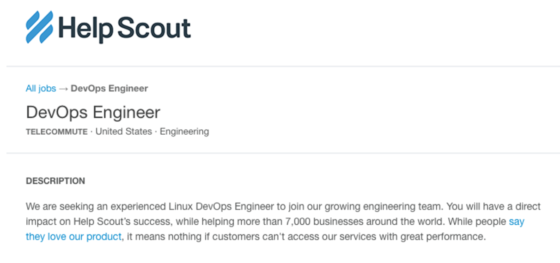 Job seekers and search engines look for clarity, and that begins with how information is organized on your page. Describe the position in one to two sentences, create lists of responsibilities and requirements and explain what your company does.
Do create a visual experience
Search engines aren't just looking for compelling text. They have a tendency to value pages that are visually compelling. Create a careers page that includes photos and video. Including multimedia on your careers page will help you paint a clearer picture of your company and help boost your metadata (the language that search engines use to read websites). Adding lots of metadata to your web pages shows search engines that you're focused on creating a thorough resource.
Applicant tracking systems can help you easily build an optimized careers page to display your job postings to attract more candidates in the long-run.
Don't overcomplicate your job titles
It may be tempting to attract employees using fun job titles like "Chief Finance Hustler" or "Marketing Wizard." But potential candidates who have been developing their careers in finance or marketing aren't likely to search for open roles using those terms.
Your job title should:
Be specific, like "Inside Sales Manager" instead of "Salesperson"

Be unabbreviated, like "Vice President of Marketing" instead of "VP Marketing"

Include hours, if relevant, like "Cashier (full-time)" instead of "Cashier"
When you find a job title that works, make sure it's clear on your listings page. Use it in the <title> tag in your HTML, and place it clearly in the top header of your page.
Do rely on Local SEO
Local SEO allows businesses to rise to the top of local search results. Strong local SEO is important for companies looking for job candidates because a candidate searching for a sales representative position is probably not searching for "sales rep" on Google. They're localizing their search to "sales rep in Boston," or even, "sales rep in zipcode:02115."
Use your location in your job description to attract local candidates and rank higher in search results. In the example below, Workable makes it clear that this role is based in Boston, and we use the name of our specific neighborhood "Fort Point":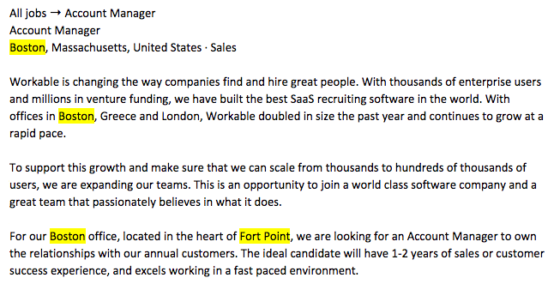 Don't create a silo – link to other pages
Websites build authority when other relevant sites link to them, showing search engines that the sites are both useful and valuable. Search engines also consider sites that generously link to other relevant content to be more valuable to users.
To boost your value in the eyes of Google, Bing and other search engines, link to other parts of your website on your careers page to give candidates more information about your company. It's also a good idea to link to your careers page throughout your website and include a link to your careers page on your website's header or footer section, to make it easy for both candidates and search engines to find your open job listings.
Do consider what your post looks like on Google for Jobs
With the advent of Google for Jobs, which prominently displays job listings that are most relevant to job seekers within Google Search, it's crucial to write a job description that search engines and job boards can easily scan and interpret.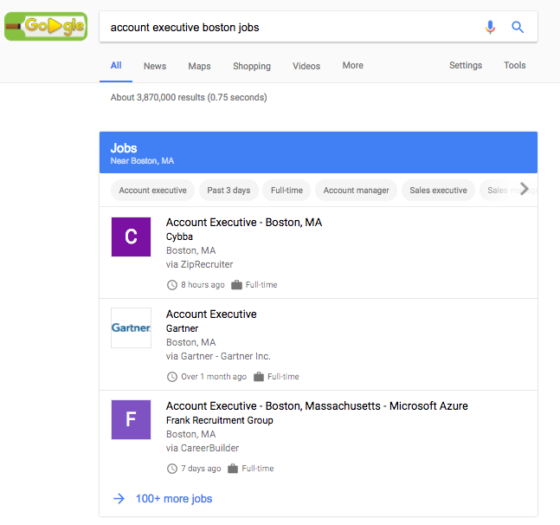 Google for Jobs uses SEO factors to list jobs at the top of job-search-related search results. It's worth investing development time to add structured data to your job postings to get them to show up in Google for Jobs search results. (More information on how to include your jobs listings on the Google for Jobs search engine can be found here.)
Using structured data means abiding by Google guidelines to insert certain HTML tags in your job postings and careers web pages.
Here are some easy ways to start using
structured data
on your job posting pages:
Ensure that Googlebot can crawl your job posting web pages, and they are not protected by a

robots.txt file

or robots meta tag.

Add a

JobPosting element

for each job posting that you want to advertise. Google explains the schema and tags that job postings must have to show up in Google for Jobs. These include: job type, job title, base salary, date posted, job description, employment type and job location.

Submit your

sitemap

to Google. Update your sitemap at least daily and as often as hourly. Most web providers will do this for you automatically, or you can create a custom sitemap based on the content you want Google to index.
Do share your postings
Search engines share the most popular content. It's a good idea to have your HR team and employees share your job listings on social media. By generating this immediate traffic to your job posts, you will show search engines like Google that your listings are of interest to people searching for the job description keywords they include.
Frequently asked questions
What is SEO in recruitment?

When you need to find candidates, it can be difficult. You might not even know where they are or how to reach them! With recruitment SEO, your business will consistently rank higher in search engine results so that more people visit and enroll with recruiters.
How do you attract candidates to a job posting?

Make sure to carefully craft your job advertisement. The top talent will only be attracted to an awesome job posting. Ensure all relevant information to help potential candidates learn about the position and apply for your job openings.
How do I find keywords for a job description?

Keywords are essential in job searching because they help connect employers with employees looking for specific jobs. There is a way of finding keywords using different methods, such as looking through many descriptions or using an automatic keyword generator tool that will generate to find relevant terms to include in your job descriptions.