17 effective candidate sourcing tools
Candidate sourcing tools aid recruiters in proactively identifying potential hires by searching through candidate data and profiles. They facilitate contact initiation and information collection, fostering long-term relationships with potential hires, thereby enhancing the efficiency and effectiveness of the recruitment process.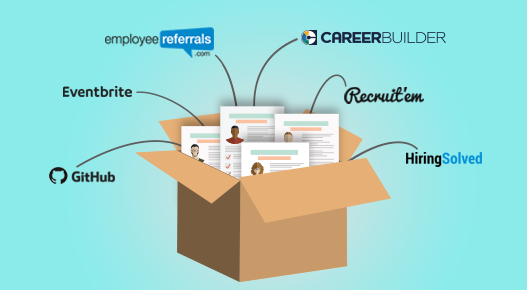 Sourcing without effective sourcing tools is like scouring a jungle without equipment. Tough, experienced recruiters might still find their way to hidden treasures. But, it doesn't have to be that difficult. Sometimes, a creative approach to candidate sourcing tools can make your recruiting job easier (and maybe even more fun).
Here are some sourcing tools for recruiters that can help you in your daily sourcing quests:
(To source EU candidates, please refer to guidance on using social media for recruiting and collecting candidate information as per the General Data Protection Regulation, or GDPR.)
Resume databases
There are so many talented people out there. Some come to you through job boards or careers pages. Others are waiting for you to find them. Thankfully, there are tools to give you a hand:
1. Talentbin
Monster's Talentbin is a large database with millions of profiles. It focuses on finding passive candidates through boolean search and social media recruiting. They provide a lot of information from candidates' social media accounts to help you reach out to them.
More: How to post a job on Monster
2. Careerbuilder resume database
Much like Monster's Talentbin, Careerbuilder's resume database has an abundance of candidate profiles and resumes. You can do effective boolean searches through this database supported by Careerbuilder's semantic technology.
3. Zillionresumes
ZillionResumes.com is an aggregator database, gathering resumes from thousands of other sources. It gives you an opportunity to discover 'hard-to-find' candidates. The platform can provide you with lists of resumes that match your criteria.
4. Hired
Hired is a platform designed to bring employers and job seekers together. Employers can create a company profile and browse candidates. They can express their interest in candidates through the platform, where, according to Hired's website, candidates answer 95% of requests.
Related: Recruiting tools and techniques for modern HR teams
5. HiringSolved
HiringSolved helps you find candidates from all over the world and perform searches in any language. An interesting feature: it lets you search "by example" to find candidates who are similar to someone you upload onto their system.
6. Sourcing.io
Sourcing.io has a large database of engineers that you can browse using filters. It focuses on team referrals and social recruiting by looking through your team's online connections for great candidates.
Related: How to source on job boards and resume databases
Portfolios
Looking at candidates' work samples helps you find and screen people at the same time. A trained eye can quickly spot impressive portfolios. Here are some good options to discover candidates' work, especially designers and developers:
7. Carbonmade
Carbonmade has millions of portfolios and projects by professionals from the creative arts (and it's fun to browse through). You can look into the work of designers, copywriters, photographers, architects and other creative types.
8. Github
Github is a well-known platform for developers and a great place to look through candidates' code and projects. If you're hiring IT professionals, Github has a lot to offer.
9. Behance
If you're on a mission to hire the best creative professionals, then Behance's huge network is a good option. While browsing portfolios and projects from all over the world, you can perform targeted searches according to schools, colors and tools used for each project (like AutoCAD). You can post jobs on Behance too.
Workable's Boolean search cheat sheets provide sample search strings to recruit experienced candidates.
Networking platforms
Communicating with active and passive candidates is a tough job. People network in all kinds of places, whether online or in-person. If you want to talk to, and meet with, great candidates, there are websites that can help you:
10. AngelList
AngelList is a platform for startups. It might not be geared towards sourcing passive candidates, but it can help you find quality hires. Candidates on AngelList are usually interested in the startup environment. They can browse through startups and communicate directly with founders through AngelList.
11. Eventbrite
Eventbrite is a website where people can host, promote and browse events by category and location. Using Eventbrite, you can choose events where you're likely to find candidates who are interested enough in their profession to take time out to learn about the latest trends.
Related: Ideas for a successful recruiting event
12. Meetup
Like Eventbrite, Meetup.com is a popular choice for hosting and attending events. Meetup also allows you to view lists of event members and attendees, ahead of time. If you don't have time to attend an event, you can still reach out to interesting people.
13. Twitter
Twitter can be a great ally in so many ways. Sourcing is one of them. You could reach out to those who tweet with hashtags relevant to your business (e.g. #HRTechConf) and participate in conversations. Twitter's advanced search is also a good way to find relevant hashtags and people.
Referrals
Often, the best employees are brought in by other employees. It'd be ideal if your employees referred great people everyday without any effort on your part. But, more often than not, companies can benefit from a systematic approach to employee referrals. Many tools can help:
14. Employeereferrals.com
Employeereferrals is a platform that helps you get referrals from your employees. It sends messages and incentives to employees helping you keep track of referrals and rewards. It aims to make it easy for employees to refer someone (in "just three clicks," according to their website).
15. Zalp
Zalp offers employee referral software that uses creative gamification to manage referral programs. They also focus on social media to help companies connect with their employees' networks.
Need more detailed advice on sourcing through referrals and social networks? Download our sourcing guide for free.
16. Recruit'em
Recruit'em is a free sourcing tool that writes complex boolean search strings for you. It allows you to search through social media like LinkedIn, Xing and Twitter. It can come in handy when you don't have enough time or patience to write long boolean commands.
17. People Search
Often, you stumble upon a profile on a social or professional network, or you're given a name by referral but you don't have enough information to contact them. People Search from Workable is a Chrome extension that can remedy that. People Search is a free sourcing tool takes seconds to look through multiple sources and provide you with a full profile with resume and contact information.
Most companies understand that it's important to hire proactively. If you equip yourself with effective sourcing, email finders and outreach tools, you can find your next great hire before your competition.
More: 21 HR tools and techniques designed for growing companies
Frequently asked questions
What is a sourcing tool?

Sourcing tools are software applications that help hiring managers and recruiters find potential employees proactively by searching through profiles, resumes, or other data about candidates. Sourcing tools may also help collect information on potential candidates and contact them.
How do recruiters source candidates?

If you need to source candidates for a position, then you should be sure to collect valuable candidate information, like resumes and work samples. Pre-screen candidates with skills that match the roles they're being recruited for. Contact candidates to build relationships and inform them about job openings. Build long-term relationships with potential hires.
What is the difference between sourcing and recruiting?

Sourcing is searching for and talking to potential candidates about an open or future role. Recruiting is the reviewing of candidates and eventually hiring the best talent to fill a specific position.