Recruiting on LinkedIn: a step-by-step guide
Recruiting on LinkedIn is highly beneficial as it provides access to a vast network of professionals, enabling you to post jobs, build your company brand, and connect with potential candidates.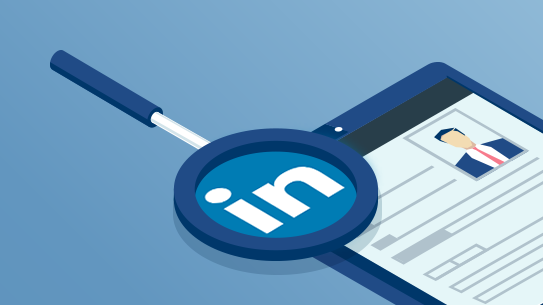 With more than half a billion members, LinkedIn is a formidable recruiting tool that lets you post jobs, build your company brand and source passive candidates.
Here's a primer on how to recruit on LinkedIn, starting with posting jobs:
How to post jobs on LinkedIn
There are two ways to post jobs on LinkedIn: through paid job postings that reach passive and active candidates, or for free through your company page, personal profile or LinkedIn groups.
How to post paid job ads
Paid job postings reach the LinkedIn members who have the skills your job requires. When you pay to advertise your job, LinkedIn:
Shares your job across its network of 500+ million professionals, making it visible to anyone on LinkedIn.
Emails and displays the ad to potential candidates whose skills and location match the job posting (using the "Jobs you may be interested in" feature.)
Posts your job description to your LinkedIn company page.
Curates a list of 50 members you can view who suit your role.
Gives you 5 free InMail messages to contact members outside your network.
Here's a step-by-step guide on how to post a job to LinkedIn:
1. Create a LinkedIn profile
If you already have a LinkedIn account, skip ahead to Step 2. If not, create a LinkedIn profile. This is easy to do. Go to the LinkedIn home page and follow the prompts to set up a new account. LinkedIn will ask you to enter your professional and personal details and add a photo.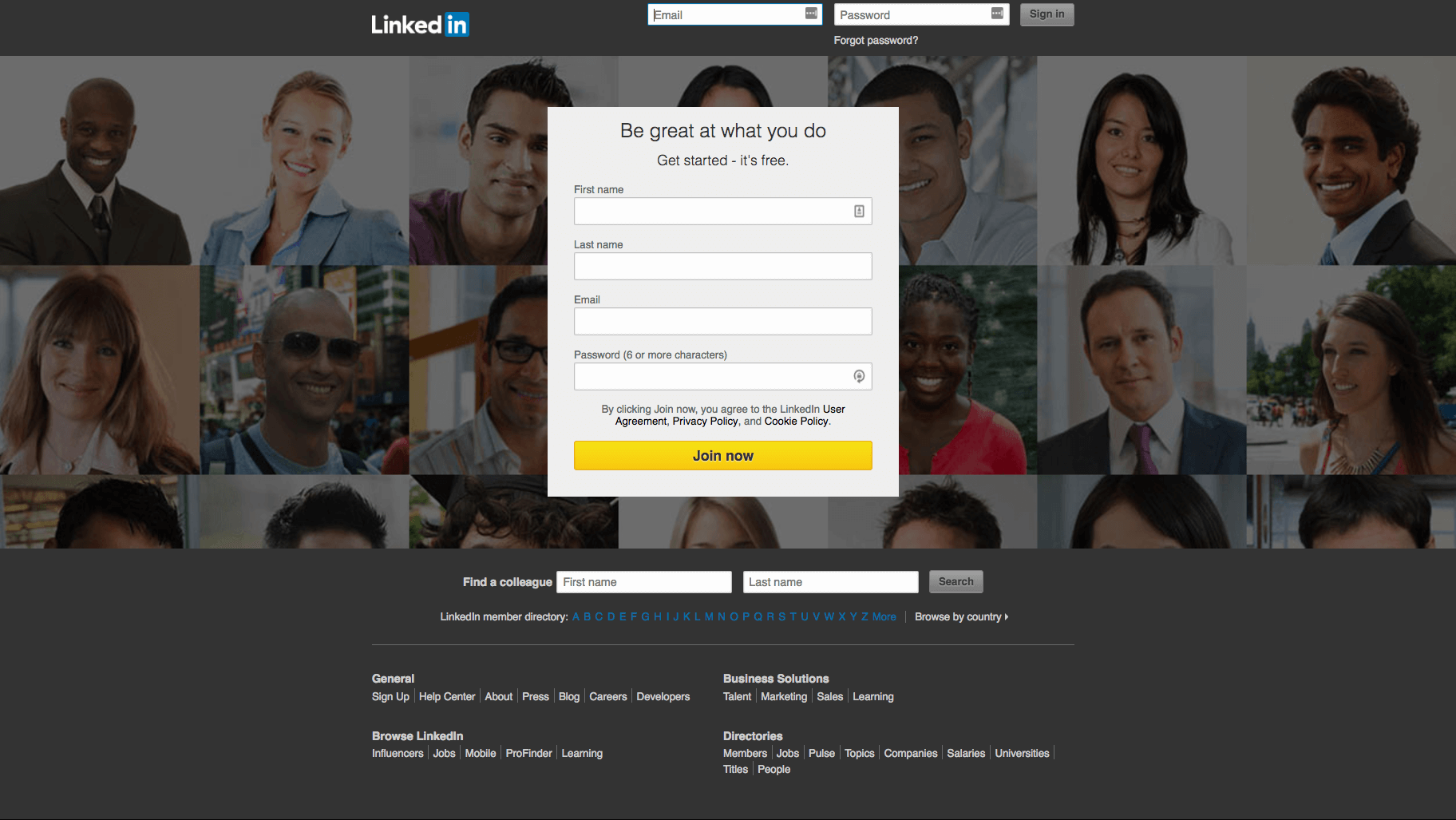 2. Create a LinkedIn company page
You're ready to create your company page on LinkedIn. Click the "Work" drop-down menu on the top right of your page, next to your avatar. The drop down will include an option: "+Create company page." Click this to start. You will need to select a unique URL for your company page and a company description (250 – 2000 characters including spaces.)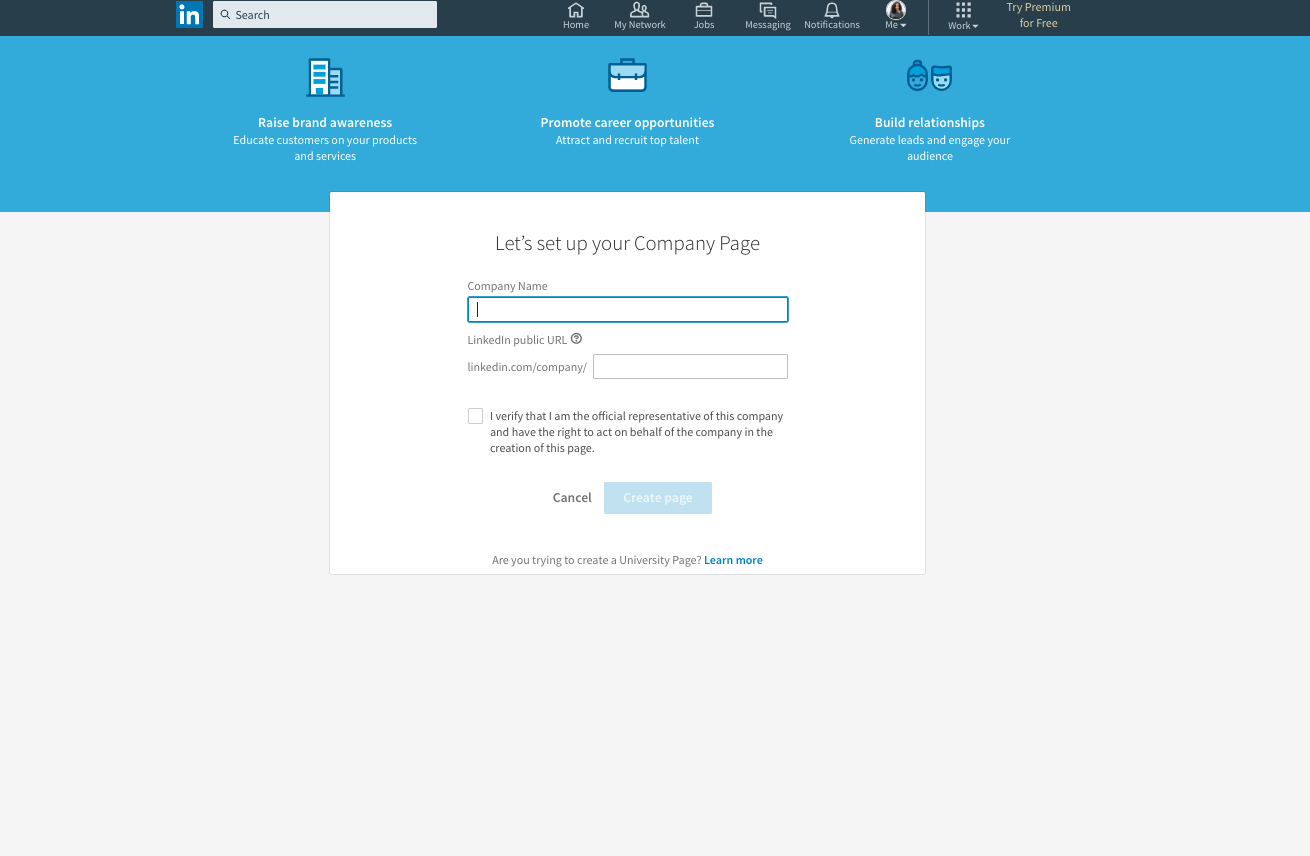 Think of your company page as a virtual storefront for prospective candidates (and customers). This will be where your job postings live – and where candidates will form their first impressions of your company. So sell your story. Describe your products, mission and values, along with anything that distinguishes you from other employers (like perks and benefits.) Avoid using jargon – you will attract more qualified candidates without it.
Once you're done with this step, you're ready to start the LinkedIn job posting process.
3. Click on the 'Jobs' icon
Click the jobs icon (which looks like a briefcase) at the top of your homepage, and then click 'Post a job' on the right.

You will be redirected to another page to re-enter your LinkedIn account information through the LinkedIn Recruiter login page. Enter your LinkedIn account information.

Then you will be prompted to enter your job listing's company, job title and location. LinkedIn will tell you how many of its members (potential passive candidates) have the same job title you're recruiting for. In this example, 730,014 LinkedIn members have the job title "Editor."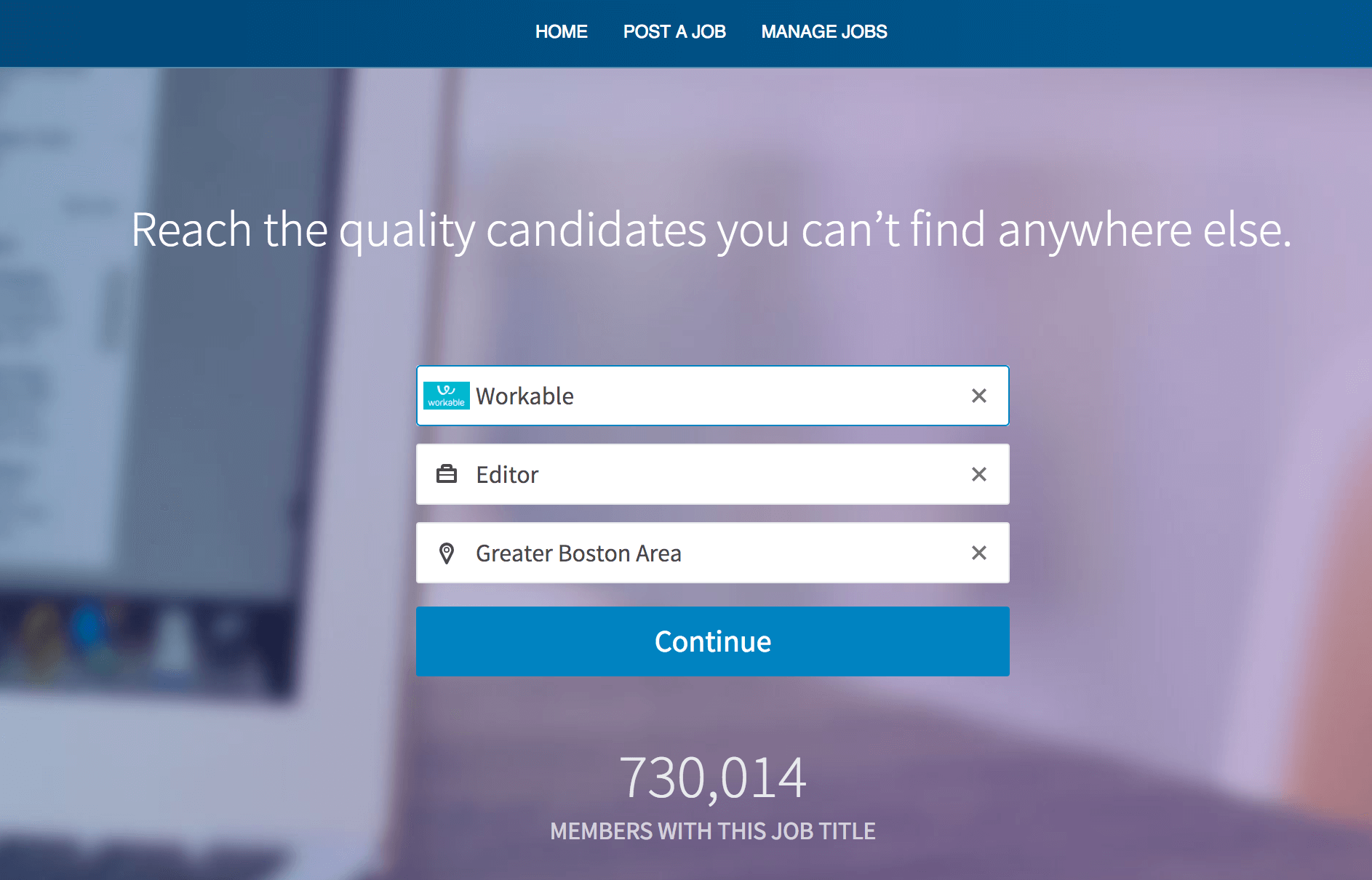 4. Describe your job
Enter job details
LinkedIn will prompt you to write a job description. It will also populate your company description from your company page.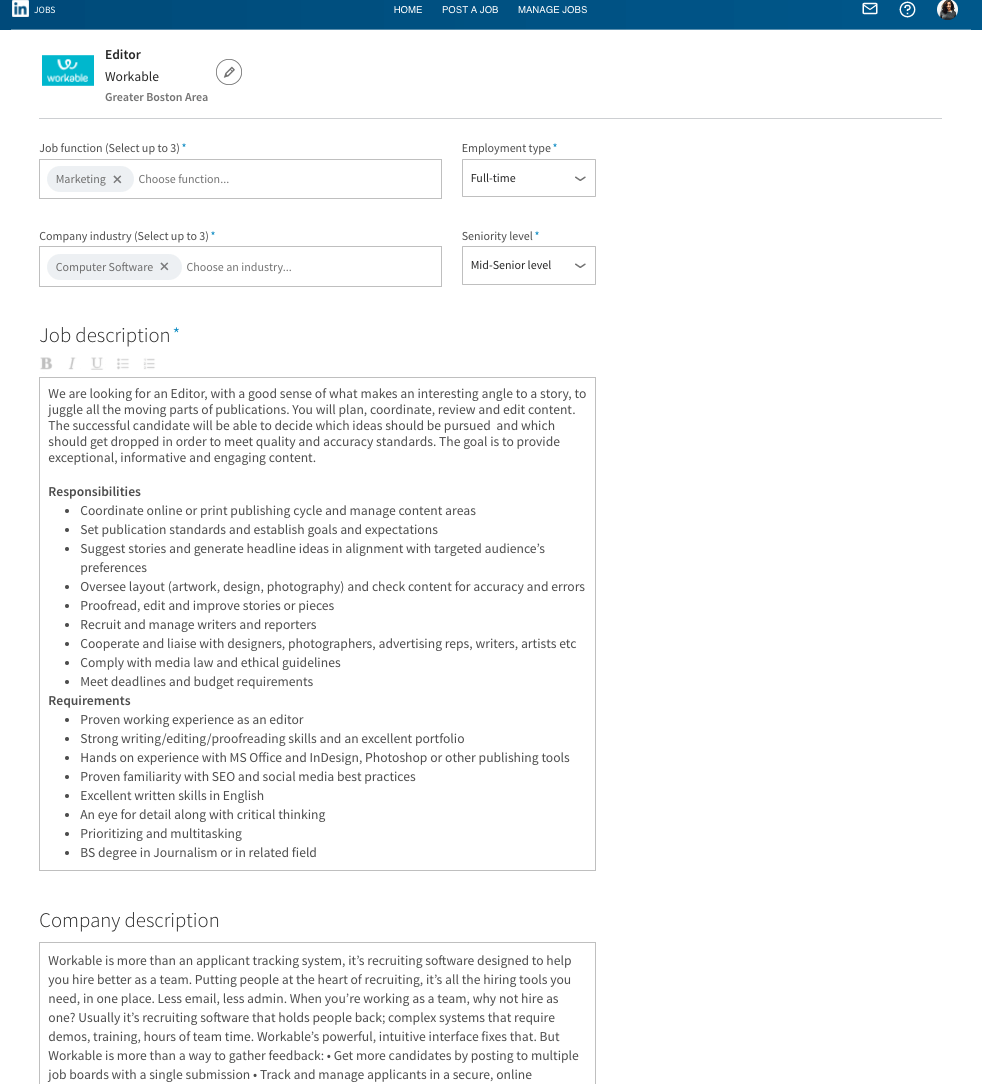 Select skills you need
LinkedIn will populate skills from the job description you have entered. You will also be asked to select the required skills for your role. Entering a relevant list of skills gets your job in front of the right candidates for the position. LinkedIn recommends entering at least 10 skills to help attract a targeted group of candidates.

Choose how you want candidates to apply
LinkedIn gives you two options: let candidates apply with their LinkedIn profiles and get notified by email when they do, or direct them to an external site to apply.
You can also use an Applicant Tracking System to gather your applications from LinkedIn and other job boards all in one place.
5. Set your budget
LinkedIn uses a pay-per-click model for job ads. This means that you will be charged based on how many applicants click on your listing.

LinkedIn recommends how much your daily budget should be. This is an estimate. Actual costs could fluctuate.
6. Proceed to checkout
You're ready to check out your job. Enter your payment information. Note: with LinkedIn's pay-per-click model, you will be billed every month, but you can close your job whenever your want.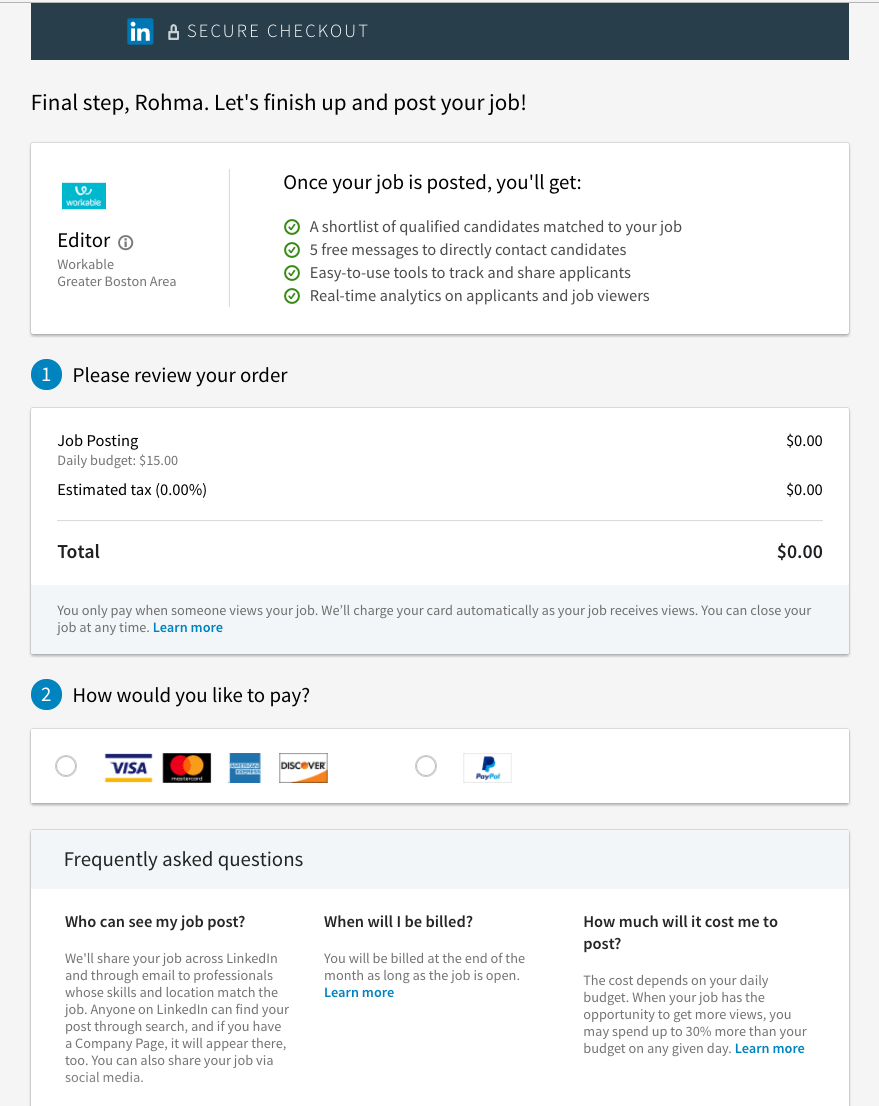 Here are some actions to take after you post a paid job on LinkedIn:
How to share a job on LinkedIn
Here are some ways to share your jobs on the platform to maximize visibility:
Use your company page to post jobs
This works well if your LinkedIn company page has a dedicated following of people who could be potential candidates. Post an update to your page, with a link to your job. Anytime you post a new update on your page, it will appear in the newsfeeds of the people who have liked your company page. Candidates can like, respond to or refer people they know to your job posting – further increasing its reach.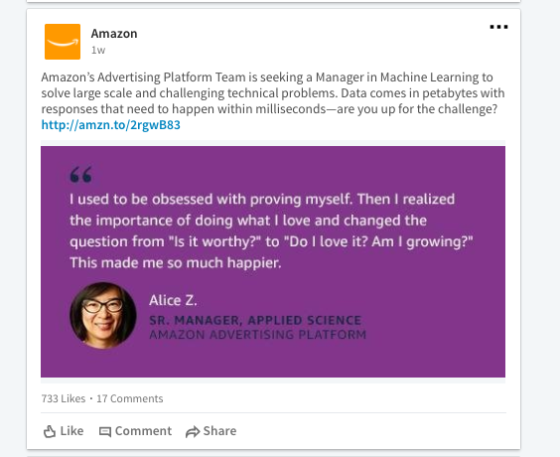 Post jobs in LinkedIn groups
LinkedIn groups are places where professionals within the same industry gather to share content, develop business contacts and post and view targeted jobs. Many groups have specific 'Jobs' sections, where you can advertise your jobs. For example, here's a job listing within the Big Data & Analytics group: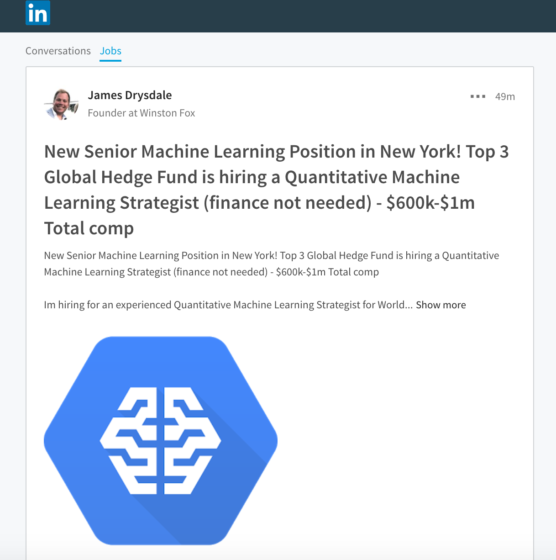 Note: Group administrators may review your request to join a group or ask you for more information before granting you access.
Share a job on your LinkedIn profile
Share a listing on your own profile by simply posting an update with news about the job ad. Your professional connections will be able to see and share your update. Here's an example: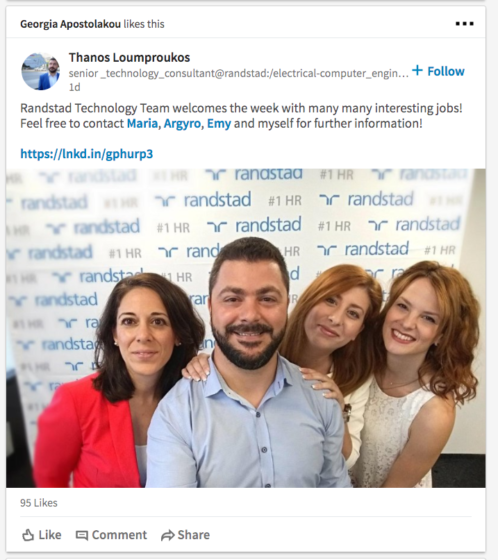 Post jobs to LinkedIn and other premium job boards seamlessly with a free trial to Workable, an all-in-one recruiting software.
How to recruit passive candidates on LinkedIn
Build your employer brand on the platform
Good recruiting isn't just about posting jobs. It's also important to build your brand to connect with passive candidates. Building a strong company brand opens the door to better hires, shorter time to fills and better retention rates.
Here's how to use LinkedIn to build your brand:
Write compelling company and job descriptions on your company page
Know your audience. Keep your job descriptions clear, don't ask for too much and sell your job and company. Make sure your descriptions address what LinkedIn identifies as the top three things candidates want to know about your company: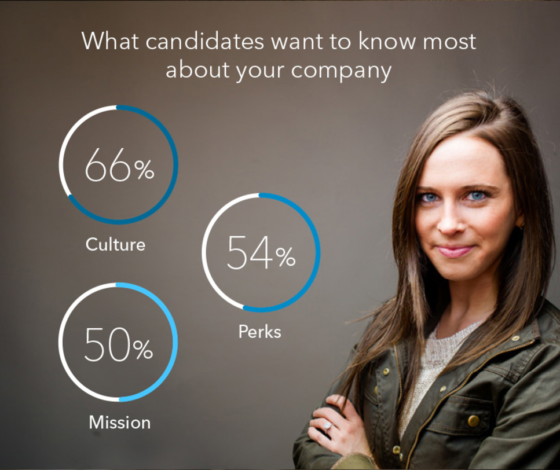 Spotlight employees in status updates
Highlighting new hires and employees on your company page humanizes your company. It will also show some of the best potential candidates that you care about how you treat your employees, and that you're proud of their accomplishments.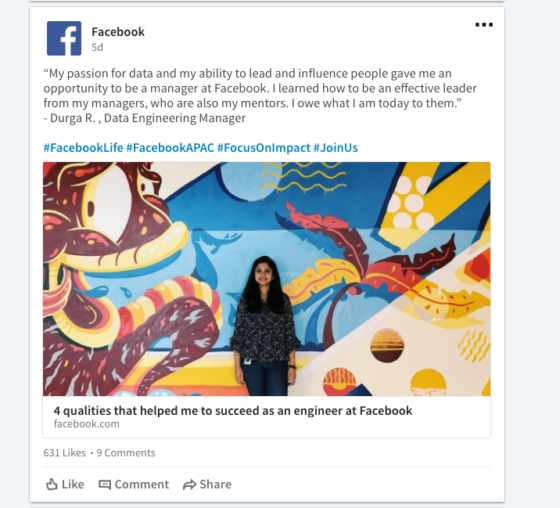 Personalize your InMails
The way you write InMails says a lot about your company. Be courteous, spell your recipients' names correctly and personalize your messages. Template emails can save time, but it's best to personalize your messages to speak directly to the passive candidate you're attempting to recruit. Read up on their work, mention one of their accomplishment – double check their name – and keep your message brief – no more than 100 words.
Share content relevant to you
Product updates, accomplishments, business news, events – if you have written about them on your website, promote them on your LinkedIn company page or your own profile. Your followers will appreciate these updates. Also, consider publishing your own articles on LinkedIn with LinkedIn's publishing platform. The benefit of publishing on LinkedIn is threefold: You will share your knowledge and expertise, cultivate a following and develop and strengthen your own professional identity.
Related: Innovative recruiting tools and techniques for modern HR teams
Consider a LinkedIn Recruiter subscription
LinkedIn Recruiter and LinkedIn Recruiter Lite are subscription services that offer more InMails, and greater access to candidates – beyond what you get from posting paid jobs.
Here's a brief overview of the differences between the two:
LinkedIn Recruiter Lite gives you greater visibility and access to candidates beyond the profiles and InMails you receive with a paid job post. LinkedIn Recruiter Lite lets you:
View profiles in your extended network (up to 3rd degree connections.)
Contact members with 30 InMail messages per month
Place candidates into 'Projects,' and set reminders to follow up with them
View a full list of everyone who has viewed your profile in the last 90 days
LinkedIn Recruiter is more robust that Recruiter Lite. LinkedIn Recruiter lets you:
View anyone on LinkedIn regardless of their degree of connection to you
Collaborate with multiple users within the same account
Send 150 InMails for each seat on the account and send mass InMails (up to 25) at once
Save more searches and search for more specific details (e.g. candidate's field of study, years at current company and years in their current position)
Find and qualify candidates anywhere online, and reach out with a truly personalized email with People Search. People Search is available as a Chrome extension. Try it free.
Frequently asked questions
Is LinkedIn good for hiring?

LinkedIn is an excellent platform for recruiting as it allows you to post jobs, build your company brand, and connect with both active and passive candidates. It has over half a billion members, providing a vast pool of potential hires.
How can I post jobs on LinkedIn?

You can post jobs on LinkedIn either through paid job postings or for free through your company page, personal profile, or LinkedIn groups. Paid job postings reach LinkedIn members who possess the skills your job requires, while free postings can be shared with your followers or within relevant groups.
How can I recruit passive candidates on LinkedIn?

Building your employer brand on LinkedIn can help attract passive candidates. This involves writing compelling company and job descriptions, spotlighting employees in status updates, personalizing your InMails, and sharing relevant content. A LinkedIn Recruiter subscription can also provide greater access to candidates.
What is LinkedIn Recruiter and LinkedIn Recruiter Lite?

These are subscription services that offer more InMails and greater access to candidates. LinkedIn Recruiter Lite allows you to view profiles in your extended network and contact members with 30 InMail messages per month. LinkedIn Recruiter offers more robust features, including viewing any LinkedIn profile and sending up to 150 InMails per seat on the account.
How should I approach a candidate on LinkedIn?

When reaching out to a candidate on LinkedIn, it's important to personalize your message. Include the recipient's name, state your company and the role available, show interest in something the recipient has done or achieved, and include a question or call-to-action to encourage a response.