How to create an engaging LinkedIn company page
LinkedIn company page best practices, including tips and examples showing how to make a powerful careers page and tool for sales, branding and recruitment.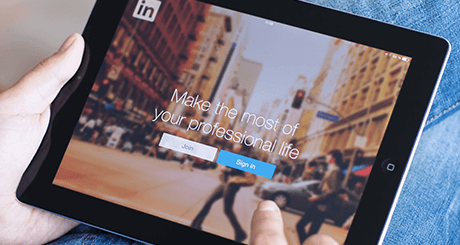 Even if you're not on any other social networks, LinkedIn is a must for ambitious companies. There are three compelling reasons to set up your LinkedIn Company Page. Firstly, your competitors are already using it to build their brand, drive sales, and attract candidates. Secondly, it makes your business findable to the people using the world's largest online professional network. Thirdly, it doesn't cost you anything. Unless you're using LinkedIn's paid features, having a company page is free for all users.
You're just a few steps away from having a LinkedIn page that delivers results. Read on for LinkedIn company page best practices, including how to personalize your company page, how to promote specific products and services, and prime your page for lots of content sharing and commenting.
Personalizing Your LinkedIn Company Page
Your Company Page is the LinkedIn version of your website's homepage. Remember that the audience that visits this page is quite broad and arrives on it for different reasons: to learn about jobs, to research products, or to network with your team members. Set it up so that people can find you and so that you have something interesting for waiting for them when they do.
Custom URL: When you set up your new Company Page, you'll notice that you've been assigned a default URL ending in a string of numbers. As soon as possible, change that link to your company name or something as close as possible to it. This makes it easier for people to find your company and more memorable for you and your page visitors.
Related: Everything HR managers and recruiters need to know to build an effective careers page
Banner image: So, what is it that you actually do? Use a striking banner image (dimensions 646 x 220 pixels) to answer that question and reinforce your identity as a company. Below, the eyeglasses retailer Warby Parker has opted for a glamor shot of one of their frames. charity:water, a nonprofit organization, uses an image that's consistent with their mission.

Company Description: What do you want this section to accomplish? Younger companies may want to keep an educational description of their product or service on this page. More established businesses with aggressive hiring goals may want to focus on things like the company's vision and culture. The LinkedIn company page example from Etsy below acknowledges everyone who contributes to the company's success: artisans, shoppers, manufacturers, and employees. Don't forget that page visitors may be reading this on their mobile device. Keep it short and write text that's easy to skim read.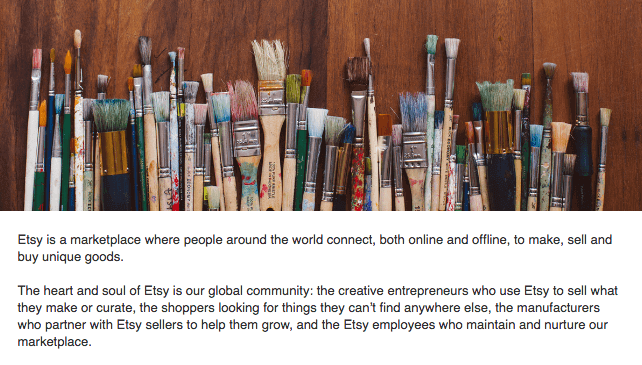 Company Specialties: Keywords are your friend. Adding "company specialties" enables people to find you when they search for terms that are relevant to your company. Consider this the LinkedIn version of SEO. MullenLowe, a creative agency with digital marketing expertise, would know. Here's what they have on their page.
Setting up Showcase Pages
LinkedIn created Showcase Pages to enable companies to share more personalized content with target audiences. This is how Facebook uses Showcase Pages to segment their followers: 1) Facebook for Business, 2) Facebook for Developers, 3) Facebook for Publishers. Adobe has a similar strategy. Here's the Showcase Page for Adobe Creative Cloud. Do you use personas in marketing? Think of each page as a way to engage each buyer or audience persona. Or, a way to promote specific products and services.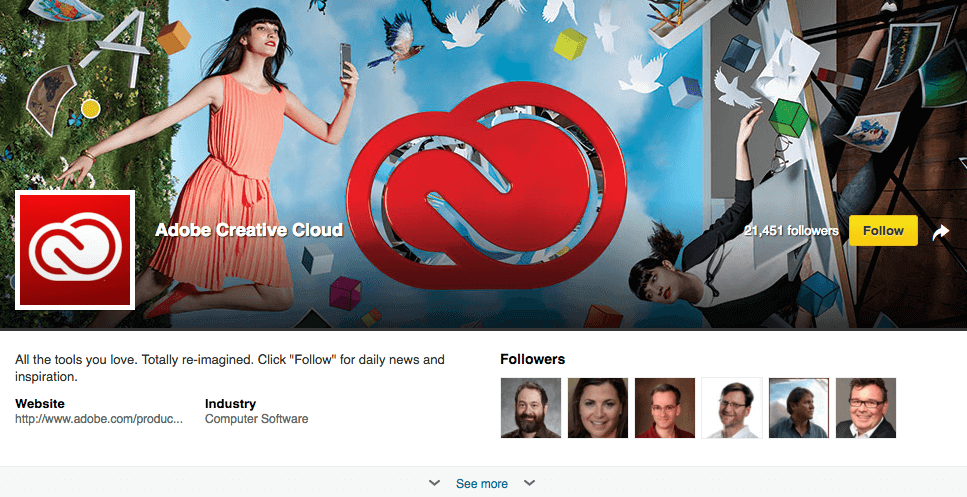 Visitors can navigate to your showcase pages from your company page. When you click on the icon to land on these pages, you'll see that each page has its own group of followers and a distinct URL (which you create, similar to your company page). To create a showcase page, click edit on the drop-down menu and select "Create a Showcase Page." The rest of the process is similar to setting up your company page.

How to create a careers page on LinkedIn
If you're always hiring and need a more human, more personalized way to promote your jobs and career-related content, consider setting up a LinkedIn Careers Page. Use your LinkedIn Careers Page to paint a vivid picture of what it's like to work with you through your company vision and mission, job ads, employee spotlights, employee reviews, and rich media such as videos and slideshows.This small business product is a powerful paid option for teams who want to maximize a lean recruitment budget. Through LinkedIn Careers Pages you can deliver content to target audiences based on location, job title, industry, and more. Note that LinkedIn offers lots of job posting options besides Careers Page. We've written a quick guide to help you select which job posting option is best for you.
Jumpstarting engagement
Your LinkedIn page will give you the most value if it's actively maintained. Here's a few tips for getting people to engage early and often with your content.
Your administrator: Candidates these days are more attracted to companies with a well-maintained employer brand. Find someone to be your regular LinkedIn company page administrator and have a regular posting schedule.
Your content and posting schedule: Twice a day may sound intimidating, but it's doable even without a big content team. If you're not blogging, product updates, team outings, press coverage and any awards or honors are all great content. Pair these with an image or a question for even more engagement. For both company pages and showcase pages, you have the option of buying sponsored updates to boost engagement.
Your team: If they haven't done so already (early-stage startups, we see you), ask your team to list your company as their employer on LinkedIn. That way, they can easily share jobs, blog posts, news, and more to their own networks. Any engagement with your page, such as "likes" and comments, will also appear on their contacts feeds.
Happy sharing.
By the way, if you're looking for a more detailed primer on what's happening in social recruitment—without the hype—check out our 2016 forecast.