New employee announcement email
This is a new employee announcement email template you can use to inform your employees about a new hire. A member of the HR team or the hiring manager can send this email to introduce the newest member to all current employees.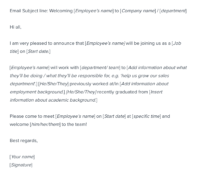 The new employee announcement email is part of the onboarding process. Your new employee will probably feel less anxious on their first day if their new co-workers anticipate their arrival and give them a warm welcome. It's important that all employees, not only their team, learn a few things about their new co-worker.
Keep this email short, providing introductory information: introduce your new employee, mention their job title, when they start, what they'll be doing (e.g. a specific project) and what their background is. This kind of information will serve as a good icebreaker to spark conversations when your new employee arrives. If there's a specific time when you all meet in the office (e.g. at lunchtime or a weekly happy hour), you can ask your employees to introduce themselves and welcome their new colleague.
Email Subject line: Welcoming [Employee's name] to [Company name] / [department]
Hi all,
I am very pleased to announce that [Employee's name] will be joining us as a [Job title] on [Start date.]
[Employee's name] will work with [department/ team] to [Add information about what they'll be doing / what they'll be responsible for, e.g. 'help us grow our sales department'.] [He/She/They] previously worked at/in [Add information about employment background.] [He/She/They] recently graduated from [Insert information about academic background.]
Please come to meet [Employee's name] on [Start date] at [specific time] and welcome [him/her/them] to the team!
Best regards,
[Your name]
[Signature]
More onboarding resources: