New employee introduction email to clients
Use this new employee introduction email template to announce your latest hire to clients.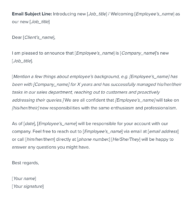 When you hire a new team member who interacts with clients (e.g. a salesperson or account manager), plan to introduce your new employee. Your CEO or Head of Sales could send an email to announce new employees to clients.
Send a new employee introduction email to clients to:
Avoid miscommunication. Clients who are not aware they have a new account manager might end up emailing back-and-forth until they find who their new contact will be.
Share new employee's contact details. Proactively let clients know how to reach your new employee, via email and phone, so that they don't contact a person who's no longer in the role (e.g. a former employee.)
Describe your new employee's skills. Clients might wonder why you assigned a new employee to their account. Share key skills and professional achievements of your new hire to reassure clients that their new account manager is fully prepared for their tasks.
Help a new hire transition smoothly. Self-introduction doesn't come naturally to everyone, so help break the ice by introducing your new team member to clients prior their first contact.
Customize this email template to your company's culture (e.g. adopting a more casual or professional tone) and add more information about your employee's background if relevant. Make sure you include new employee's:
Name
Contact details (email and phone number)
Duties
Starting date
If applicable, explain why a new employee will be working with your client (e.g. their previous account manager was promoted to another position) Make sure your email strikes a positive tone.
Email Subject Line: Introducing new [Job_title] / Welcoming [Employee's_name] as our new [Job_title]
Dear [Client's_name],
I am pleased to announce that [Employee's_name] is [Company_name]'s new [Job_title].
[Mention a few things about employee's background, e.g. [Employee's_name] has been with [Company_name] for X years and has successfully managed his/her/their tasks in our sales department, reaching out to customers and proactively addressing their queries.] We are all confident that [Employee's_name] will take on [his/her/their] new responsibilities with the same enthusiasm and professionalism.
As of [date], [Employee's_name] will be responsible for your account with our company. Feel free to reach out to [Employee's_name] via email at [email address] or call [him/her/them] directly at [phone number.] [He/She/They] will be happy to answer any questions you might have.
Best regards,
[Your name]
[Your signature]