Welcome to the team email
Are you wondering how to welcome a new employee to the team? An announcement email will go a long way. Use this welcome to the team email template to introduce one or more new hires to your current staff.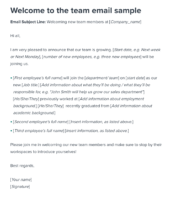 As part of your onboarding process, make sure all new employees get a warm welcome on their first day at work. If there are multiple new hires starting in the same period (e.g. in the same day or week), consider sending one email to introduce them all.
Keep your welcome aboard email short and include the following key information about each new hire:
Their name
Their role and team/department
Their starting date
You could also mention a few things about their background or personal interests/hobbies; anything that's unique or interesting about the new hires could be an icebreaker and a good talking point as they start meeting their new colleagues.
A welcome email to new employee from manager or HR should prompt current employees to stop by new hires' offices or desks and introduce themselves. If you're hiring remote employees, though, make sure to share their contact details (e.g. email, phone number, Slack name) so that their new colleagues can reach out and welcome them to the team.
Sending an email and welcoming your new hires is an integral part of the hiring process. Signup for free to Workable's all-in-one recruiting software for better candidate experience.
Here's a sample of a welcome to the team letter that you can customize and use to introduce your new hires:
Welcome to the team email sample
Email Subject Line: Welcoming new team members at [Company_name]
Hi all,
I am very pleased to announce that our team is growing. [Start date, e.g. Next week or Next Monday], [number of new employees, e.g. three new employees] will be joining us.
[First employee's full name] will join the [department/ team] on [start date] as our new [Job title.] [Add information about what they'll be doing / what they'll be responsible for, e.g. "John Smith will help us grow our sales department"] [He/She/They] previously worked at [Add information about employment background.] [He/She/They] recently graduated from [Add information about academic background.]
[Second employee's full name] [Insert information, as listed above.]
[Third employee's full name] [Insert information, as listed above.]
Please join me in welcoming our new team members and make sure to stop by their workspaces to introduce yourselves!
Best regards,
[Your name]
[Signature]
More onboarding resources: