New employee welcome email
This new hire employee email template is designed to help you welcome a new hire to your team. A member of the HR team or the hiring manager can send this onboarding email to a new employee prior to their arrival to prepare them for the first few days of their new job.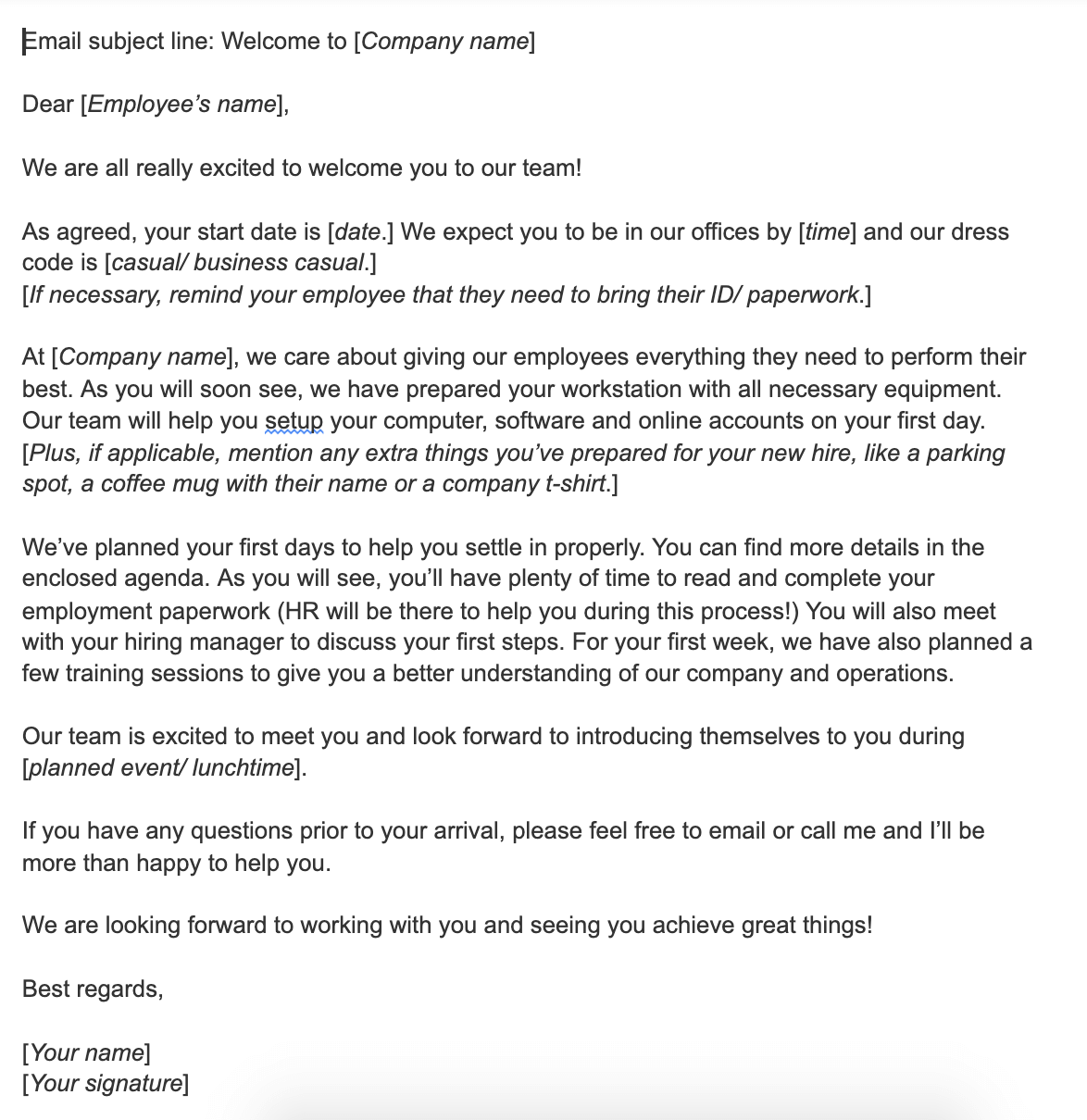 You could send this email to your new hire after they've accepted your job offer. Your goal is to make your new employee feel at ease and come prepared on their first day.
Make sure you include practical details, like start date and time of arrival. You can attach employment paperwork, benefits plan and/or company policies to give them a heads-up. You should also ask them to send over (or bring with them) anything you need to complete their hiring process (e.g. their bank account details, passport or other official paperwork.)
This new hire welcome email sends the message that you're organized and interested in making your new employee feel welcome.
Is your company growing? Workable is the leading ATS for ambitious companies. Sign up for our 15-day free trial and start hiring better people, faster.
New employee email template
Email subject line
Welcome to [Company name]
Email body
Dear [Employee's name],
We are all really excited to welcome you to our team! As agreed, your start date is [date.] We expect you to be in our offices by [time] and our dress code is [casual/ business casual.]
[If necessary, remind your employee that they need to bring their ID/ paperwork.]
At [Company name], we care about giving our employees everything they need to perform their best. As you will soon see, we have prepared your workstation with all necessary equipment. Our team will help you setup your computer, software and online accounts on your first day. [Plus, if applicable, mention any extra things you've prepared for your new hire, like a parking spot, a coffee mug with their name or a company t-shirt.]
We've planned your first days to help you settle in properly. You can find more details in the enclosed agenda. As you will see, you'll have plenty of time to read and complete your employment paperwork (HR will be there to help you during this process!) You will also meet with your hiring manager to discuss your first steps. For your first week, we have also planned a few training sessions to give you a better understanding of our company and operations.
Our team is excited to meet you and look forward to introducing themselves to you during [planned event/ lunchtime].
If you have any questions prior to your arrival, please feel free to email or call me and I'll be more than happy to help you.
Email sign off
We are looking forward to working with you and seeing you achieve great things!
Best regards,
[Your name]
[Your signature]
What should be included in a new employee email?
A new employee email is a crucial communication tool that introduces a new hire to the existing team and sets the tone for their integration into the company culture.
The email should begin with a warm introduction of the new employee. This introduction should highlight the employee's name, their role or job title, and a brief summary of their professional background. Sharing a bit about their past experiences, achievements, or notable projects can give the team a glimpse into the new member's expertise and capabilities.
Following the professional introduction, it's a good idea to include some personal tidbits about the new hire. This could encompass hobbies, interests, or fun facts. This personal touch helps humanize the new employee, making it easier for existing team members to find common ground or conversation starters, fostering early rapport-building.
Additionally, it's beneficial to mention the new employee's start date and any initial projects or teams they'll be working with. This gives the existing team a heads-up on when they might start interacting with the new member and in what capacity.
To ensure a warm welcome, the email can conclude by encouraging current employees to reach out, introduce themselves, or offer assistance as the new hire gets acclimated. This gesture promotes a culture of camaraderie and support.
Lastly, attaching a photo of the new employee can be a thoughtful addition, allowing team members to recognize and greet them in person, further facilitating a smooth and friendly integration into the company.
More onboarding resources: