Employee referral program sample email
You can use this employee referral program sample email to inform your employees about an open position and ask them to refer a qualified candidate. If you're already using Workable, this email could be part of your employee referral program communication. Or, you could also get some ideas for building your first employee referral program.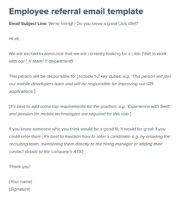 You can customize this email template to include as many job details as you need. It's always a good idea to add a link to the job description, so that employees can easily access more information about the role. You should also clearly state the most important aspects of the position in your email: what the new employee will do (e.g. a specific project), who they'll work with and what the key requirements are. It's important to give specific information about what you're looking for, in order to encourage your employees to refer someone they know. Don't forget to explain your employee referral program policy, process (like what link to use, or who to contact, to refer a candidate) or if there's a referral bonus.
For a sample email specific to external networks, see our employee referrals from external network email template.
Employee referral email template
Email Subject Line: We're hiring! / Do you know a great [Job title]?
Hi all,
We are excited to announce that we are currently looking for a [Job Title] to work with our [ X team/ Y department]!
This person will be responsible for [Include 1-2 key duties, e.g. 'This person will join our mobile developers team and will be responsible for improving our iOS applications.']
[It's best to add some top requirements for the position, e.g. 'Experience with Swift and passion for mobile technologies are required for this role.']
If you know someone who you think would be a good fit, it would be great if you could refer them [It's best to mention how to refer a candidate, e.g. by emailing the recruiting team, mentioning them directly to the hiring manager or adding their contact details to the company's ATS.]
Thank you!
[Your name]
[Signature]
Don't miss our Employee referral 101.