How to post jobs on Prospects.ac.uk: a guide for employers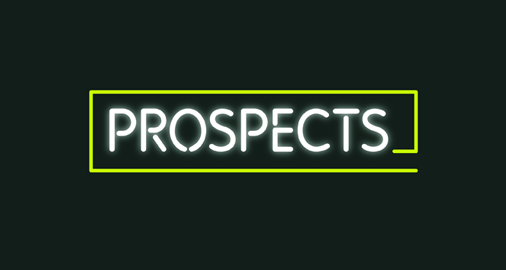 Prospects.ac.uk is a leading job board for students and gradutes looking to take the first steps towards their career. A commercial subsidiary of the Higher Education Careers Service Unit (HECSU), Prospects has over 40 years experience bringing together recruiters and graduates from all fields.
As one of the most widely visited graduate careers services in the UK, Prospects.ac.uk has more than two million combined student/graduate visits every month. They offer local and national advertising via 60+ UK university careers service job boards and their basic advertising package includes an additional promotion via Indeed.
Prospects pride themselves on directing students to the right jobs, starting with a quiz to assess the type of job that would suit them best. They also provide advice on how to excel in all aspects of the hiring process—all of which helps to ensure that the applicants you receive are in the know and ready to make a meaningful impact at your company.
Job advertising plans are available to purchase for 2 or 4 weeks, and you can elect to post your job on the university careers boards alone, or include the Prospects job board in your package. Need something bigger? Prospects.ac.uk can help you devise a tailored recruitment campaign to help you find the right talent fast.
Setting up an account with Prospects
Before you can post jobs on Prospects you'll need to set up an account. This can be done in 3 easy steps:
Scroll to the bottom of the Prospects homepage and select the 'Prices from £300' button.
On the right of the screen that follows, select 'Post a job now'.

In the following screen, enter your email address along with your company name, and a username and password.
You'll get a confirmation email shortly with a link to your account's homepage where you can start posting jobs immediately.
How to post jobs on Prospects.ac.uk
Posting jobs to Prospects is easy:
From your account's homepage, select 'Add a new vacancy' from the bottom of the page.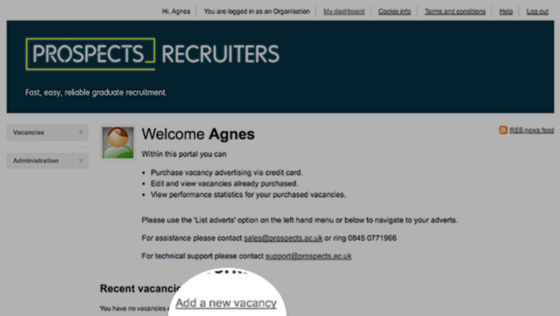 If it's the first job you're posting, you'll be asked to complete your employer registration. Add in your company's details and click 'Next' at the bottom of the page.

The following page contains the bulk of information about your job. Enter the standard details, including job title, application closing dates, salary and benefits, before you move on to the job description and requirements. If you need inspiration for the job description, Workable has a useful job description library, containing a huge range of descriptions ready to copy and paste. Click 'Next' at the bottom of the page when you're done.
In the following page, enter the job start date, and select your Prospects job advertising plan from the list.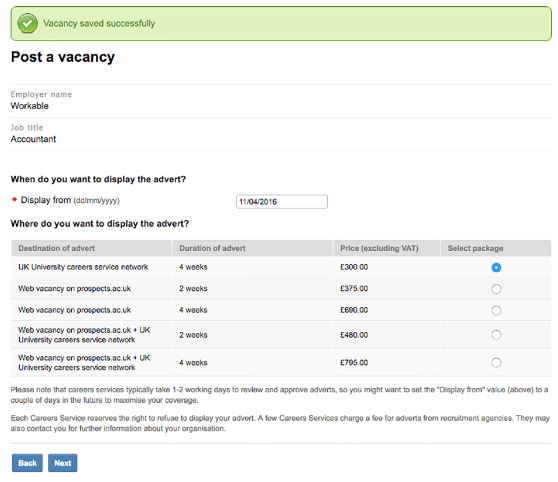 Next, choose the universities you want to advertise to. To advertise to all universities, just click 'select all' at the top of the page.
On the following page you can check the plan you're about to purchase and review Prospect's terms and conditions. Select 'Proceed to purchase' when you're ready.
Enter in your billing information and select 'Purchase advert'. Congratulations! Your job has now been posted to Prospect.
Related: What's the best day to advertise job openings?
Managing applications from Prospects
Prospect provides the option to direct applicants to apply via an external link. Many companies choose to create their own custom application form using recruiting software like Workable. You get the tools to create and customize your own questions, to ensure you only receive candidates who are qualified for the job.
The other benefit of recruiting software, is that once a candidate submits an application, they'll be entered into your searchable candidate database, where each candidate has their own profile. You can share and evaluate the profile together with your hiring team; all feedback will be stored in your online recruiting account. It's a simpler, more effective way to hire, releasing your email inbox from the chaos often caused by a sudden influx of CVs.
Using Workable with Prospects
Collecting applications from Prospects into your Workable account is easy. Once you've used Workable to post the job to your chosen free job sites or bought any additional premium posts, you'll see the job shortlink on the Your Network step: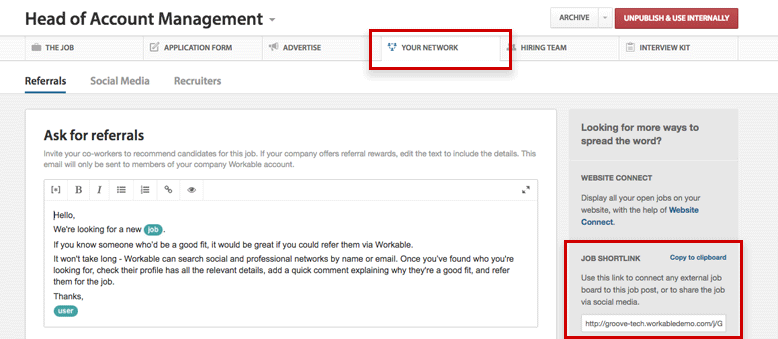 When you're filling out your job details on Prospects, look for 'Method 1: Apply button links directly to advertiser's page', tick 'Apply directly' and paste your job shortlink in the field below.
Now candidates will be directed to your external careers page on Workable. Any applications will appear straight in the applied stage of your Workable pipeline, ready for review with your team.
More resources for posting jobs: