How to advertise jobs on Facebook
Advertising jobs on Facebook involves creating a paid ad that targets and attracts candidates with the unique criteria for your roles. The process includes creating an ad campaign, setting up your ad account, creating an ad set, and designing your ad.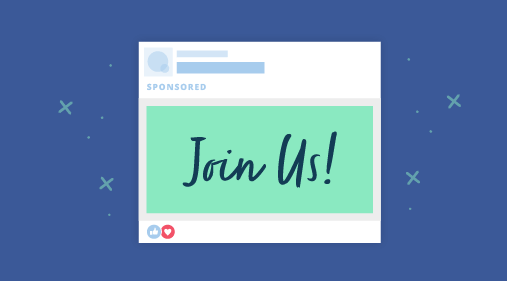 A well-designed Facebook job ad will help you target and attract candidates with the unique criteria for your roles.
Here's a guide on how to use paid advertising to post your jobs on Facebook:
What is a Facebook ad?
Facebook offers paid advertising options that let you select desired audiences and promote your company to people who are likely to be interested in your jobs. (Note that you need to first set up a Facebook page for your company in order to create and manage ads.)
Paid ads on Facebook include the word "Sponsored." Here's what a Facebook paid ad looks like: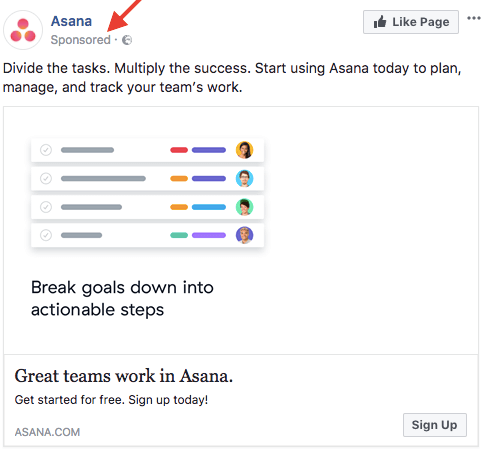 Facebook members can view your paid ads in the right column of their pages on desktop, and in their feed in both desktop and mobile. With Facebook, you can also choose to display your ads:
In Instagram feeds and stories
On website, TV and mobile apps
Paid Facebook ads can have several goals, including building brand awareness, driving traffic to websites and getting people to engage with your product or service. In the next section, we'll walk you through how to set up a job ad on Facebook.
How to create a Facebook ad for your job posts
First, open Ads Manager. You can access Ads Manager through your Facebook company page ("Create Ads" option in the dropdown menu on the top right of the page) or by following the link https://www.facebook.com/ads/manager. You'll notice that you have to complete four steps to create your ad, represented here: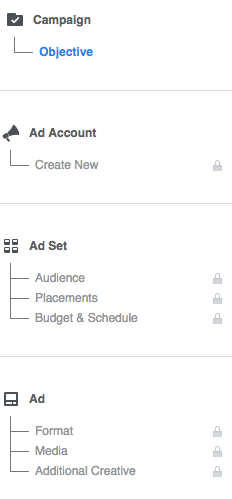 Step 1: Create your ad campaign
This defines your ad's objective. Objectives indicate what you want people to do when they see your ads (e.g. apply for your open positions.) For this example, we've chosen "Reach," which boosts your ad's visibility to the maximum number of people. You could also use "Conversions" to prompt candidates to apply.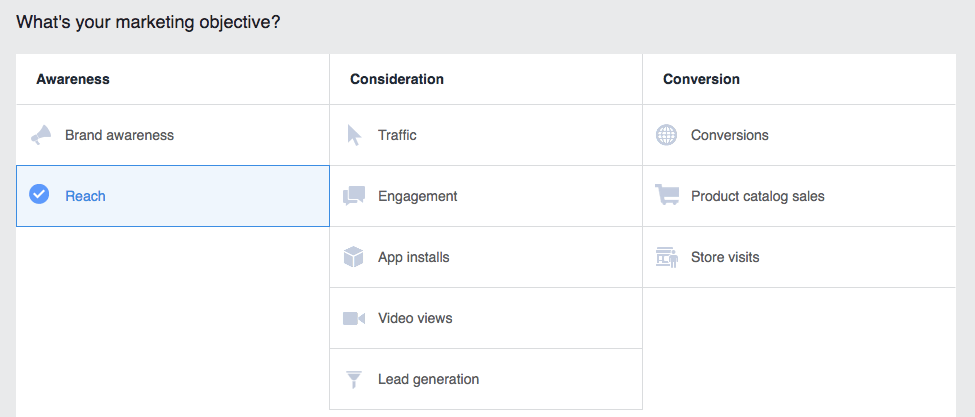 Once you choose your objective, you'll be prompted to select an ad campaign name.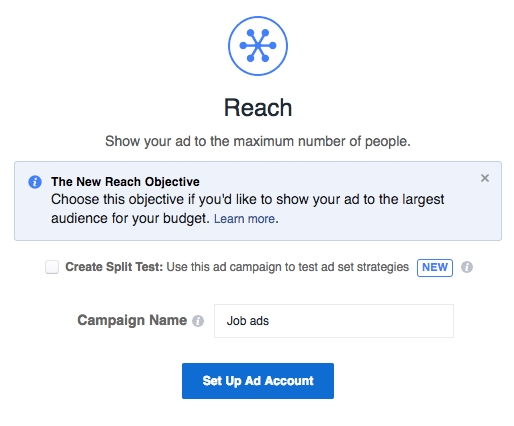 Step 2: Set up your ad account
Enter your account info, including country, currency and time zone. This data will be used for billing and reporting.

Step 3: Create an ad set
An ad set is a group of ads with the same audience, budget, schedule and placement. Set these preferences and then create your ads. Here's more on each ad set field:
Ad set name: Choose a descriptive name that'll help you identify your campaign on reporting and insights pages, where you can measure your ad performance.


Page: Select your company's Facebook page.

Audience: Use the feature to target who will see your ads based on location, age, gender and language. You can further narrow down your audience with detailed targeting or by excluding people with specific demographics, interests and behaviors. For example, here's how you could detail your target audience for an ad to hire a junior marketer for an outdoor clothing company: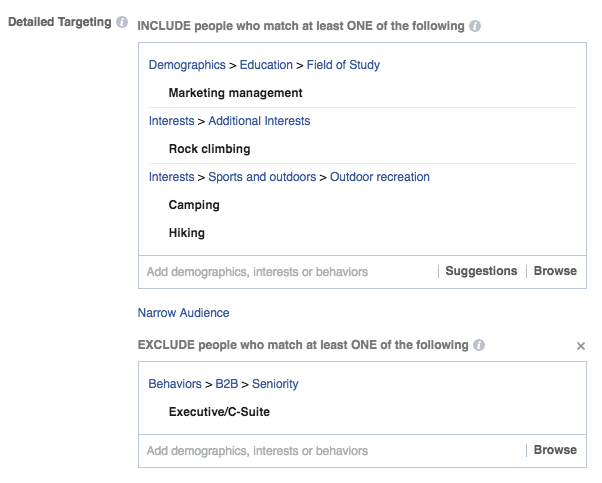 Note: You can save your audience preferences for future ads.
Placements: You can choose to let Facebook decide to display your ads where they are more likely to perform better (based on Facebook analytics) or you can place the ads yourself.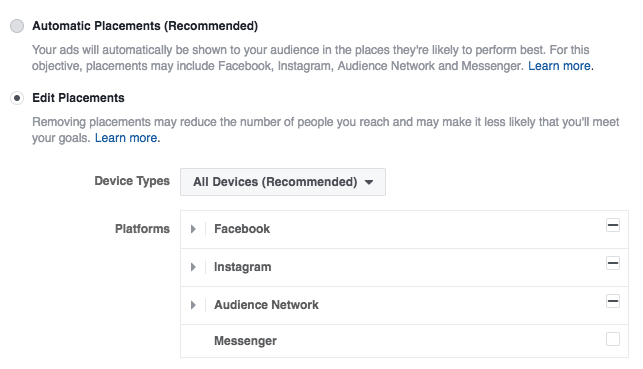 Budget and schedule: Set the average daily amount you want to pay or the maximum total amount you want to spend during the lifetime of your ad set. You can select a date range for your ad or define a starting date and cancel your ad later (e.g. when you receive a certain number of applications.)

Step 4: Create your ad
Create an ad for a specific position or to promote all your current openings. There are four sections within this option that will help you design and customize your ad:
Identity: If you have multiple Facebook pages (e.g. by location) or Instagram accounts, choose the "identity" of your ad by selecting the Facebook page your ad will live on. If you have an Instagram account, connect it to reach a larger audience.

Format: Use this feature to choose your ad's layout. Format options include carousel, single image, single video and slideshow. You could also create a Canvas, a mobile-optimized full-screen format.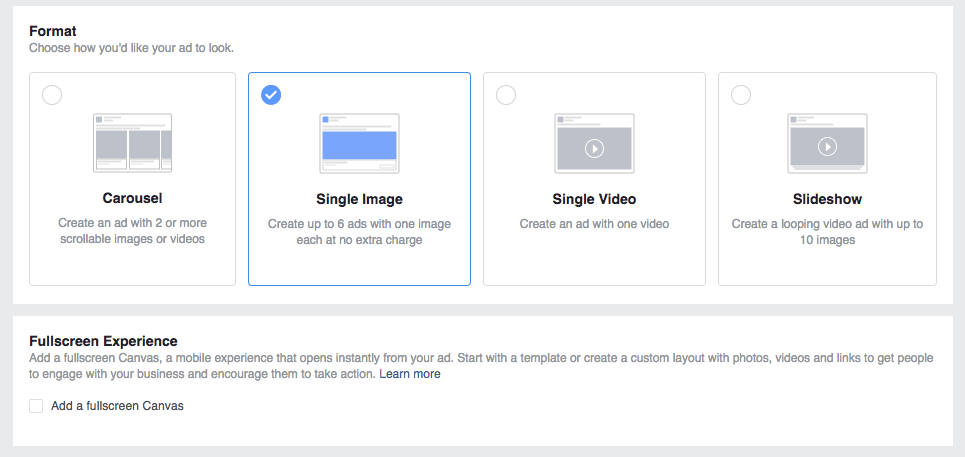 Media: Upload and edit the images and videos you want to display in your ad.
Images. Use pictures from your offices, your company's logo or an image related to the role. Facebook also offers stock images with bold headlines, like "We are hiring" or "Join our team."
Videos. Alternatively, include a video with one of your team members explaining what they enjoy about their job. The video should be genuine and short (no more than three minutes.)
Text: Explain what your ad is about. Here's how to complete each field:
Text field: This is the text displayed above the image or video. Mention the job title or the department you're hiring for to attract people who likely qualify for the role. Keep this brief and clear, so that potential candidates can instantly understand you're sharing a job opening.
Website URL: Add a link to your company's careers page, where candidates can view the full job description and other vacancies and learn more about your company.
Headline: In a max of 40 characters, mention the position you want to fill. Avoid confusing buzzwords and opt for descriptive job titles. For example, use something like "We are hiring: Front-End Developer" or "Seeking a Marketing Manager."
News Feed Link Description: This is additional text where you can elaborate more on the job opening. Mention one or two required skills or grab candidates' attention with benefits you offer.
Note that the ad preview feature lets you make changes to the text and format until you're satisfied with how your ad looks.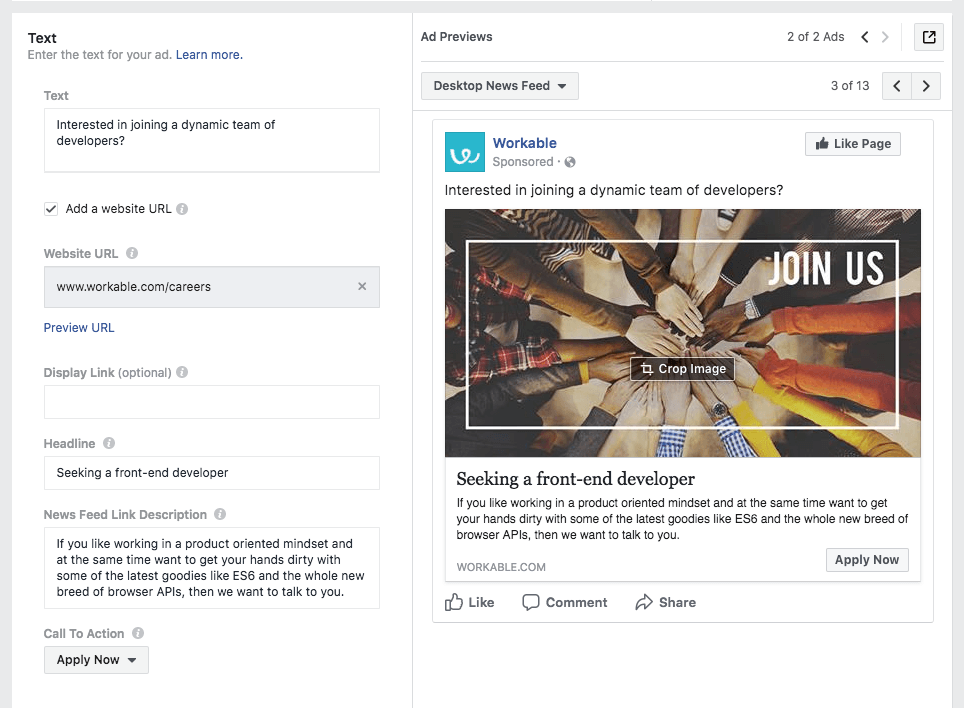 Include a clear call to action in your Facebook job ads. Attach links to your careers pages where people can find out more about your open roles and apply. Or, add an "Apply Now" button at the end of your post to route candidates directly to your application form.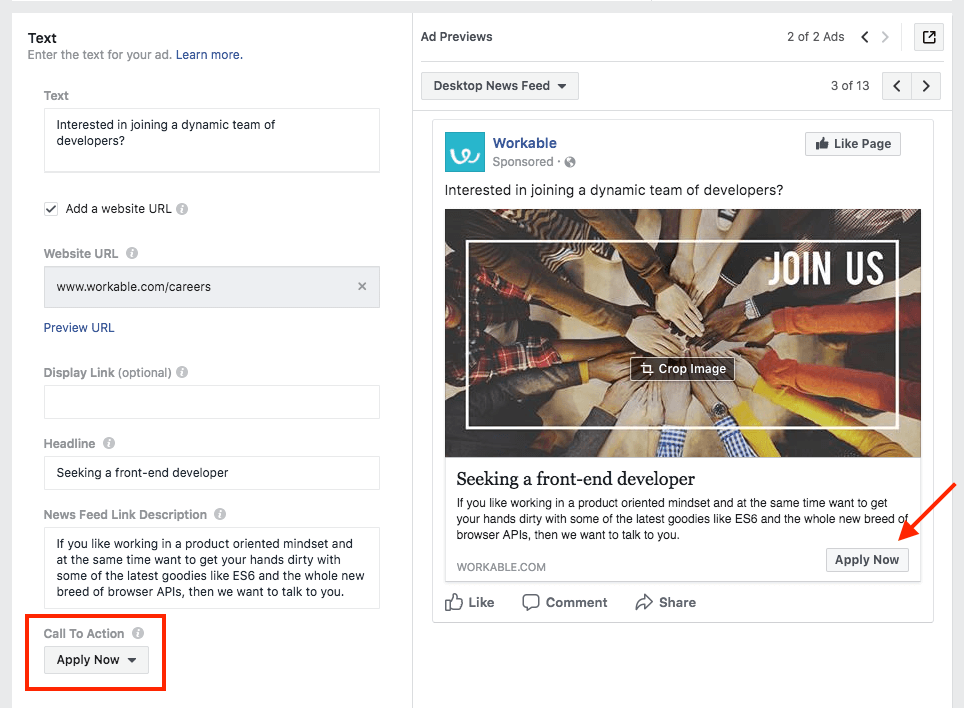 Once you're ready, submit your payment details to complete the process.
Tips to increase your Facebook job ads' effectiveness
Track and measure your results
View how your Facebook ads perform across different ages, genders, locations and placements (e.g. Instagram and mobile apps.) Use these metrics to decide whether to adjust your budget and if you should re-design your ads. You can also track conversion rates (e.g. how many people visit your website after viewing your ad) by adding a pixel.
Create unique ads for different audiences
Optimize your job ads (text, multimedia and targeted audience) based on the people you want to hire.
For example:
If you want to advertise internships, you can use images and quotes from current interns describing their experience.
If you want to increase the number of female applicants for one of your open roles, you could create a Facebook job ad with videos or images showcasing female employees in those positions to reach out to more women.
Design attractive careers pages
People who view your job ad on Facebook and want to learn more about your organization and open roles are likely to visit your company's website and social media pages. Make sure you have attractive careers pages with rich and updated content, so that potential candidates get an idea of what's it like to work with you.
Frequently asked questions
Can you run recruitment ads on Facebook?

Yes, Facebook supports various ad formats, including image and video ads, and provides recruitment marketers with sophisticated targeting options.
What should a recruitment ad include?

A recruitment ad should include a clear understanding of your target audience (candidates), use of keywords in the description and ad for better visibility, a comprehensive company description, and all relevant information that candidates need to know when applying.
Is Facebook a good platform for recruitment?

Yes, Facebook's widespread use provides greater opportunities for recruiters to connect with job seekers, making it a valuable platform for recruitment.
What is the role of audience targeting in Facebook job ads?

Audience targeting allows you to choose who will see your ads based on location, age, gender, and language. You can further narrow down your audience with detailed targeting or by excluding people with specific demographics, interests, and behaviors.
How can you increase the effectiveness of Facebook job ads?

You can increase the effectiveness of your Facebook job ads by tracking and measuring your results, creating unique ads for different audiences, and designing attractive career pages.