Understanding EEO categories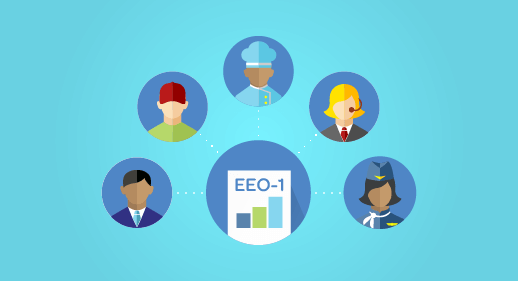 Getting ready to file an EEO-1 report? If you've already collected the necessary data, the hardest part is over. Now, it's time to classify employees in the correct EEO categories.
The EEO-1 report is meant to inform the Equal Employment Opportunity Commission (EEOC) of your employees' race, gender and EEO classifications. This is part of the obligation to take actions in favor of Equal Employment Opportunity (EEO). Read more on our EEO complete guide to learn what other obligations you may have and how you can ensure you treat current and potential employees fairly. EEO job categories might seem complicated at first glance, but a closer look will clear the confusion.
Employers should classify employees according to the content and responsibility of their job. This means that looking at an employee's title isn't always enough to classify them correctly. It's also important that EEO classifications reflect the actual job. For example, if you have a trained nurse working as a medical assistant, you should classify them as a medical assistant.
In general, there are three criteria that employers should consider to decide how to classify employees into the proper EEO categories:
Responsibilities and primary duties
Knowledge and training
Level of skill required
This the breakdown of the EEO job categories:
1. Executive/Senior Level Officials and Managers
These are people who create strategies and plans for the entire organization to follow. They either communicate directly with the board of directors or they're within two reporting levels to the CEO (in larger organizations) and interact with them frequently.
Examples:
2. First/Mid Level Officials and Managers
These managers report to the executive/senior level managers and implement their plans and strategies. They oversee activities and functions at the group, regional or divisional level. This category also includes managers who report directly to middle managers and direct daily operations (e.g. first-line and branch managers).
Examples:
Education administrator
VP of sales (in companies where they're mid-level managers)
You may notice that the more senior roles fall under the first two EEO categories.
3. Professionals
Professional employees usually need bachelor's degrees, certifications and relative experience to do their jobs. Since 2007, EEOC has included employees in financial and business jobs in this category.
Examples:
4. Technicians
These jobs need applied scientific skills that people obtain through a vocational degree or other type of training. Often, these jobs involve technical and manual work.
Examples:
Radio operators
Broadcast technicians
5. Sales Workers
Everyone who's involved in direct sales should be included here. There are people who have sales as only one of their primary functions (e.g. recruitment consultants). To decide whether to include them in this category, think about what percentage of their time they spend selling. If they spend more time selling than performing other duties, then include them in this category.
Examples:
6. Administrative Support Workers
These employees are usually sitting in offices. They are usually responsible for support functions like organizing offices, preparing paperwork and handling records. They might use the phone or a computer.
Examples:
7. Craft Workers
Workers should be included in these EEO job categories if they are 'skilled.' This means they have been specially trained in a particular skill that allows them to do a specific job. Many of these workers are found in construction or natural resource extraction like mining and oil drilling.
Examples:
Mining machine operators
Tailors
8. Operatives
These employees are 'semi-skilled' workers who undergo less complex training than craft workers. They often operate machinery, factory-related equipment or vehicles. This category also includes people with intermediate skills who use equipment to help move people or materials.
Examples:
9. Laborers and Helpers
Laborers and helpers are 'unskilled' workers who follow precise instructions. They usually need little training and perform mostly manual labor.
Examples:
Carpenter helpers
Landscapers
Vehicle cleaners
10. Service Workers
This category includes every worker that offers food, cleaning, personal and protective services. Some might need formal training, while others only relevant experience.
Examples:
Food services:
Cleaning:
Personal:
Protective:
Keep in mind that first-line supervisors aren't included in the first management categories because they most frequently share common duties with their subordinates. For example, first-line landscaping supervisors are included in the category Laborers and Helpers.
As a general example, you can see how to classify a set of sales-related roles:
VP of sales, if they're responsible for creating the sales strategy and report directly to the CEO: (1) Executive/Senior level manager
Sales manager, who oversees sales operations and implements executive/senior manager's strategy: (2) First/Mid level Managers
Sales engineer, who needs high level education in engineering and a technical background: (3) Professional
Sales representative, who seeks out potential customers and aims to close sales: (5) Sales workers
Sales coordinator, who supports the field sales team with schedules and documentation: (6) Administrative support workers
Delivery driver, who brings to customers items they've ordered: (8) Operators
Note that some EEO categories have been omitted. That's fine; not all companies will have employees in every category.
The EEO-1 job classification guide of 2010 provides a list of occupations grouped by each of the ten EEO classifications. This list isn't exhaustive but it can help you further in classifying your employees. You can take a look at the EEOC's instruction booklet for more details on the EEO-1 report.
Frequently asked questions
What is included in EEO?
The U.S. Equal Employment Opportunity Commission (EEOC) is responsible for enforcing federal laws that make it illegal to discriminate against a job applicant or an employee because of the person's race, color, religion, sex (including pregnancy, transgender status, and sexual orientation), national origin, or age.
What are job categories?
A Job Category is a broad-based group of employees with comparable job responsibilities located at comparable levels of responsibility within an organization.
How is the EEO category determined?
In general, there are three criteria that employers should consider when deciding how to classify employees into the proper EEO categories: Responsibilities and primary duties. Knowledge and training. Level of skill required.