How to file an EEO-1 report
Filing an EEO-1 report is a compliance requirement for certain employers in the US to ensure equal opportunity. The report, mandated by the Equal Employment Opportunity Commission (EEOC), includes employment data categorized by ethnicity, race, gender, and job category.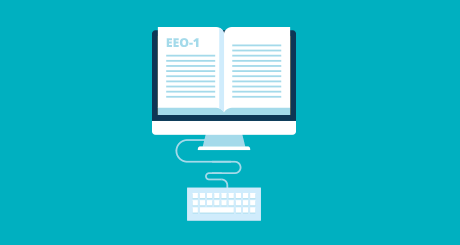 EEO reporting requirements apply to employers that have at least 100 employees and to federal contractors that employ 50 or more workers. Those employers are required to fill out and submit an EEO-1 report to the Equal Employment Opportunity Commission (EEOC) and the U.S., Department of Labor every year. This report includes information about job categories as well as the ethnicity, race and gender of employees and is required to track compliance for employers who fall into the above-mentioned categories.
A growing company is good news but it comes with added responsibility. When your staff grows beyond a certain number of employees, the US government starts to require more information about your company as an equal opportunity employer. One of the new things you have to do is file an EEO-1 report.
So what is the EEO-1 report or employer information report? It is a compliance survey mandated by the Equal Employment Opportunity Commission (EEOC) and it's obligatory for employers who meet certain criteria. EEO-1 reporting is done through the completion of Standard Form 100. To complete this EEO-1 form you store employment data categorized by ethnicity, race, gender and job category.
Complying with EEOC guidelines can be time consuming and EEO mistakes can get you in trouble. It's a headache but it's worth remembering that the EEO-1 report is a means of tracking compliance for any equal opportunity employer.
If you are about to file an EEO-1 report for the first time, use these simple steps to get the job done.
Step 1: Determine whether you need to file an EEO-1 report
All employers with 15 or more employees have to comply with Title VII of the Civil Rights Act of 1964 to be considered an equal opportunity employer and avoid discrimination according to protected characteristics. However, you only have to file an actual EEO-1 report if:
You have 100 or more employees
You have less than 100 employees but you are owned, affiliated with or controlled by a company with more than 100 employees overall
You have 50 or more employees AND you have a federal contract/subcontract worth more than $50,000
You have 50 or more employees AND you act as an issuing and paying agent for US Savings Bonds OR

serve as a depository of government funds
The Standard form 100 can be completed by all types of employers. Keep in mind that if you have 50 or more employees but you are exempt under regulation 41 CFR 60-1.5, you don't have to file an EEO-1 report. You are also excluded if you're located in Puerto Rico, the Virgin Islands or other US Protectorates.
Step 2: Learn the basics of the EEO statement
The annual deadline for submission of an EEO-1 report is September 30. Sometimes an extension may be given officially by the EEOC or you can request a one time 30-day extension.
The EEOC states that online submission of EEO-1 data is preferable in an effort to reduce paperwork (Government paperwork elimination act of 1998). Paper reports will be accepted only upon request and approval. You can check the annual survey mailout memorandum for the website, telephone number or address from which you can get a copy of the prescribed EEO-1 data file.
Employers who operate in one location, as one establishment, are referred to as "single-establishment" employers and are obliged to file a single EEO-1 report.
Employers who operate as more than one establishment are referred to as "multi-establishment" employers. They must file the following reports:
One report for the company's headquarters (Type 3)
One report for each establishment with 50 or more employees (Type 4)
One list of establishments with less than 50 employees including a data grid on their employees by race, gender and job category (Type 6) OR a separate report for each of these establishments (Type 8 as per Type 4)
One consolidated report (Type 2)
Be sure to check the EEOC Factsheet for more detailed information.
The EEOC may occasionally accept proposals from employers for alternative methods of reporting. If you think that this will benefit your company, you should file a written proposal to the EEO-1 Coordinator, EEOC-Survey Division, 1801 L Street, NW, Washington, DC 20507 as stated in official instructions. At any case, make sure you collect all needed information by visiting the EEO-1 survey website.
If you have questions pertaining to a specific situation, you may find help in the FAQ section. A checklist for the whole process can be extremely helpful.
Step 3: Register as a first-time filer
In order to file the report you need a Login ID and password. To receive these, the EEOC requires you to register for a first time submission. Completing this form serves as an application for credentials. It will also help you determine whether you are obliged to register as a first time filer.
Make sure you do this well in advance as it will take you some time to establish a procedure for recording data and completing the standard form 100.
Step 4: Collect the data for your EEO-1 report
Employment data can refer to any pay period from July to September. Generally, self-identification by employees is preferable to ensure the accuracy of data. A procedure to conduct this employee survey, allowing for ample time for everyone to respond, is essential. Make sure you provide self-identification forms to the employees and that they are collected in time. The headquarters or parent company must collect all forms from the establishments. In cases where employees refuse to identify themselves, the employer is allowed to complete the data on their behalf by records or visual observation (in the case of race).
All employees regardless of their status (e.g. part-time vs full-time) must be included in the report. The job classification is as follows:
Executive/Senior Level Officials and Managers
First/Mid Level Officials and Managers
Professionals
Technicians
Sales Workers
Administrative Support Workers
Craft Workers
Operatives
Laborers and Helpers
Service Workers
Make sure that you have a clear understanding of these EEO-1 categories to avoid misclassifying an employee.
For race categories you can consult the appendix of the official EEOC instruction booklet where there are instructions for classifying employees according to race. The categories used are:
Hispanic or Latino
White (Not Hispanic or Latino)
Black or African American (Not Hispanic or Latino)
Native Hawaiian or Other Pacific Islander (Not Hispanic or Latino)
Asian (Not Hispanic or Latino)
American Indian or Alaska Native (Not Hispanic or Latino)
Two or More Races (Not Hispanic or Latino)
Generally, the instruction booklet can help you gain a better understanding of the different EEO-1 reporting requirements.
Note that you need to record employment data only. The EEO-1 report doesn't require you to submit any data regarding candidates from your hiring process. See step 7 if you are wondering about the usefulness of applicant data.
Step 5: Prepare and submit the EEO-1 report
You can find a full sample of the report here. Note that the job and race classifications appear by default in the report. Your preparation must be done according to those guidelines. After you have collected self-identification data by employees, you can begin to list them by establishment, race/ethnicity, gender and job category (every employee should appear only once in the EEO-1 report). Double-check your data. If you are a multi-establishment company, remember that the number of employees in the consolidated report must equal the sum of employees in the Type 3, 4 and 6 or 8 reports.
You can submit your completed report through the EEO-1 Online Filing System or through other methods approved by the EEOC.
The EEOC guidelines make a special mention of the "certify report" button. Do not forget to press it, otherwise your report will not be submitted.
Step 6: Track changes in EEO-1 reporting requirements
Recently, the EEOC proposed changes that expand the EEO-1 categories that employers must report. From 2017, the EEOC may require EEO-1 filers to submit compensation data (W-2 earnings and hours worked) as part of their EEO-1 report. It has also published a proposed form for electronic collection of this data. You can find more information, as well as a comment section that is in effect until April 1, here.
Make sure you keep abreast of the EEOC decisions. Filing an incomplete or inaccurate report may have serious consequences such as fines or the termination of federal contracts for contractors and the banning of future agreements.
Step 7: Expand your data for complete EEO compliance
Overall EEO compliance should not be left to chance. Being compliant as an equal opportunity employer largely depends on the systematic recording and storage of data. Especially if you are a federal contractor, the recording of applicant data is typically part of a mandatory internal audit and reporting system for your affirmative action plan.
For any equal opportunity employer, it can be useful to have a detailed view of the hiring process. For example, if an employer realizes that a recent job opening has attracted only male white candidates under 40 years old, this might mean there is a problem with the content of the job ad. This can mean the employer is unwittingly breaking the law. Analyzing applicant data can help you quickly correct mistakes that could otherwise land you in court. Spreadsheets may serve this purpose. However, if you want to save time and avoid mistakes you can use an Applicant Tracking Systems like Workable, where EEO reporting features are fully integrated and can be easily activated.
Further Reading
Frequently asked questions
What is an EEO report?

An Employment Information Report (EEO–1), also known as a Standard Form 100, is filed annually with the EEO-1 Joint Reporting Committee and provides a demographic breakdown of the employer's workforce by race and gender.
What exactly is EEO-1 reporting, and what is the reporting period?

The EEO-1 Component 1 report is a mandatory annual data collection that requires all private-sector employers with 100 or more employees, and federal contractors with 50 or more employees meeting certain criteria, to submit demographic workforce data, including data by race/ethnicity, sex, and job categories.
What is EEO classification?

Employment Equity Opportunity (EEO) refers to the fair treatment of employees in the workplace and the opportunity to attain a job without being discriminated against based on race, gender, religion, etc.