EEO: Everything you need to know to be an equal opportunity employer
An Equal Opportunity Employer (EEO) promotes fairness and prohibits discrimination in the workplace based on protected characteristics. Compliance with EEOC regulations is crucial for most US companies. Being an EEO employer fosters diversity, bringing unique perspectives and capabilities, enhancing business success.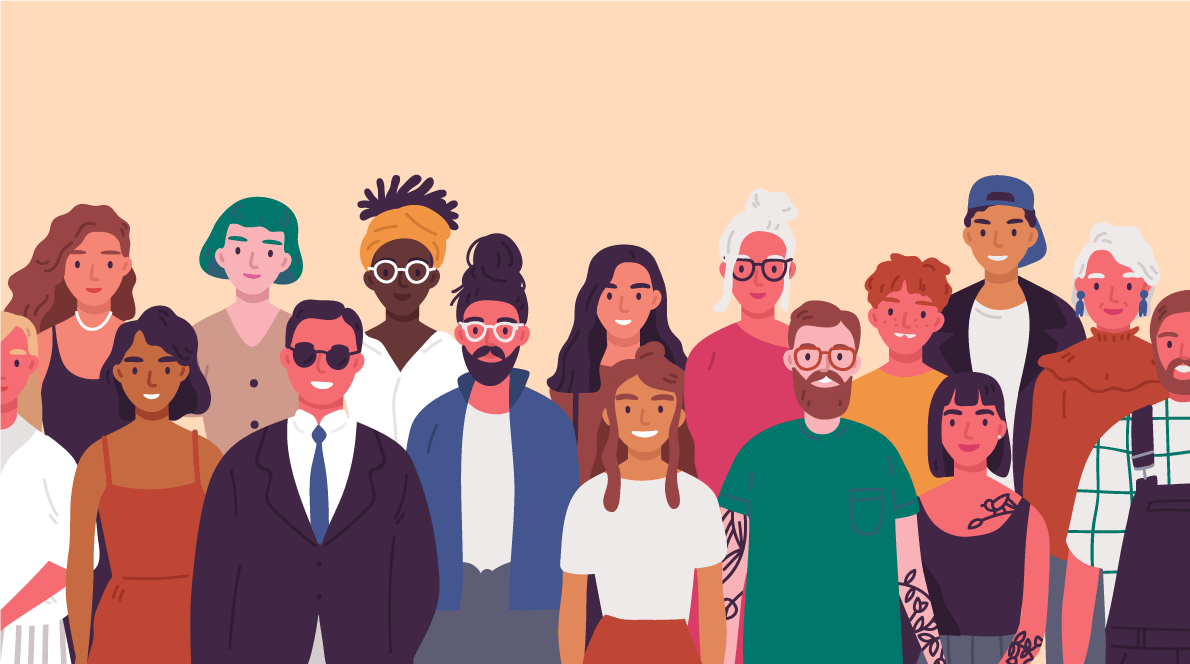 Equal Employment Opportunity (EEO) refers to fair, unbiased treatment in the workplace. Employers are prohibited from discriminating against existing or potential employees based on protected characteristics, including:
Race / color
National origin / ethnicity
Religion
Age
Sex / gender / sexual orientation
Medical history
In the US, companies need to comply with the regulations of the Equal Employment Opportunity Commission (EEOC), a regulatory body that enforces a group of federal EEO laws. These regulations apply in every work situation; for example when employers hire, terminate, compensate, promote and train employees. It's also illegal to discriminate against people who have complained about discrimination.
Most companies with 15 employees or more are legally obliged to follow the equal employment opportunity laws. These include:
Title VII of the Civil Rights Act of 1964 (Title VII)
The Equal Pay Act of 1963 (EPA)
The Age Discrimination in Employment Act of 1967 (ADEA)
Title I of the Americans with Disabilities Act of 1990 (ADA)
The Genetic Information Nondiscrimination Act of 2008 (GINA)
Also, the Equal Employment Opportunity Act of 1972 gives the EEOC the authority to sue in federal court cases of unlawful, discriminatory employment practices.
For more details on what is an equal opportunity employer, read our EEO definition and learn the obligations and the exceptions that might impact your business.
Filing an EEO-1 report
One of the regulations you need to comply with once your teams grow – and, at the same time, one of the biggest pain points HR departments in the US have to face – is the dreaded EEO-1 report.
The EEOC has made it mandatory for companies that meet certain criteria (mostly related to the number of employees and the company's operations) to fill out a compliance survey with employment data categorized by race/ethnicity, gender and job category. This is the EEO-1 report that must be submitted annually. For 2019, the deadline has been extended to May 31. Note that additional hour and pay data included in the EEO-1 Component 2 will be required by September 30, 2019.
Filing an EEO-1 report can be a headache for HR teams and employers because they need to accurately collect and report on employment data. Any mistakes could result in fines or even more severe legal troubles (e.g. imprisonment). Before you start filling out your report and before the deadline expires, check our detailed guide to learn whether you need to submit an EEO-1 report and how to do it. It might also be useful to take a look at this primer on EEO categories to understand the different job classifications.
Complying with EEOC
While the purpose of an equal opportunity act might be clear, the requirements that you need to follow and the action plans that you need to set up may not always be so. A misinterpretation, an inaccuracy or a small deviation from the regular procedures could leave you with an EEO complaint. Plus, the way you'd handle this complaint is crucial because it could turn into a lawsuit. To help you avoid legal consequences, we explored the six most common mistakes that companies make when facing EEOC charges – and what you should do instead.
Because it's difficult to keep track of all employment information as your teams scale, we built tools inside Workable to help you with this process. By enabling the 'EEO/OFCCP Survey and Reporting' feature, you can be confident you capture all important data consistently, including disqualification reasons. You will also have a detailed compliance (EEO) report at hand.
Writing an EEO statement
Besides the EEO-1 report, EEOC makes it mandatory for some companies to include an equal opportunity employer statement in their job ads. This can be as simple as one sentence where you declare that you're an equal opportunity employer and you follow non-discriminatory practices.
Even if you're not obliged by law, it's still a good idea to put an informal EEO statement in your job ads and careers page that will prompt people from underrepresented groups to apply and will speak of your values. This is what job seekers see when they visit Workable's careers page: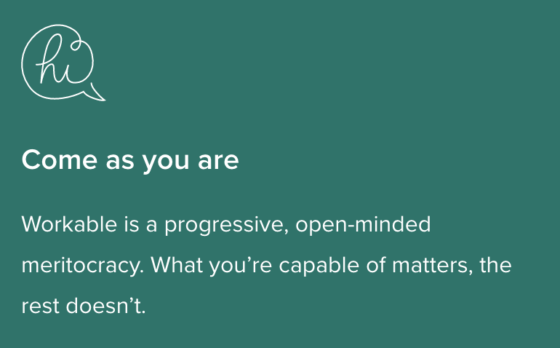 However, an equal opportunity employment statement is not a guarantee of an unbiased work environment. This is something that should be reflected in every process you have before, during and after you hire employees; in other words, if you're talking the talk, you need to walk the walk.
The importance of being an equal opportunity employer
Equality in the workplace goes beyond EEO laws. It's not just about filing the EEO-1 report and complying with the regulations. These laws exist only to ensure that your company treats indeed employees fairly. But why is this important? Why should companies bother to enforce equality in the first place?
Is it the right thing to do or are there any business gains? Both. The equal opportunity employer meaning is deep. Yes, not discriminating against employees is the right thing to do, but not from a philanthropic perspective. Our societies consist of people with disabilities, people of different color or nationality, people of different gender and age. These characteristics have nothing to do with their ability to do a job. So, it's our responsibility as employers to give equal chances to everyone: fair treatment during the hiring process, objective evaluations and rewards, equal pay.
But there's also something for the businesses to win when they apply equal opportunity employment practices. As Matt Alder put it:
We don't have to make the business case for diversity anymore.
Diverse groups are more successful compared to homogenous teams, because they bring different perspectives on the table, they reflect societies and markets more accurately and they can use their unique capabilities to accomplish better things. So it's up to employers to untap this potential, by removing biases from all selection and evaluation procedures, by refraining from asking illegal interview questions and by training employees to treat each other respectfully and objectively.
We compiled a guide with additional ideas that'll help you hire and manage employees fairly. You could also use this sample equal opportunity employer policy to set up your own EEO guidelines. There might not be a law that explicitly obliges you to train your teams against bias or to write down anti-discriminatory policies, but there's a moral and business incentive that drives you towards that direction, into being a truly equal employer.
Frequently asked questions
What does equal opportunity employer mean?

An equal opportunity employer is an organization that agrees not to discriminate against any employee or job applicant because of race, color, religion, national origin, sex, physical or mental disability, or age.
Is everyone an equal opportunity employer?

Most employers must also obey labor laws and follow anti-discrimination guidelines set in place by the U.S. Equal Employment Opportunity Commission (EEOC). Believe it or not, though, there are exceptions to this rule, so not every business in the country is an equal opportunity employer.
What is an example of equal employment opportunity?

Another example of an equal opportunity employment issue is wages. Paying someone less because of discrimination is unacceptable. If someone is doing the same work just as well as another staff member, they should be getting paid the same for that work. That's regardless of gender, age, and other factors.